A geometrically complex, factory fabricated home is planned for a site in Tennessee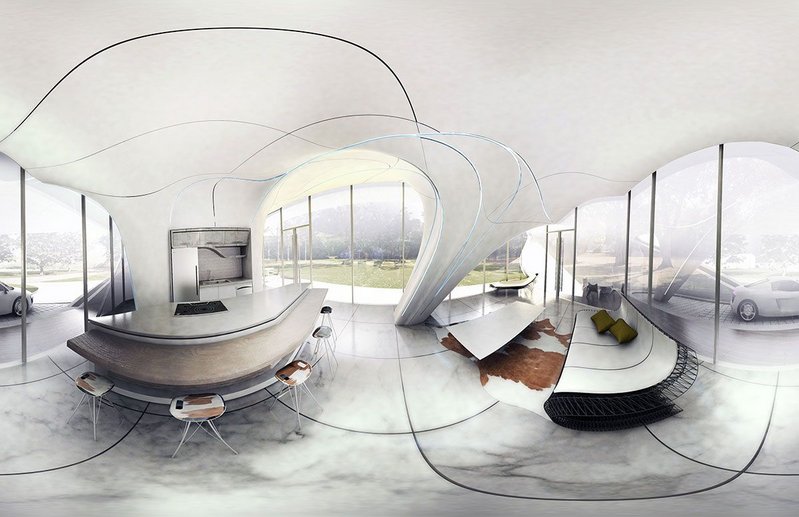 A hybrid 3D-printed house inspired by a kit of parts approach to construction pioneered in 1940s Los Angeles is due to break ground in Tennessee this spring.
Curve Appeal is a geometrically complex, open plan family home, designed by US-based architect WATG. The studio won a competition to design the first home to be built using the 'Freeform' printing process developed by large scale 3D printing specialist Branch Technology.
The single storey structure will be supported on a 3D-printed lattice shell comprising three connected arched structures. Traditional construction materials such as external concrete, foam insulation and a gypsum interior surface will be applied to these by robot and by hand.
The innovative technique was inspired, in part, by prototype homes developed under the Case Study Houses programme of 1945-1966. These 36 residences, including schemes by Richard Neutra, Charles and Ray Eames, and Eero Saarinen, were early examples of mass-produced homes designed to be easily and cheaply constructed during the postwar building boom.
Daniel Craven, WATG's lead designer for the project, told RIBAJ: 'We are creating our own future housing prototype that shows how 3D printing and a kit of parts can combined to deliver buildings quickly and cheaply. The aim is to create a wall assembly that merges standard building practices with a 3D printed frame. Everything will either be robotically applied and milled to create smooth curving surfaces or applied by trades by hand.'
The sinuous arched form of the home is intended to be aesthetically pleasing and structurally robust, using spring points across the floor slab to enable large open-plan living spaces and to carry roof loads.
The R&D phase of the project is under way: the team is working with structural engineer Thornton Tomasetti to print test beams and partial wall sections to examine their load bearing capabilities.
In generic printed beam tests, a three-foot long beam weighing just 2.2kg could carry a load of roughly 1.6 tonnes. The next phase of testing will assess the maximum load-bearing capacities of each individual printed element of the structure.
The team is also looking at a variety of gypsum material components that could be applied on the printed structure to work as fire protection, structural reinforcement or to create a substrate for the application of finished wall materials.
The intention is to construct the home entirely in a factory environment then transport it to site. The fabrication process is expected to begin in late spring or early summer.
'House building technology has essentially not changed from either timber frame or brick for hundreds of years,' says Craven. 'What we are doing is groundbreaking because it has the potential to be quicker and cheaper and 3D printing the space frame enables more customised designs, avoiding the cookie cutter approach.'
The architects leading the Case Study Houses programme were famed for constantly pushing the boundaries, using minimalist materials to create open-plan spaces with generous natural light.
Case Study House #8 – the Eames' own steel-and-glass home in LA, completed in 1949 – used construction elements from trade catalogues intended to be modern in style and easy to build to avoid disruption on site.
---