Purple STEAM in Durham, USA, is one of the largest completely 3D-printed public sculptures yet built. How did architect Volkan Alkanoglu do it?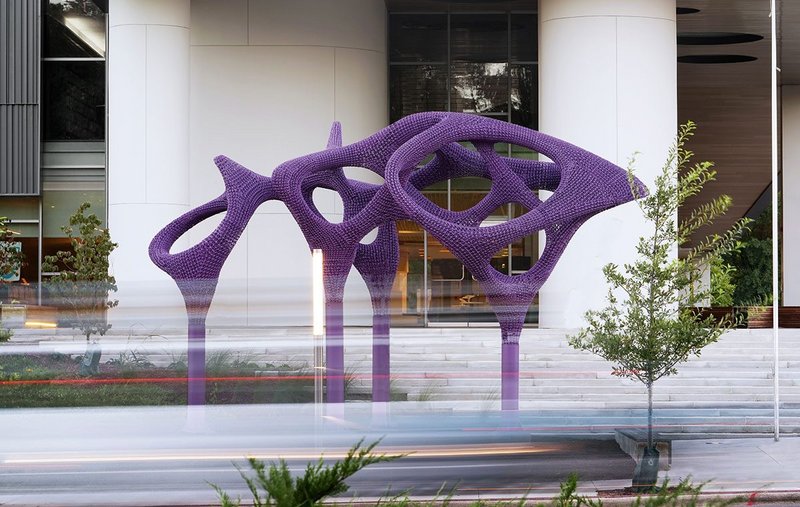 The sculpture in position outside Durham's public library in North Carolina.

Credit: Ryan Tyler Martinez
What Purple STEAM pavilion
Where Durham, North Carolina, USA
Newly installed outside Vines Architecture's main public Library in Durham, USA, is architect Volkan Alkanoglu's art pavilion 'Purple STEAM'. At 5.4m tall, 9.75m long and 4.8m wide, it is one of the largest completely 3D-printed public sculptures yet built and is the result of his collaboration with Tennessee-based 3D printing specialist Branch Technology, who, with previous experience with the likes of NASA, was well placed to help realise the design.
Inspired by a Facebook questionnaire that Alkanoglu sent out to the library's users, the choice of an abstract design was further informed by interviewees' two favourite books – Alice Walker's Pulitzer prize-winning The Color Purple and Crockett Johnson's 1955 children's book Harold and the Purple Crayon. The subtlety of colour choice evidences itself at morning and evening when the light draws out purple's constituent blues and reds.
While the form might emulate Harold's squiggles, it was generated by complex algorithmic optimisation of shape, structure and volume 'because in the world of 3D printing, volume equals cost', explains Alkanoglu. The form was initially modelled in 3ds Max and optimised via Grasshopper and Rhino. They then had to write the G-Code that allowed Branch Technology to run it through its proprietary software to allow its robots to create the 40 building block forms that would be assembled to make the finished piece. The firm used a fleet of 6-axis robots using ABS filament strands impregnated with carbon to give additional strength. The C-FAB system used builds in small structural cells that go on to create the larger space-frame mesh characterising the final form. And it learned as it went along.
'Every real piece was scanned and compared to the digital model to check for compressions or deviations,' says Alkanoglu. 'That created a constant feedback loop that modified the fabrication process
Curiously, given the highly digitised nature of the individual elements, the firm used nothing more than zip ties to assemble them. But while connections were all on planar faces, those faces were at varying angles, so needed an engineer's input to the positioning and number of zip ties to ensure loads were transferred down efficiently. 'When they proposed the ties I thought "wait a minute!" – but it really was the best way to put them together and I loved the contrast of high and low tech,' says Alkanoglu. Though he adds that the light weight of the total structure, just 218kg, meant the engineer was more concerned with its uplift component in high winds than any downward loadings.
As Branch Technology warrantied the sculpture, the choice of ABS filament rather than the more sustainable and biodegradable PLA filament was their decision. But the architect says the benefit of 3D printing is that you only use what you print; his previous free-form projects were done using timber or metal and had created wastage from milling or cutting processes. Though the fabricator is looking into more sustainable means of 3D printing, he adds.
Alkanoglu is now commissioned on a much larger, 20m tall sculpture by a lakeside in Denver but here, with colour grading up the sculpture, the challenge will be whether to paint it fully assembled or to apply the gradations locally to the individual pieces before assembly – requiring digital rather than ­analogue means of application. Colour by numbers or by hand? Having put the 'Art' in 'STEM', perhaps Alkanoglu should ask Harold.