New fire safety regulations came into force in January and, with more changes due in October, this case study reveals the benefit of using an innovative new app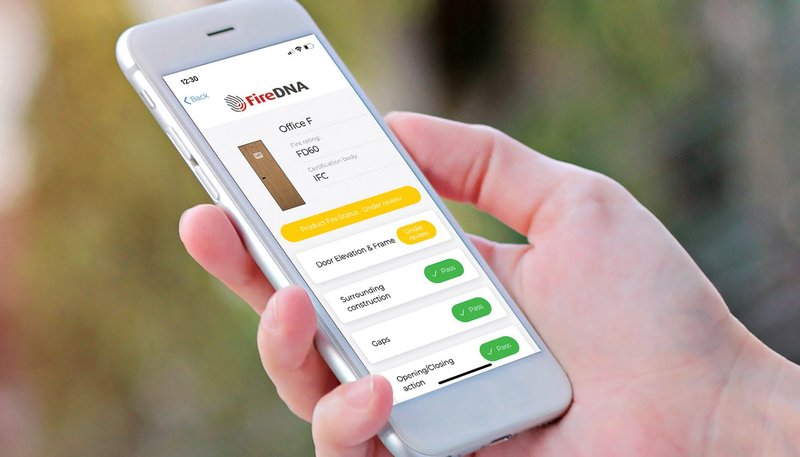 The FireDNA cloud-based app helps to ensure that architects' passive fire product specifications are enforced from inception to installation and sign off.
FireDNA is an award-winning passive fire product monitoring system and mobile app.
It has been developed for everyone involved in passive fire product specification (through NBS Chorus), manufacture, installation, inspection, management and maintenance.
It is also useful for those that live and work within environments where passive fire products are installed and are now required, under new legislation, to be digitally catalogued and monitored, with the data made easily accessible by all stakeholders.
FireDNA software catalogues manufacturers' product data, digitally shares it with contractors and installers, who in turn add their installation data, passing that on to building owners, facilities management teams and tenant management organisations.
That data can then be used by building control, maintenance teams, fire inspectors and viewed by tenants and residents alike, with a simple swipe of a mobile device.
Case study: BAML puts FireDNA software to the test
London property management company BAML recognised that it would need specialist software and a mobile app solution that could be used by a team of qualified fire door inspectors to undertake an immediate fire door and doorset asset audit and review.
BAML chose FireDNA as its digital partner to not only capture and deliver that data, but also to enable them to keep that information maintained and up-to-date inline with the lifecycle of the products and the required inspection regimes, and any required remedial works.
This was to make sure all of its fire door and doorset assets were meeting the new fire safety and compliance standards inline with the legislative change that came into force in England in January 2023, and to be ready in advance of digital compliance legislation coming into force on 1 October 2023.
The programme is being rolled out across 10 BAML-managed developments in London, including Embassy Gardens in Nine Elms, Wardian London's iconic two towers in Canary Wharf, Royal Wharf in the Royal Docks area and the Brentford town centre regeneration project on the River Brent. The programme entails auditing, inspecting and reporting on around 25,000 fire door assets.
Once the inspection data and supporting photography is in the system, synced with the cloud, report generation is largely automated, formatted into MS Word and Excel documents, for issue.
On receipt of the reports, BAML was able to immediately review the findings and digitally assign remedial works and tasks, all within the FireDNA desktop portal using the 'Share Building' functionality.
For more information and technical support, visit fire-dna.com

Contact:
01403 597590
info@fire-dna.com
---