Industrial printer extrudes fully-biodegradable objects, opening the way for recyclable interior components and products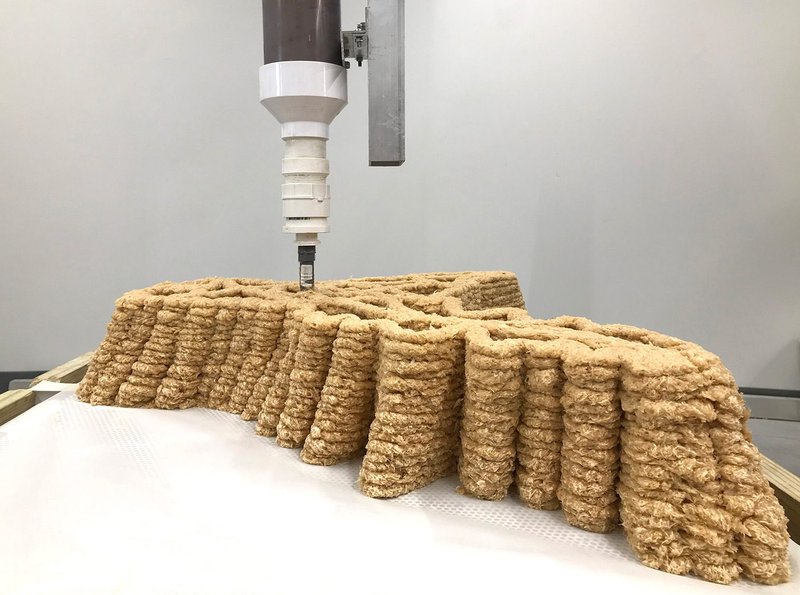 An industrial robot with customised extruder allows for 3D-printing using 100% wood and wood-based products

Credit: Orlab
A team of researchers in the US has developed a large-scale 3D-printing process using 100% wood and wood-based products that are fully biodegradable and compostable.
The Stamm project, led by Orlab at the University of Cincinnati, developed an industrial robot with a customised extruder that lays down material made of 60%-80% untreated wood fibres and a binder derived from plant-based cellulose. The novel production technique was tested on a prototype 2m tall architectural column shaped like a tree trunk.
3D extruded wood materials typically either combine wood fibre with a high percentage of artificial polymer, used as a binder, or incorporate bioplastic binders (thermoplastic starch), which require industrial treatment to compost.
Christoph Klemmt, lead investigator and assistant professor at the University of Cincinnati, told RIBAJ: 'These materials have to be taken to specialist facilities that use solvents to dissolve the material, most of which ends up in landfill where it's going to remain for millennia ...The point of this research was to create something that's fully biodegradable, which means you can throw it on your compost heap and grow tomatoes on it, if you want to.'
For smaller items only, wood-based 3D printing is already possible, but Stamm scales up the printing size up to 500mm high blocks.
The lightweight material produced by the robot is a wood foam and in structural performance tests had around half to three quarters of the strength of solid wood, said Klemmt. However, the material degrades rapidly in wet conditions making it unsuitable for structural components or external applications. 'At the moment, I see it being used as moulds for concrete casting, for furniture or interior cladding panels,' said Klemmt.
Additive manufacturing in 100% wood is potentially more sustainable and circular because, apart from using no more than the amount of material required, it can incorporate more recycled timber and 3D printed parts could be transformed back into raw material at end of life to begin a new production cycle.
According to Klemmt, the project's novel process has 'low energy consumption in production,' although figures on embodied carbon are not yet available.
The tree-trunk prototype column was computer designed using an algorithm to simulate the process of growth by cell division in nature. Researchers are now working on improvements to the recipe, including reducing the shrinkage and deformation of the material, and are planning to build a larger prototype.
Innovation in 3D printed wood doesn't end there. Scientists from the Massachusetts Institute of Technology recently developed lab-grown wood cells that could form the basis of a new printable biomaterial.