Venice Biennale showcases bridge made of 3D printed elements created using traditional master builder techniques and advanced computational design and robotics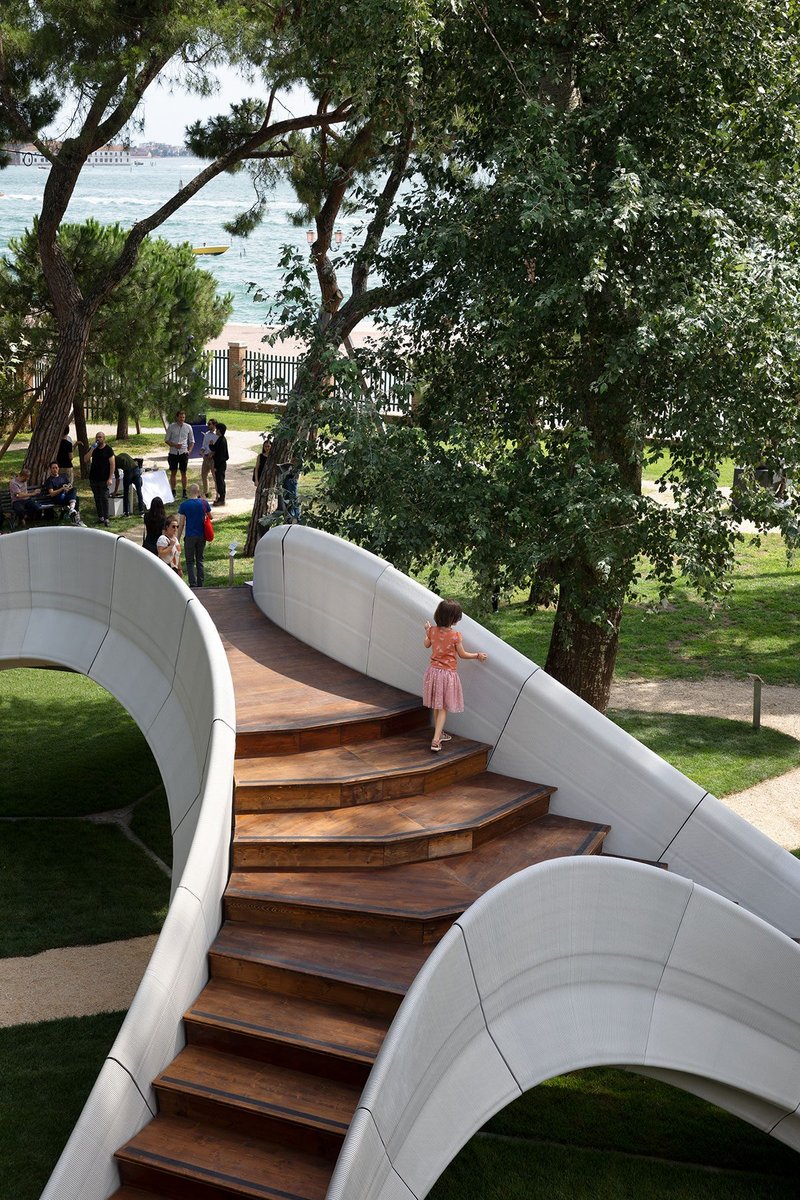 The vaulted 'Striatus' structure enables forces to travel to supports in pure compression, eliminating the need for reinforcement or mortar.
Bridges have served as a proving ground for 3D printing innovation. Now a new concrete structure designed by Zaha Hadid Architects Computation and Design Group (ZHACODE) provides a snapshot of where the technology might be heading.
The 'Striatus' arched masonry footbridge, exhibited at the Venice Architecture Biennale, is a 16m by 12m structure developed in collaboration with the Block Research Group at ETH Zurich, additive manufacturing specialist Incremental 3D and concrete fabricator Holcim.
3D-printed concrete blocks are assembled without mortar or reinforcement in a design that combines traditional master builder techniques with advanced computational design and robotics.
The concrete was precisely printed in layers orthogonal to the main structural forces of the vaulted design to create a 'striated' compression-only structure, which eliminates the need for reinforcement or mortar. The blocks can simply be dismantled and reassembled at another location if the structure is no longer needed.
The structural arches are funicular in shape and defined by limit analysis and equilibrium methods, such as thrust network analysis, originally developed to assess the performance of historic masonry vaults.
Steel tension ties absorb the horizontal thrust of the arches, while neoprene pads placed in between the dry-assembled blocks avoid stress concentrations and control friction at the interfaces, echoing the use of lead sheets or soft mortar in historical masonry construction.
According to the project team, the efficiency of the approach presents opportunities to significantly reduce the amount of material needed to span space as well as build with lower-strength, less-polluting alternative materials.
Innovation in metal 3D printing took a step forward last week with the opening of the world's first ever 3D-printed steel bridge in Amsterdam, the Netherlands.
The undulating 12m-long footbridge was created in a factory over six months using four industrial robots adapted with welding torches to deposit the structure layer by layer.
The system was developed by Dutch technology start-up MX3D, designer Joris Laarman Lab, lead structural engineer Arup and other collaborators.
Advanced software played a key role in generating the final form. Extensive iterations in generative design software helped develop the organic S-shape and optimise it for structural integrity, functionality and aesthetics. Additional software assigned accurate material properties to the model and tested for factors such as load path analysis.
A digital twin of the bridge will be fed data from more than a dozen sensors attached to the structure to monitor strain, movement, vibration and temperature while in use.
Machine learning will be applied to this data to spot any trends that indicate the need for maintenance or modification, as well help designers understand how the 3D printing technique can be applied to larger and more complex building projects.