A UK-Swiss green construction venture has projects to 3D print schools and houses in four Sub Saharan countries. Scaled up, it could tackle serious shortages with speed, says 14Trees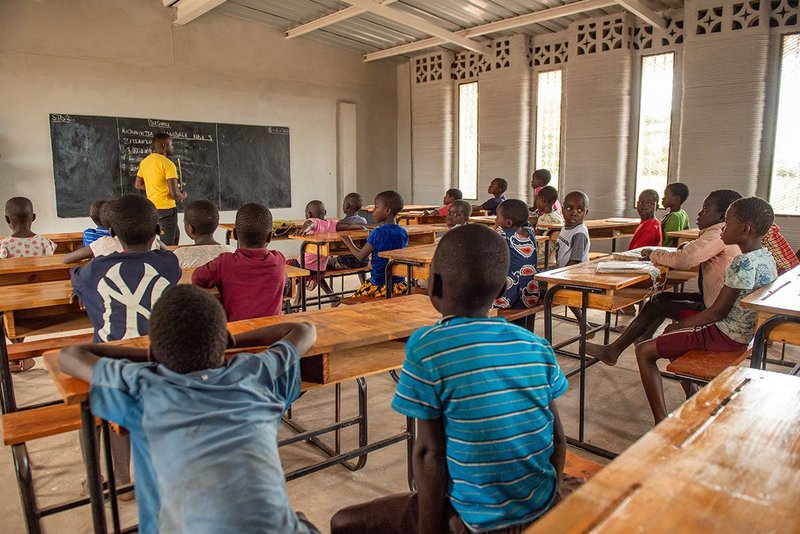 LafargeHolcim claims its 3D printing process significantly reduces the time, cost and materials used for building housing and schools, with a 50% cut in carbon
Sub-Saharan Africa has become a focus of large scale 3D-printing activity as NGOs seek out cheaper and faster ways to build housing and classrooms.
14Trees, a green construction JV run by Swiss cement maker LafargeHolcim and UK-based investor CDC Group, has revealed plans to print 10 houses in Zimbabwe and one in Kenya this autumn, plus school projects in Kenya and Malawi.
These follow the JV's recent completion of the world's first 3D printed school, in Salima district, Malawi. The school's walls were printed in just 18 hours using a BOD 2 printer from Danish manufacturer COBOD, compared to several days with conventional building materials.
LafargeHolcim claims its proprietary ink and 3D printing process significantly reduces the time, cost and materials used for building housing and schools, while the environmental footprint is cut by more than 50 per cent compared to conventional methods.
Malawi has an estimated shortage of 36,000 classrooms, according to data from Unicef. 14Trees claims this shortfall could be eliminated in just a decade through additive manufacturing, as opposed to 70 years using conventional construction methods.
Francois Perrot, managing director at 14Trees, said: 'To remove that backlog faster, we need to constructively disrupt the way we build and apply a cutting edge approach that can bring speed, efficiency and environmental performance at scale.'
Plans to build a pilot 3D printed school in southeastern Madagascar were revealed by US-based non-profit organization Thinking Huts earlier this year.
The modular design, by Studio Mortazavi, includes a space for a classroom, two bathrooms, a reading area, and an outside vertical garden. A rainwater collection and harvesting system will provide students and teachers with clean drinking water.
Construction on the EMIT university campus in Fianarantsoa was due to begin in November, but border issues caused by the pandemic and a lack of funding have potentially delayed the project. Thinking Huts also decided to switch technology provider, from Finland-based Hyperion Robotics to 14Trees.
Maggie Grout, founder and CEO of Thinking Huts, said: 'We had hoped to build in November but now we are unsure. Technology transportation will make up the bulk of the costs until economies of scale kick in.'
She added: 'One of the president of Madagascar's priorities is school construction because there is such a great need for infrastructure. 3D printing will allow us to fill this gap more quickly as we will be one of the first NGOs to leverage this as a key solution to address education problems.'
Madagascar's school system is largely underfunded, overcrowded and lacks essential educational and infrastructural resources.