Drop that British reserve and take the initiative with developers. Here are seven ways to help you get inside their mindset and change your relationships with them for the better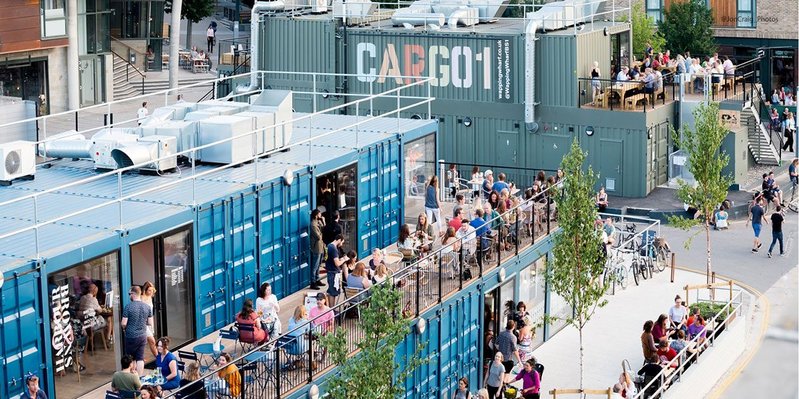 George Ferguson says have fun with the process of development, and understand the risks – it's not for everyone.

Credit: Jon Craig Photos
How can architects get inside the developer's mindset? The better we understand them, the better our prospects of work. These tips, and insights from speakers at the RIBA's recent Guerrilla Tactics conference, might help.
1. Go develop
Architects can make excellent developers. Think bigger: architects can take the reins of development not just to make our businesses profitable, but also to fulfil our ambitions of making the world a better place. Who better to spot uncommon sites and carve from them ambitious and delightful spaces and places than architects, who have spent our whole careers thinking, creating, making, and wrestling with them? To help start us off, an event to get todays' entrepreneurial architects winning new clients and plunging into development was curated by Amanda Baillieu, founder of Archiboo and Gus Zogolovitch, founder of developer Unboxed Homes, at the RIBA's Guerrilla Tactics conference, Understanding the Developer Mindset. It threw up lots of useful pointers for the assertive architect.
2. Network
Nothing beats it for raising the profile of your work and the value you bring. If we're to build businesses from scratch with no money, we need to 'suck it up' and Network, says Leanne Tritton, of PR agency ING Media. This is a cold hard truth for architects, a call to recognise our wider tribe, people who could advocate on our behalf including planners, contractors, local design champions; giving us the advantage to 'create our own opportunities' – for example, when we've completed a project, launch an open house and invite would-be clients. We need to take over retail spaces that are closing and set up shop in them for our practice, maximising our use of social media – particularly LinkedIn.
3. Collaborate
Look for opportunities to invest in developments with your client or other architects. Delving further into the developers' mindset, developer Roger Black advocates becoming a 'thought leader' in our field in order to stand out. Think of your clients as partners, he says, and remember that for them the last apartment to sell is the most important because that's when they get their return on investment. Understand the pain-points and 'go deeper' by talking not about architecture but instead about what success looks like to your client – it's not just profit but can be social value, political gravitas, time constraints, etc.
4. Be un-British
Ask for what you want. Don't be shy or polite, ask clients for work. Black offers the best piece of advice: 'Be un-British, tell your clients you're looking for work.' Meanwhile David Tigg of Tigg Coll Architects, shared tips at the event on how to win work by expressing the 'who, why, what, how' principles of the practice and, critically, incorporating the clients' own aligning principles.
5. Find your narrative
This is a powerful way to induce the necessary psychology for your next meeting. Soft skills of communication, such as body language, are not just nice to have but fundamental to how we get and create work, says Jennifer Rosen of Fulltilt Consulting. She believes that storytelling (the power of a narrative) is a great tool in your arsenal before your next presentation – use the same energy you use to relay your last holiday and translate it for the meeting room. At the event she took us on the 'Hero's Journey' and advised us to see our client as the hero and ourselves as the mentor: think Star Wars' Yoda.
6. Viability
Learn to do appraisals. This will save you and your client abortive time and costs. A workshop at Guerrilla Tactics saw us dive deep into practical groupwork, working through our own appraisal spreadsheets and getting a chance to offer our maximum bid for a real site offering up a mix of seven houses and flats. We were tasked with finding local comparables and recent sales values, estimating initial appraisal and construction costs, professional fees, marketing, cost of borrowing – and finally profit. And that was to help guide what to bid on the site (land cost). All this was worked through with an informative backdrop by Meredith Bowles of Mole Architects that saw us roughly split the breakdown of costs with one third each for land cost, construction costs + fees + legals, and profit. Needless to say, that wouldn't quite stack up in real terms, but it was a good start. I strongly encourage any architect wanting to plunge into the heart of development to find and have a go at a good appraisal sheet.
7. Be a cautious risk-taker
Understand the risks and do your due diligence. Wedlake Bell Lawyers encourages the use of a competent lawyer to undertake searches as part of your due diligence, while other archi-developers use search tools such as Plotfinder to find sites and make connections with estate agents who can bring interesting sites to their attention. It is important to understand development finance (junior and senior debt, and mezzanine financing) and to plan your exit strategy before you go in. For instance, will you sell on development completion? If the market turns, can you rent the units in a development? What would this do to your borrowing interest rates? Make sure you understand the risks (and there are plenty), tax, and the use the right contracts, potentially including contracts like the Construction Excellence JCT Contract to engender collaborative and integrated working.
And finally: throw away the rule book, invest in recessions, and take your time, concludes George Ferguson, architect, politician, brewer, sometime developer and past RIBA president.
---
RIBA's Guerilla Tactics conference, Understanding the Developer Mindset