Granular system moves closer to construction as humidity-controlled elements improve stability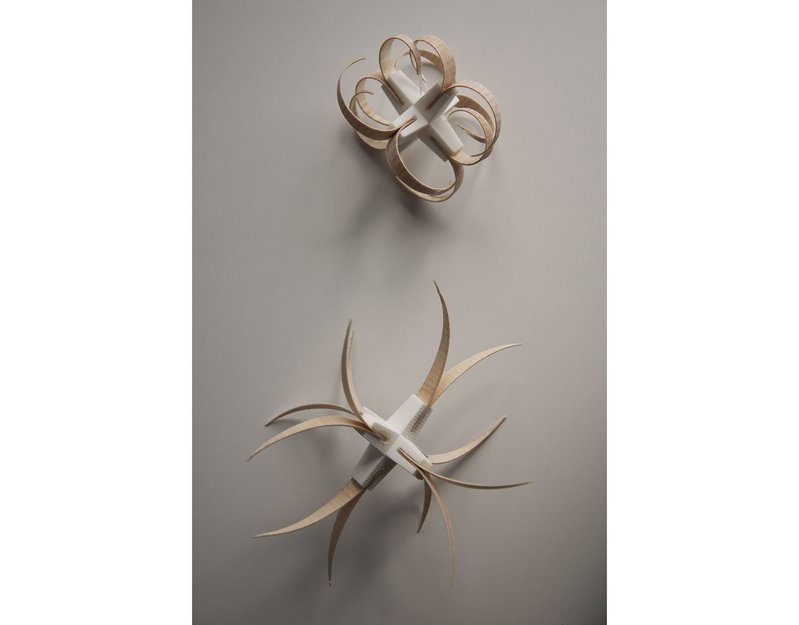 A team of German researchers behind a radical granular construction system that consists of stacks of spiked plastic 'particles' held together without any binder, is developing a more stable version of the system that deforms in response to changing humidity.
The Institute for Computational Design's (ICD) Aggregate Pavilion 2015 opened at the University of Stuttgart this summer and has been described as the 'first architectural structure to be publicly realized with a designed granular system'. It features a series of unsupported towers made up of thousands of recycled plastic particles with either four or six slender arms.
Particles were 'programmed' in a range of geometries to enable them to stack verticality, gripping and binding to one another when dropped into position by an automated robot. The pavilion took just a few hours to build and no formwork was required, demonstrating its potential for real world applications where structures must be erected or dismantled quickly.
Now, ICD's researchers are progressing the concept by designing more intelligent particles with deformable geometries, explains the Aggregate Pavilion's designer Karola Dierichs: 'We have developed particles with hydroscopically actuated arms, made either partially or entirely out of wood, which, through changes to humidity, can fold up or fold down. The idea is that when folded they interlock with one another, to the extent that the system solidifies and becomes like a block that can be picked up and moved around.'
The innovation marks a step forwards from the existing, more fragile, system, and Dierichs claims the more advanced technology could be deployable for construction in just a few years. 'Our next project will be based on these deformable particles,' she added.
Synthetic granular systems are an emerging area of architectural design research. It is possible to program a wide range of granular behaviours by altering the geometry of different particles.
ICD's focus has been on exploring programmed verticality in an effort to transcend the tendency of natural granules, such as sand or dust, to form heaps.
The ICD Aggregate Pavilion includes a total of 30,000 particles stacked in towers on concrete plinths. Different types of particle were arranged in rough layers, with tougher components positioned at the base to support greater loads.
Dierichs told RIBA Journal: 'Designing the particle geometries was a very long process, especially working with statistical testing, which meant repeating each experiment about 20 times. We also worked with granular physicists, and with specialist software used to simulate systems with high particle numbers, to improve the accuracy of our results.
'The final design was chosen based on a mix of manufacturing and stability parameters, defining an optimal shape that could be manufactured [through injection moulding] at a reasonable cost.'
Towers at the Aggregate Pavilion were erected using a programmable robot, suspended from a series of cables fixed to trees around the edges of the seven-square-metre site, which dropped small clusters of particles at specific locations, based on research into construction and grading techniques. The robot was able to drop each 10kg payload with an accuracy of just a few centimetres.