Overall Award Winner and Education Award Winner. Entrant: Patel Taylor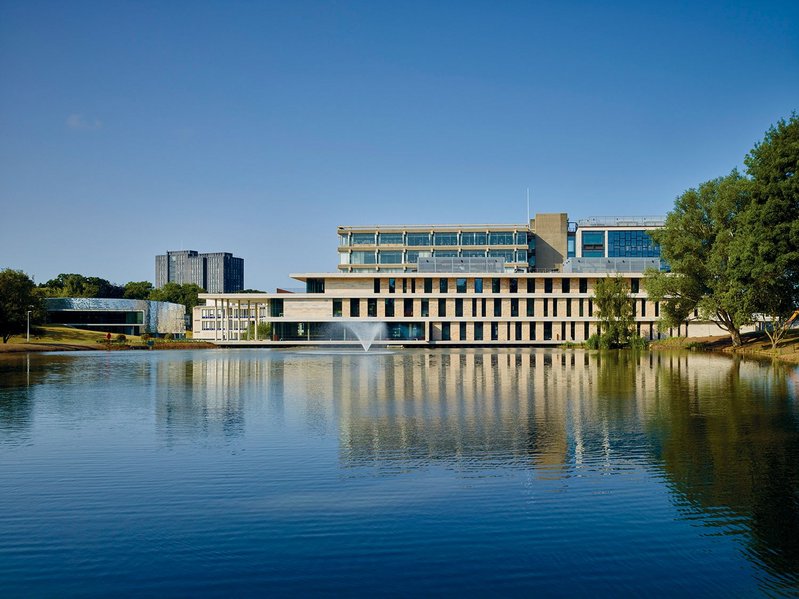 The new Silberrad Student Centre sits between the lake and the library – the library extension is on the right.
Patel Taylor's assured extension of the 1963 brutalist library at the University of Essex and new-build student centre scooped both the education category and the overall prize in the 2016 Schueco Excellence Awards. 'An intervention that can extend older buildings while picking up on their architectural language is something to be treasured,' said chair of the judges Hugh Pearman.'The new building echoes the original by offsetting very precisely handled glazing against a new concrete structure. Playing the old architectural game of solid against void, it is both respectful and imaginative, making a new heart for the university.'Both buildings make extensive and varied use of Schueco's FW 50+ SG curtain walling. 'The right system with the most flexibility was crucial to the delivery of the project,' said Patel Taylor associate Roger Meyer.
The student centre is a three-storey lakeside pavilion that sandwiches limestone piers and bronze anodised aluminium glazing between bold, cantilevered concrete slabs. The design intent was for over-glazed curtain walling sections with medium level solar control glass that would emphasise the relationship of solid and void and complement the concrete and limestone facade elements.
Windows were designed with deep curtain walling sections recessed into the facade but flush internally. At ground and first floor level the glazing is typically fixed, while on the second floor large over-glazed Schueco ADS 75 door sections keep the external appearance the same as the ground floor. On the second floor, actuators are concealed by dummy mullions where Schueco ADS 65+ SG opening vents are used alongside FW 50+ SG curtain walling.
The six-storey library extension employs the same over-glazed curtain walling. On the main facade, this is supported from vertical steel columns to avoid lateral bracing of any continuous horizontal elements. Mullion joints are capped to break up the facade. The facade incorporates staggered, top-hung actuated Schueco AWS 102 vents.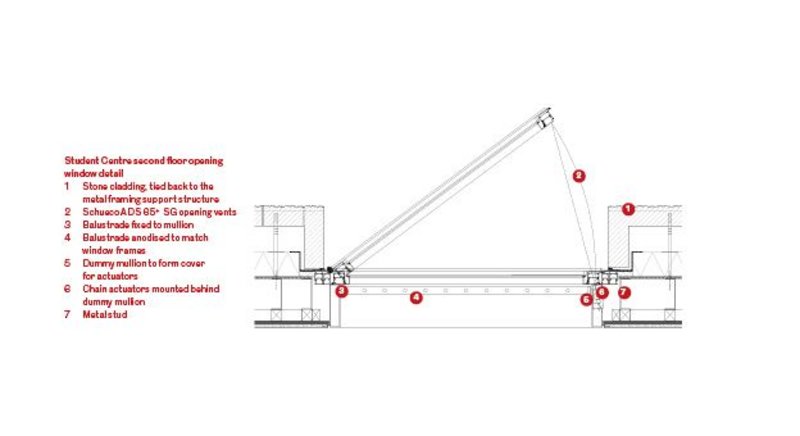 Schueco FW 50+ SG was also used to frame the large projecting bay windows at first and second floor level. Here, the system was used with fully supported mullions and transoms on a steel substructure, incorporating 2m x 4m flush fixed glazed panels.
Where the library extension meets the old core, curtain walling was used past the slab to create the flush appearance of a single sheet of glass over four storeys to emphasise the transition from old to new. In order to meet two-hour fire separation between the old library and the addition, the architect specified Schueco Jansen VISS framing and steel doors with a bronze PPC finish.
---
Client University of Essex
Architect Patel Taylor
Structural engineer Techniker
Main contractor Kier Eastern
Specialist contractor HW Architectural
---
Commended
Nottingham Trent University Heart of the Campus Pavilion, Clifton, Nottingham - Entrant: MB Glass
Radcliffe Primary Care Building, University of Oxford - Entrant: LSC Special Works
---