How did Swedish practice White Arkitekter create a 75m high all-timber tower with a mostly glazed facade without using cross-bracing?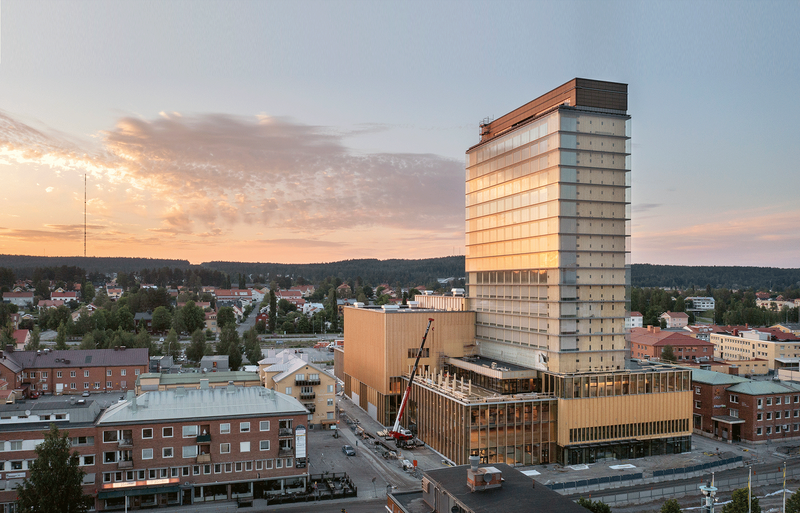 At 75m, Sara Cultural Centre is the world's second tallest timber tower after the 85.4m Mjøstårnet tower in Brumunddal, Norway. Two more floors could have been added with no structural change.

Credit: Patrick Degerman
White Arkitekter's Sara Cultural Centre at Skellefteå on Sweden's north-eastern coast is a 30,000m² complex of theatre, library and art gallery on a four-storey plinth which is topped by a 16-storey hotel tower that acts as a beacon for the city's catchment of 70,000. Acknowledging the town's links with the timber industry, the 74m high complex, including tower, is built of locally-sourced wood, to make one of the world's tallest all-timber structures.
Working with project engineer Florian Kosche, the firm adopted a dual approach to construction, say project architects Robert Schmitz and Oskar Norelius, pushing innovation in offsite engineered timber technology. The first was prefabricated glulam for the plinth holding the cultural facilities – which would mean delivering modules as big as 27m by 3m to site; and secondly, a cross-laminated timber (CLT), volumetric route for the hotel tower, plus timber cores, which accelerated construction and aided servicing logistics.
Although many taller timber buildings rely on cross-braced glulam for structural stability, the firm still wanted a predominantly glazed aesthetic. It chose a volumetric solution using CLT, which could better handle shear loads without cross-bracing. Putting the centre on the plinth also helped: with massive hybrid timber and steel trusses creating the necessary spans, it spread the tower load over a bigger footprint.
The tower's stacked pods, each a bedroom, are constructed as 7.2m by 3.6m by 3.2m high volumes, the timber pillars on all four corners acting as spigots to transfer loads down the structure. Pods are connected via steel plates. Timber walls are 100mm thick while floor and ceiling elements are 120mm. Voids created where column spigots interface act as a run for drainage between floors and as air ducts between walls and were later filled with attenuating and fire-retardant insulation.
Each floor consists of 16 pods which were delivered on site with bathrooms and the glazed bedroom face already installed. These windows also act as the weather line of the tower's double-skin ventilated facade; the outer glazing layer was added after pods were stacked in place. This structural glazing, White Arkitekter adds, also helps to stabilise the entire structure.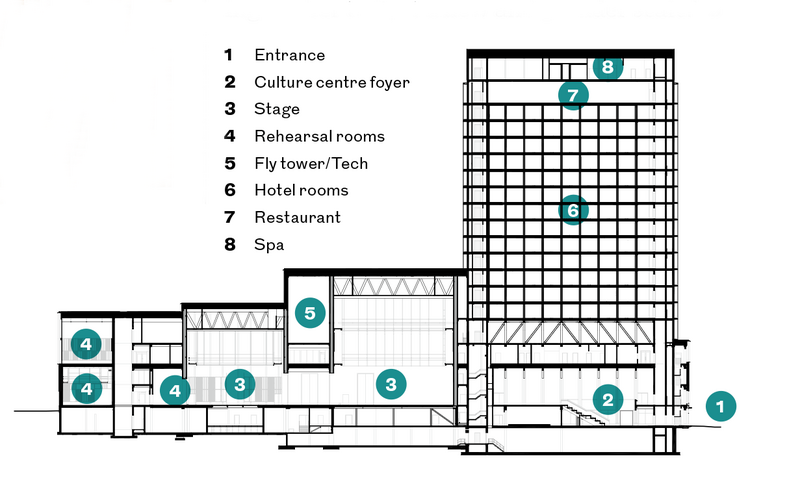 While it took a year to build the concrete sub-structure, assembling the complex's timber structure only took another year from start to completion. Construction of the main tower was particularly fast, taking around three days per floor to hoist its 16 pods into position. Delivered to site as sealed units, interior wall finishes were left exposed; no dry lining was used in bedrooms. Each room has three sprinkler heads, giving a 90-min fire rating to the tower structure and its two escape cores, while the plinth level has a 60-min rating.
Total building cost was €105m – around €3500/m² including design – not bad for a highly serviced typology in a country with high labour costs. And while White Arkitekter concedes that concrete would have been cheaper, timber was not only more sustainable but had symbolic resonance: 'This was a city centre with a timber heritage lost to concrete over the last century,' says Robert Schmitz. 'We are returning timber to it, at a new and grander scale.'