Aluminium specifications behind a stripped-back modern addition to an 1860s red brick cottage help architect achieve a 'moment' in 10 acres of nature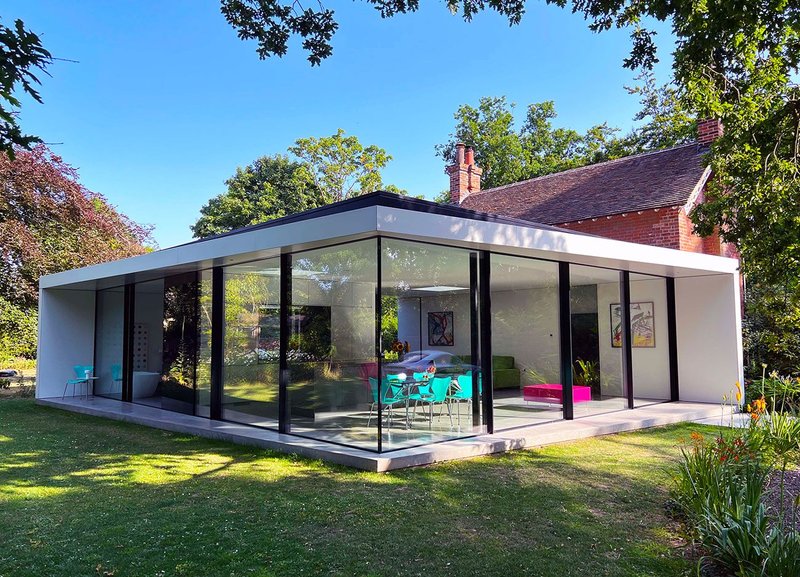 Architect Richard Scott used the Sky Architectural Aluminium system for the extension to his Victorian home: 'My aim was to create a space that maintained the balance of old and new.'
When architect Richard Scott embarked on his own residential renovation project, he left nothing to chance.
Highwood Lodge near Faversham in Kent is a traditional 1860s red-brick cottage that, when Scott bought it in 2013, was more than a little worse for wear.
While he had brought many commercial and residential building designs to life through his practice, Highwood provided the challenge of a lifetime.
He has spent the past five years restoring it and his most recent project, the creation of a modern pavilion-style extension - a 'sculpture in the round' - has allowed his imagination to fly.
Scott specified the Skyline Architectural Aluminium system from Alumasc Water Management Solutions (AWMS) for his intricate design. Main contractor, Sprinks, also recommended the involvement of Phil Lapping from metal roofline and rainwater supplier Gutterworks, one of Alumasc's approved installers.
Skyline fascias, soffits and vertical cladding panels were used to create the modern minimalist design.
'Traditional architecture can be quite forgiving,' says Scott. 'Certain elements can be used to cover or disguise other areas that may not appear perfect. But the abstract nature I wanted to achieve with the new extension left every finish, every seam, completely exposed. Different elements needed to meet and align within tolerances of 1mm, which presented a challenge.'
It was essential that the specified materials allowed Scott to realise his artistic vision and Skyline offered the flexibility needed. The design left no place to hide in terms of quality and finish.
The Skyline fascias, soffits and panels were supplied in black and white to create different zones and ambiences across the design.
The final result is an impressive pavilion of floor-to-ceiling glazing with an open-plan main space incorporating living and kitchen areas and a separate bedroom with freestanding bath.
'There is a feeling of the inside being a continuation of the outside environment,' says Scott. 'I make no distinction between interior and exterior in that the internal objects and the building fabric are all part of the same whole. The striking appearance we achieved with Skyline has helped capture that concept.'
The Skyline Architectural Aluminium system from AWMS
Skyline Architectural Aluminium gives designers the ultimate freedom to push their creativity and realise their design visions.
Its product range offers 'a collection of ideas' based on technical design expertise. All elements are manufactured from superior polyester powder-coated aluminium, which is 100 per cent recyclable and available in a selection of bold generic shapes.
Where unusual elements are required, as they were at Highwood Lodge, bespoke designs are available to order.
AWMS is part of the Alumasc Group. Its extensive product portfolio ensures sustainable rainwater and drainage solutions that set the standard for urban water management.
Find more on this case study at alumascwms.co.uk/case-studies/highwood-lodge
For more information and technical support, visit alumascwms.co.uk

Contact:
01536 383810
info@alumascwms.co.uk
---