The construction industry is responsible for 40 per cent of the UK's carbon footprint. So what should be on its climate crisis to-do list?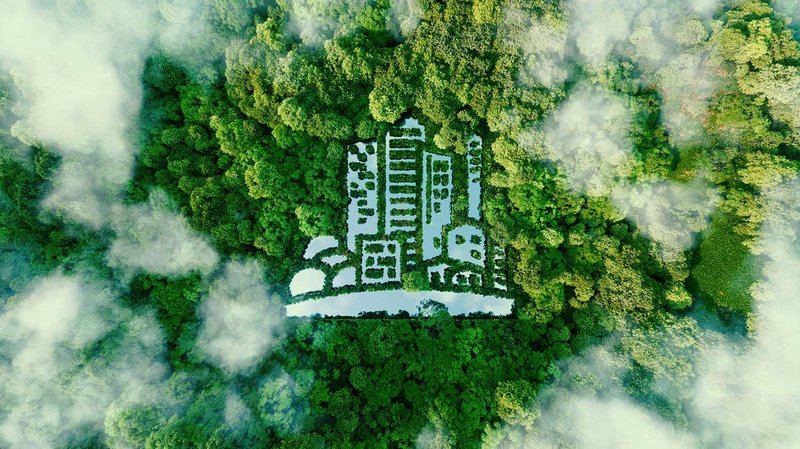 Modern green living and eco-friendly urbanism: Architects are uniquely placed to actively influence the decarbonisation of construction.

Credit: Adobe Stock
The architecture, engineering and construction (AEC) industry is not the only reason that the climate crisis exists, but it is responsible for a very large part of the global warming process.
According to ourworldindata.org, up to 17.5 per cent of global greenhouse gas emissions are the result of using huge amounts of energy to heat and light buildings.
The UK Green Building Council estimates that 40 per cent of the carbon footprint in the UK is created by the construction industry. Buildings make up 67 per cent of total energy consumption, with the UK residential sector accounting for 77 per cent of CO2 emissions across the whole construction industry.
It is clear that it is the construction sector and, in particular, the housing part that needs to be focused on most strongly.
By 2050, the UK has to achieve the objectives of the Climate Change Act 2019 and reach climate neutrality (zero carbon).
The sixth Carbon Budget of 20 April 2021 set plans to reduce emissions by 78 per cent by 2035, while the Minimum Energy Efficiency Standard (BEIS 2020) aims to improve the energy performance of buildings while reducing the energy poverty of the population.
But government arrangements alone are not enough to make a difference.
Take an active role in decarbonisation
While the whole AEC industry needs to work together, architects in particular must continually aim to improve the energy efficiency of buildings.
'Architects' decisions affect the reality in which the next generation will live,' says Wojciech Brożyna, managing director of aluminium systems manufacturer Aluprof UK.
He believes that architects' artistic visions shape trends in the construction market and that their knowledge of modern materials and building solutions mean they are uniquely placed to actively influence the decarbonisation of construction.
Use sustainable design to meet ambitious decarbonisation targets
In the case of the architecture industry, the key points are:
Reducing the external energy demand of a building by using renewable energy sources in energy and heating installation projects (heat pumps, photovoltaics).
Preventing energy loss. Here, the following ideas can be helpful: energy recovery ventilation and room layouts designed to support the lifestyle of householders.
Designing compact blocks without bay windows to effectively minimise energy loss and thermal bridges.
Using trees (shading, wind protection), designing windows on south walls, using sun shades, maximising passive energy gains.
Using recyclable building materials, for example aluminium.
Prioritise renovation and revitalisation over demolition
'Replacing an old building with a new one generates huge energy costs due to the disposal of construction waste,' says Brożyna.
'It does not meet the objectives of sustainable construction. Older buildings are not made of modern, up to 100 per cent recyclable aluminium, but of non-recyclable concrete or slabs.'
Aluprof UK uses technologies that improve the energy efficiency of a building through its renovation.
New products, such as MB-SR60N mullion-transom curtain walling with increased thermal insulation and MB-104 passive windows that have U-values from 0.53, improve the energy balance of a building significantly.
Design and build a better future
The role of architects in reducing the carbon footprint cannot be underestimated.
Everyday choices, ideas and the implementation of sustainable projects will create a future where the next generations will have a better life.
Find a range of renovation and revitalisation case studies in the latest AluBook - Aluprof's 'album of trends'.
For more information and technical support, visit aluprof.eu/gb
Contact:
0161 941 4005
---