Amtico's directional symbols and social distancing messages can be slotted into existing luxury vinyl tiles and planks or fitted as whole new bespoke flooring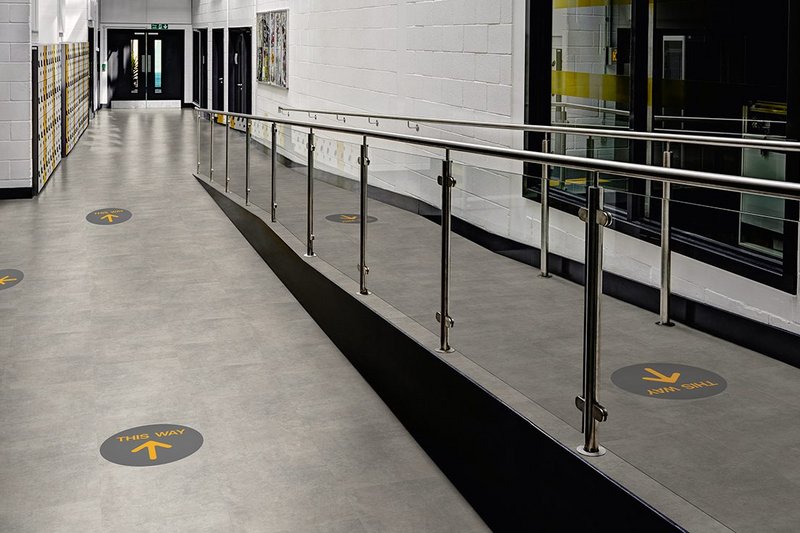 Amtico 'walk this way' helps manage the movement of people through buildings.
Amtico has created a range of specialist floor designs in response to the demand for social distancing and wayfinding solutions. Fully customisable to suit different spaces, these new planks and tiles can be easily slotted into existing luxury vinyl tile (LVT) flooring or incorporated as part of a new scheme.
The range is produced using Amtico's flagship Signature collection, utilising its precision-cut capabilities, creative flexibility and premium finish. The 11 standard designs are available in vibrant Napoli (yellow) against a Shimmer Metal (grey) background to capture attention and specifiers can take advantage of Amtico's bespoke service to create designs to fit individual project briefs and requirements.
The 11 designs include messages from 'Be Safe Please Practice Social Distancing' and 'Please Wait Here' to 'This Way' and 'Stay Safe Stand Back'. The tiles are available in 457.2x457.2mm sizes and planks come in 114.3x914.4mm as standard.
The range can be specified in alternative colours, sizes and messages to meet project requirements - for example, incorporating plank designs into a laying pattern or scaling the text to suit different spaces. With over 200 designs in the Signature collection to choose from, custom colours, messages and logos are easily achievable, even those with small-scale intricate detail.
As social distancing and directional walkways look set to become part of 'normal' UK life, Amtico has developed these floor designs to not only assist companies by promoting responsible behaviours, but also establish permanent wayfinding schemes and define movement in environments such as retail, offices, education and healthcare.
Designed and manufactured at Amtico's Coventry factory, all combinations are supplied fully formed and require no on-site assembly. As LVT is a hygienic flooring surface that is easy to clean and maintain, the range aims to fully support specifiers, contractors and facilities managers requiring reliable, durable solutions where tape or other short-term, low-footfall measures are not an option or are not visually acceptable.
Louisa Eyles, commercial marketing manager at Amtico, said: 'We understand and recognise the challenges faced by specifiers, designers and facilities managers as we all adapt to new ways of working. With measures such as social distancing quickly becoming an established fact of life, we have developed a range of floor designs that encourage responsible behaviour with long-lasting messages. By introducing the new floors, Amtico has once again demonstrated its commitment to its commercial partners and provided a product to suit all their specification needs.'
Amtico Signature is designed and manufactured at the company's Coventry factory. The collection comprises a unique laying patterns, extended palettes and a 1mm wear layer - the thickest of any LVT on the market.
For more information and technical support, visit amtico.com/commercial
Contact:
0121 745 0800
---