Practices take model-making printers and laser cutters home to manufacture face shields and headbands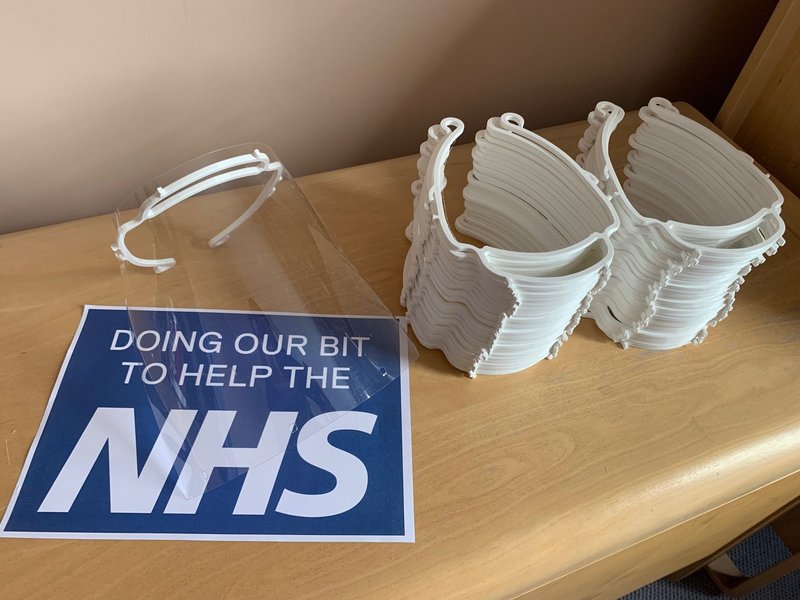 Grimshaw has moved printers into the spare room of partner Andrew Thomas where he makes headbands for the NHS via the National 3D Printing Society.
Generous-spirited architects across the UK are stepping up to produce protective face shields for frontline NHS staff, but more help is required to meet an estimated nine million shortfall.
Grimshaw, HOK, PLP, HTA, Foster + Partners and Make are among practices using office 3D printers and laser cutters to manufacture critical PPE ready to be used in wards across the UK in the fight against coronavirus.
Their efforts are being co-ordinated via non-profit groups, such as 3Dcrowd UK, the Do Some Good initiative and the National 3D Printing Society (N3DPS), that aim to provide a centralised resource to deliver reliable and safe designs to healthcare providers.
Grimshaw has moved several of its model-making printers into the spare bedroom of partner Andrew Thomas, who is producing two headbands for visors every 30 minutes for N3DPS as part of a total 20,000 visors made by the community each day. The headbands are picked up in batches by DHL and delivered for free to a medical supplier that sterilises the product, attaches it to an acetate visor and packages it ready for distribution direct to the NHS. Batches of less than 150 units, but more than 20, can be taken to drop-off points at Morrisons supermarkets.
Robert Sims, who is leading on the project at Grimshaw and whose wife is an intensive care nurse, told RIBAJ: 'My wife has been on the wards and there just isn't enough PPE, so as much as we can get out there the better. It's great to see how much collaboration there is. Everybody's pulling together, everybody wants to do their part and it's working very efficiently.'
HTA has moved five printers from its offices in Manchester, Edinburgh and London into employees' homes where they are making a total of up to 350 headbands a week using the same design endorsed by N3DPS.
Recognised organisations such as N3DPS ensure that masks are fit for use, sterilised and go to the hospitals that need them so there isn't a huge concentration in London
Senior associate Richard Foxley joined an NHS working group for PPE where he learned that clinicians preferred this design to an open-source alternative the practice was previously producing. It also cuts printing time from hours to 30 minutes and reduces the amount of materials required.
Foxley told RIBAJ: 'The NHS estimates it needs about 9 million parts for visors, so we literally cannot print them fast enough. For us it is really about collaborating with others because lots of small efforts can come together to make a big impact for the greater good.'
HTA and HOK have set up a new website, theindustryprints.co.uk, backed by the RIBA, to help spread the word, where architects can download model files, operating procedures and other know-how ready to get started.
PLP has adopted the open source Prusa face shield design from the Czech Republic that is verified by the country's Ministry of Health. Masks are manufactured in batches of 40 at a time across all printers in the office, each batch taking about two days to complete. Two members of the modelshop team assemble them into individual kits with the clear laser-cut visor and elastic strap attached.
DPD transports the products for free to 3DCrowd UK's distribution centre in Sheffield. PLP is currently in discussion with the National Equipment Appeal Database, part of Do Some Good, about other options for distribution.
This is heartening stuff and the industry's efforts go even further. Architecture schools, including The Bartlett, are utilising their workshop facilities to print visors for the NHS. Foster + Partners has developed a general-purpose prototype face visor aimed at fast mass production using digital and laser cutting machines as an alternative to 3D printing technology.
The open-source design comprises three components: a visor made from 0.5mm optically-clear PETG plastic, an interlocking soft PP headband and a surgical silicone rubber head strap that ties the two together. Each visor can be cut from sheets in under 30 seconds and the elements can be assembled in under a minute.
However, the private sector's efforts to support the NHS also face challenges. According to Robert Sims, printable plastics, printing filaments and acetate for visors are going to become harder to source as production escalates and there is only so much material that manufacturers are willing to give away for free.
'We're appealing to everyone and anyone who can possibly help to do so,' he said. 'It is also crucial that designers go through the correct channels when looking to print face shields. Recognised organisations such as N3DPS ensure that masks are fit for use, sterilised and go to the hospitals that need them so there isn't a huge concentration in London alone.'