Covid-19 has changed the way universities teach and interact with students - and learning environments need to be adaptable, flexible and resilient as a result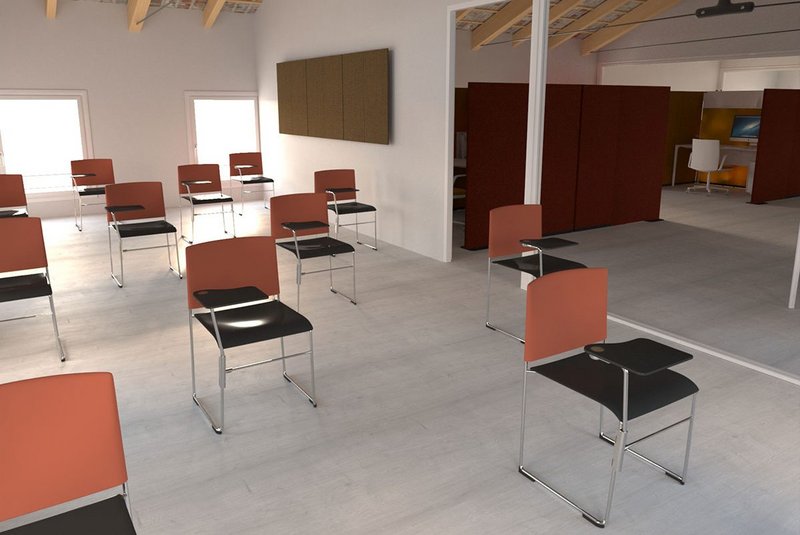 Distance learning: Arper's lightweight, stackable Stacy chairs. Customisable options include a left or right side detachable writing tablet, a linking system, row spacer, numbering system and trolley for stacking and easy portability.

Credit: Arper
The pandemic has brought major changes to teaching with universities offering online-only learning or online learning alongside offline strategies that provide at least some carefully managed interaction, discussion and practise on site.
This blended approach is prompting a rethink on everything from behaviours to protocols, technologies to materials and layouts to furnishings.
The need for distancing has created an opportunity to rethink the relationship between space and teaching. How space is furnished and utilised has an influence on interactions, communication and ways of working. Every subject taught requires its own spatial configuration, suited to the course content.
To work safely and well, educational buildings need flexible, interactive facilities. All learning, whether carried out independently, in small groups or in lecture theatres, requires adaptable furnishings.
Italian furniture company Arper is helping to reimagine higher education settings with furnishing ranges that can be modified and adapted to flexible learning environments. Arper designs can be personalised and shifted to meet specific needs at particular times.
The company's Cila Go chairs enable classrooms to be reconfigured to maintain safe distancing. Each chair can function as a workstation that can be individually cleaned and arranged according to the number of participants. Its Stacy chair is lightweight, easy to move and quick to reconfigure to a required layout. It also allows a tablet to be used as a desk.
Paravan dividers can be used to demarcate private areas for individual study and to provide an acoustic barrier around quieter group areas within larger open-plan layouts. Paravan Mood desk dividers enable distancing without sacrificing social and group interaction.
These unprecedented times call for adaptability, openness and innovative approaches. As university staff and students adapt to new ways of being in educational environments, their proximity has changed, but how they interact in these spaces remains the same. How individuals find connection is more important than where. Separate, not separated. Distanced, not distant. As always, together.
For more information and technical support, visit arper.com
Contact:
020 7253 0009
---