Designs by the Italian furniture firm provide the finishing touches to LC Architects' refit of Greece's Cosmote TV HQ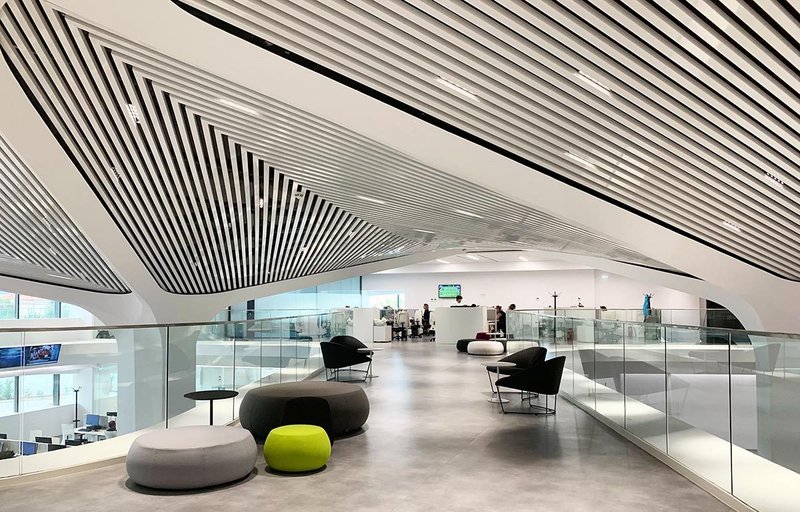 Cosmote TV HQ and Studios in Athens with furniture from the Arper Loop, Colina, Dizzie and Pix collections.

Credit: LC Architects
Designed by London-based architecture and design practice LC Architects and built in the Greek capital Athens, Cosmote TV HQ and Studios is a new building inspired by contemporary media and the constant flow of information.
A fluid, open space designed to meet the highest specification, the scheme sees the transformation of an existing industrial building into an inspirational combination of hybrid workspaces and state-of-the-art TV studios, pushing the boundaries of innovative architecture and design.
The project is designed to bring together in one building a number of smaller departments, creating an exciting environment for people to work, collaborate and thrive while promoting communication and connection between different teams.
At the core of the design is The Plaza, a dramatic central atrium with cutting-edge acoustic ceiling, entirely furnished with Arper furniture collections including Loop, Colina, Dizzie and Pix.
It is a flexible space where staff and visitors can network daily, encouraging collaboration and interaction.
A bridge in the heart of the building connects administrative and creative departments with production and technical spaces, creating a seamless spatial connection that fosters cross-departmental teamwork and team spirit. Arper's Colina, Dizzie and Pix furniture collections blend in perfectly with the environment thanks to their flexibility, texture, colour and softness.
The quality of the space is maximised by a series of collaborative internal areas, furnished with Saari, Dizzie and Pix.
The architects' work highlights how design can shape and influence human behaviour and emotions, and is focused on the search for organic forms that are soft and human-centred.
Natassa Lianou and Ermis Chalvatzis, co-founders and directors of LC Architects, stressed the importance of collaboration in their work with Arper: 'Our seamless collaboration with Arper's teams in the UK and Italy was key to the project's final outcome. We believe that all elements - large or small, details, textures, colours - contribute to the final co-ordinated architectural outcome.
'Specifically, in our work, we design signature spaces where all furnishings and equipment are selected very carefully in order to enhance the experiences and emotions that the architecture evokes in users and visitors, while creating an overall exciting space.'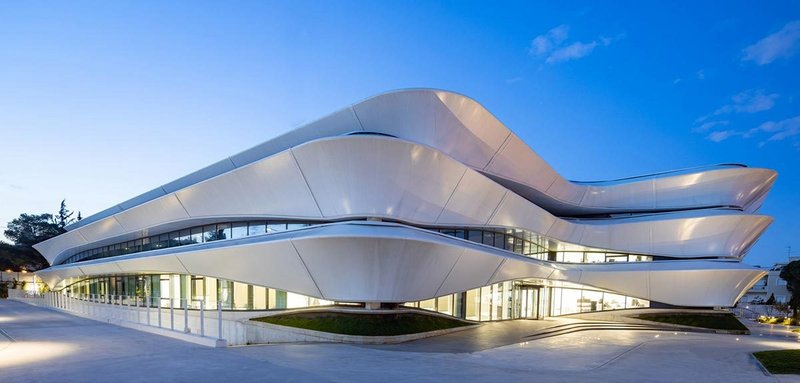 The Cosmote TV building was inspired by contemporary media and the constant flow of information.

Credit: Nikos Daniilidis
Speaking of Arper's collections as solutions to design requirements, they added: 'Architecture and design have the power to alter our behaviours and habits, which means that the selection of each and every piece that completes our projects is key to our work.
'The simple and clean lines of Arper's collections add the final touch to our project, creating pockets of seating or working scenarios in the space,' they continued. 'We believe that furnishing is the actual "touch point" of the users with the space, where they can sit comfortably, feel the soft textures and get inspired by the organic and fluid space they are experiencing.'
For more information and technical support, visit arper.com
Contact:
020 7253 0009
---