Free energy for life is on offer to residents of a proposed residential tower in Hemel Hempstead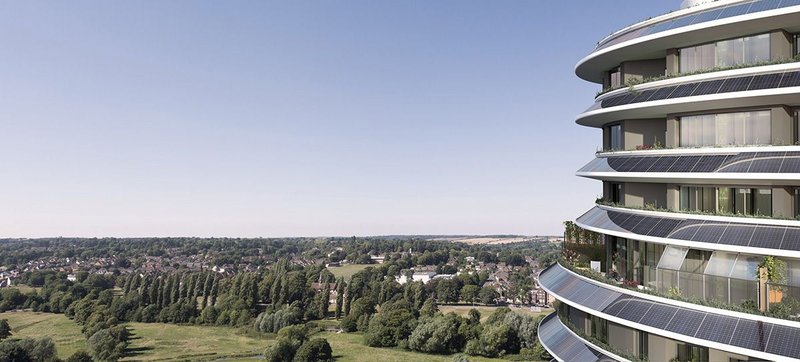 The Beacon, balcony view.
What is billed as the UK's most sustainable residential tower will produce more energy than it consumes, offering occupants 'free energy for life', but it will still rely on grid power during times of peak demand.
The Beacon is a 17-storey block of 272 luxury apartments due to be built on the site of a former brewery in Hemel Hempstead, by developer Lumiere.
A combination of onsite renewable energy generation, including the highest density 'solar farm' in the UK, and energy-conservation strategies, could make it the UK's first EPC A+ rated multi-dwelling building.
'We set the environmental bar high to make an impact, not based on spurious claims, but on solid design and engineering,' says Ambi Singh, commercial director at Lumiere. 'The leap came after we redesigned the original 208-apartment scheme to include 272 apartments; we realised the additional renewable generation and energy conservation measures created something far in excess of anything done before.'
Banks of solar panels on each floor and two vertical access wind turbines on the roof will generate a total of up to 840 kilowatts. A ground source heating system, air source heat pumps in the full-height atrium, and other heat recovery measures will provide enough heating for the entire building.
Energy demand will be reduced through measures such as high levels of internal wall insulation, triple glazing, LED lighting and a range of A+++/A+ integrated and freestanding appliances, including fridge/freezers, dishwashers and washer/dryers.
However, the scheme will still require energy from the grid during times of peak demand, such as in the evenings when there is no capacity for solar generation.
'An original plan was to include onsite power storage [storing power from solar generated during the day], but for us it was a matter of planning and the technology available at the time,' says Singh. 'The overall net position will be that the building generates more than it consumes and will therefore be zero carbon.'
Lumiere's offer of free energy for life for residents is not without limits. Consumption of heat, light and electricity will be monitored via the BMS and if it exceeds predicted usage levels they will be notified via email or text, with an option for the building management company to bill them for any excess.
'There are some schools of thought that if energy is free people do not value it,' says Singh. 'However, we are confident that buyers in The Beacon will be aware of the building's sustainable credentials and not abuse the principle of free energy.'
---