Revolving doors and security turnstiles by Boon Edam have been installed at One Braham in Aldgate, the refurbished, BREEAM Excellent-rated headquarters of BT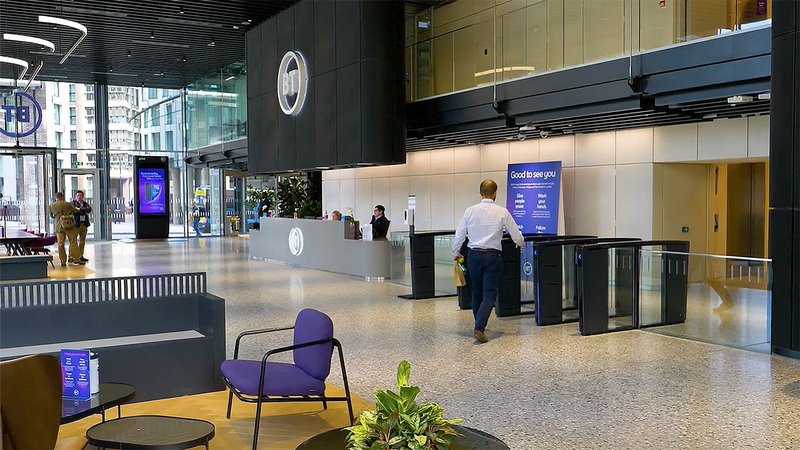 The new double-height lobby at One Braham: With 3,500 employees expected to pass through each day, an entrance that supported traffic while blending with the glazed facade was required.
Slimline security speed gates and all-glass automatic entrance doors have been installed to manage employee and visitor traffic flow at One Braham, the new headquarters of telecoms company BT in Aldgate, east London.
The Wilkinson Eyre-designed redevelopment of 18-storey One Braham, formerly Beagle House, was completed last year, with the renovation providing 298,000 sq ft of Grade A office space and 10,000 sq ft of ground-floor retail space.
The BREEAM Excellent-rated building rises to 16 floors above its new two-storey reception and features exposed ceilings, an atrium and two roof terraces with views out across the London skyline.
With nearly 3,500 employees expected to pass through the new double-height lobby each day, an entrance that supported traffic while blending with the glazed facade was required.
Main contractor McLaughlin & Harvey approached Boon Edam and three four-wing, all-glass Crystal Tourniket automatic revolving doors were specified for the project.
Constructed completely from glass with a minimal stainless-steel frame, the Crystal Tourniket is one of Boon Edam's most popular revolving doors. Its simple elegant design makes a striking entry to any building.
Once the entry solution had been identified for both main entrances, there was still a requirement for a ground-level security and access control system for effective visitor management.
Three banks of Lifeline Speedlane Swing turnstiles were specified by interior fit-out company ISG to create a line of defence near the elevator and lift areas.
Security turnstiles, or speed gates, are highly effective when controlling large groups of people. The turnstiles act as a physical security barrier using advanced technology and sensors to guide visitors through.
The Lifeline Speedlane Swing is Boon Edam's narrowest, most intuitive security turnstile; it is best-in-class when it comes to confined spaces.
Sleek in design and powered by state-of-the-art technology, it's the most frequently specified product in the company's Lifeline Series.
Knowing the estimated building capacity helped dictate the number of security lanes needed and in what configuration. Eleven Lifeline Speedlane Swings were installed to the east, west and north-west side of the reception area.
A 615mm lane width allows the use of two swinging glass wings instead of one, increasing the opening speed and adding to the feeling of openness within the lobby. The wider lane configuration allows large groups to pass through, avoiding bottlenecks and providing convenient wheelchair, luggage or delivery access.
In keeping with the modern aesthetic, each lane is finished in Boon Edam's premium Business Edition RAL black with blue LED lighting that aligns with the overall colour palette.
Lifeline Boost Pedestals were also installed for efficient card collection when visitors exit the building.
The Lifeline Boost enables visitors to simply drop their access card into the device, signing them out automatically and notifying building management. The card can then be retrieved and reprogrammed, ready for the next visitor.
One Braham achieved a BREEAM Excellent sustainability rating and has been awarded a WiredScore platinum rating for its digital infrastructure.
For more information and technical support, visit boonedam.co.uk
Contact:
01233 505900
---