An innovative installation at Make architects' red brick HM Revenue & Customs offices in Salford manages the people flow with ease while providing a bold, spacious entrance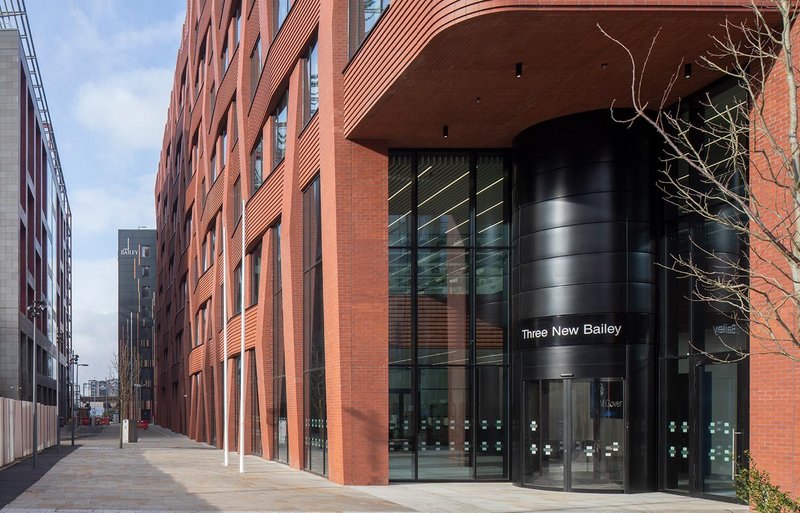 Three New Bailey is a 14,620m2, BREEAM Excellent building in Salford.
The seven-storey Make architects-designed landmark is part of the £1 billion New Bailey masterplan, an English Cities Fund and Salford City Council regeneration scheme aimed at transforming the city into a vibrant business, retail and leisure destination.
The building serves as a regional hub for HM Revenue & Customs and has around 2,400 people coming through its doors each day.
Three New Bailey establishes a strong, quiet presence fronting the new piazza and is the first building passengers see on leaving Salford Central Station.
A distinctive, interlaced red brick facade references local 19th century warehouse architecture and pays homage to the city's cotton weaving heritage.
Specifying an entrance solution
Early in the project, Make brought in entrance control specialist Boon Edam to deliver a bespoke entry.
Because the Three New Bailey entrance sits on a busy pedestrian route, the project needed to be DDA-compliant in order to act as both a fire escape and a means of controlling the entrance lobby.
Boon Edam worked closely with specialist facade contractor MTW Architectural to deliver a design that was true to the architect's specification and the technical issues associated with the brief. The team installed an automatic circular sliding door.
Designed with two curved bi-parting doors, the Circleslide has a wider opening than traditional sliding doors so can accommodate a higher traffic flow.
Circleslide combines the design of a revolving door with the functionality of standard sliding doors, providing a perfect entry solution for the project.
Problem solving and designing a bespoke solution
Unusually, the project called for the door to be installed directly under a six-metre suspended cylindrical drum to create the illusion of a taller, more striking entrance. This had implications for ventilating the integrated Omnivent air curtain installed in the door canopy.
'Air curtains require adequate ventilation to allow airflow and enable the heater to breathe,' explains Andrew Eades, project manager at Boon Edam, 'but the vents were compromised because of the positioning of the cylindrical structure.'
Boon Edam and MTW worked together to find a solution. 'We calculated that a specific number of slots needed to be machined into each roof panel to achieve the combined m2 perforation,' says Eades.
The team also delivered a custom-built box section to connect the door canopy to the drum-like structure, creating the impression that the door is eight metres tall, and an access panel in the canopy to allow easy maintenance.
The bespoke Circleslide door is finished with a matt black anodised coating to complement the red brick facade. Its circular design gives the illusion of a revolving door, creating a three-dimensional effect.
Boon Edam collaborates with designers, architects and building managers across the UK and beyond to provide futureproof entry solutions.
For more information and technical support, visit boonedam.co.uk
Contact:
01233 505900
---