Without weather constraints, SterlingOSB Zero proved just the job for a sound-proofed, cool-looking music venue in Coventry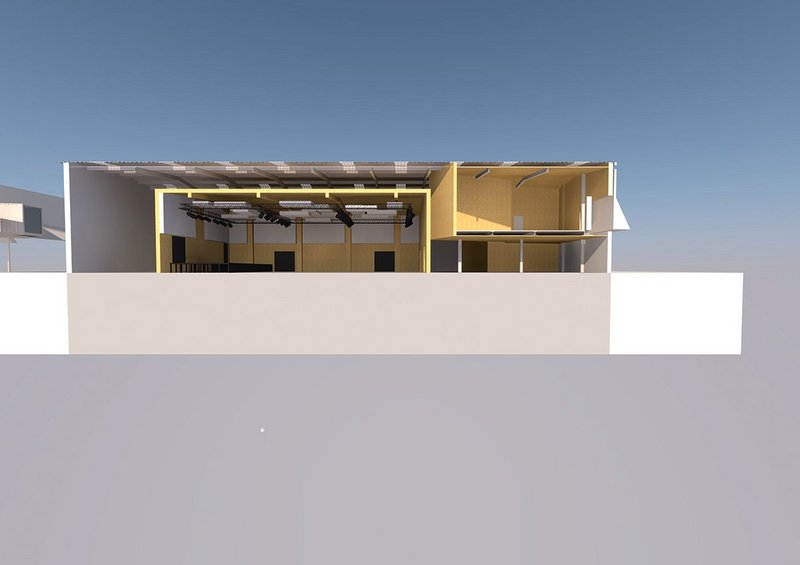 BPN Architects' perspective section clearly illustrates the structural nature of The Box.
'We like SterlingOSB Zero as a material; it's a bit raw and edgy, and it's really easy to detail and use which is why it was chosen for this project,' says Larry Priest, a partner at BPN Architects. He's talking about The Box, a new multi-purpose arts and music venue recently opened in Coventry, where SterlingOSB Zero provides the finish for the walls and ceiling of the performance space, foyer and the mezzanine floor. It even features in the meeting room and breakout spaces.
The Box is at FarGo Village, a former industrial estate adjacent to the city's Medieval quarter, which has been transformed into a creative hub as part of the area's regeneration. The Box is the latest building on the site to get a BPN makeover: 'In the past five years we've converted a number of the old 60s buildings into studios, workshops and business start-up premises for developer Complex Development Projects, the company regenerating the site,' says Priest.
SterlingOSB Zero is sustainable, decorative, has a low surface spread of flame and worked acoustically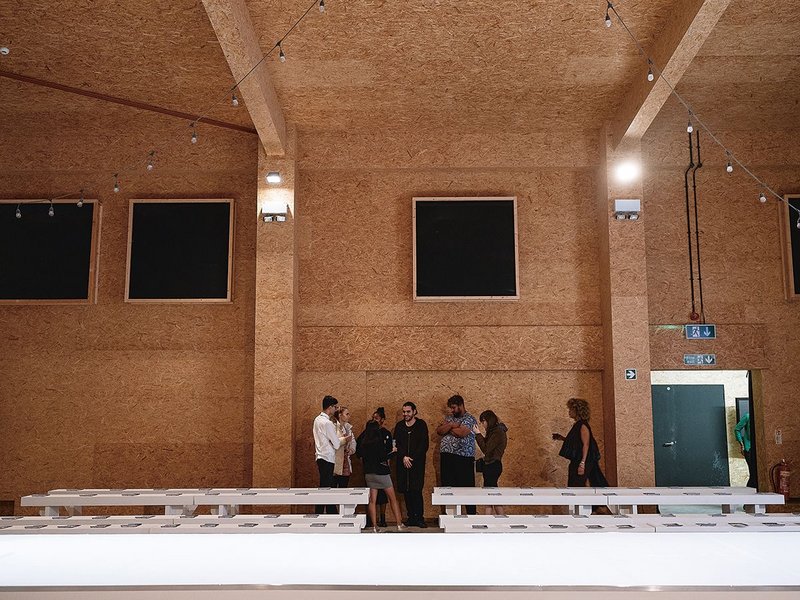 A sense of the scale of the completed installation in the main Box space.

Credit: Print Manufactory - FARGO Village
Surprisingly, the new venue is hidden in an almost windowless portal-framed industrial shed that started life as a carpet warehouse. Under the first phase of the estate's metamorphosis the vacant warehouse was used as a gallery. 'There was not enough money to create The Box at the start of the site's regeneration so it had an initial phase as a gallery,' explains Priest. 'Its transformation into a music venue is under a second phase of works.'
The venue's concealed location within an existing building did restrict its size. But it also gave BPN aesthetic freedom without needing to worry about the weather. 'The design is based on what we could fit within the existing envelope of the former warehouse, but because it is inside this existing shell there were no aesthetic constraints and no need to worry about weatherproofing – we could do what we wanted within the limited budget,' Priest explains.
What the architect has slotted into the old carpet warehouse is a 500-person capacity multi-purpose performance venue, a large entrance foyer with a mezzanine level above and a meeting room and breakout space. In addition, there are all the support spaces necessary for a performing arts venue including changing rooms, toilets, stores and a plant room.
Externally, to add an element of fun to the building's retail-park aesthetic, the architect has punched three sections of shipping container through the facade above the entrance. Internally, SterlingOSB Zero gives the venue its character.
'SterlingOSB Zero is an engineered wood that gives the interior a really nice orange quality; it's sustainable, decorative, has a low surface spread of flame and worked acoustically,' says Priest.
The venue is close to a residential area so minimising noise-breakout from the performance space is critical. Its name – The Box – gives a hint as to how this has been achieved: it has been built, literally, as a box within a box. 'There are no proprietary acoustic systems used because the venue has been constructed on a tight budget; instead the key acoustic principle is to isolate the performance box from the portal frame enclosure to minimise noise breakout,' says Adam Mottershead, acoustic advisor to FarGo Village.
The use of SterlingOSB Zero is also key to containing noise within the venue. A lightweight steel structure supports the walls and ceiling of the inner box. In order to add as much mass as possible and provide acoustic discontinuity the team devised what Mottershead calls a 'SterlingOSB Zero sandwich'. This comprises an 18mm thick outer layer of SterlingOSB Zero, a 15mm thick plasterboard filling and an 18mm inner skin of SterlingOSB Zero. 'When sounds travel through a panel made using materials with different properties you get a better level of acoustic damping – so the SterlingOSB Zero sandwich is a cost effective way to squeeze as much acoustic performance as possible out of the construction of both the ceiling and walls,' Mottershead explains.
An added bonus of using SterlingOSB Zero as both the inner and outer surface of walls and ceiling is that it means almost every surface can now be used as a patress onto which objects or artwork can be attached. 'All these aspects, together with its visual appeal, mean it provides a really dynamic solution,' says Mottershead.
Priest says that the SterlingOSB Zero solution was very much a collaborative effort between the architect, design team and contractor with nobody being too precious. 'It was a nice job to work on; we did things slightly differently and created a special place,' he concludes.
---
This feature was produced in association with Norbord Europe
@NorbordEurope