The Office and Mad Men are just two of the fictional environments recreated in almost obsessive detail as 3D plans by the team at Drawbotics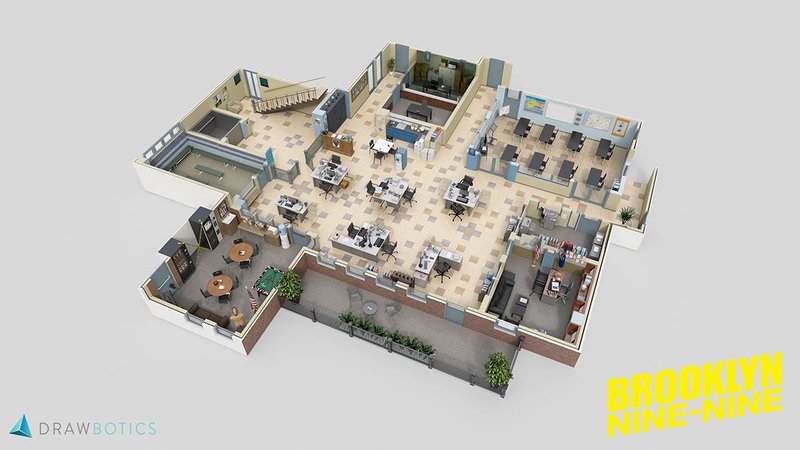 Brooklyn Nine-Nine
Architects spend their lives with floor plan schematics imprinted on their brains, but one firm has taken the obsession to a new level by creating highly detailed 3D plans of fictitious office environments in TV shows.
The team at online real estate marketing company Drawbotics spent hours binge-watching TV box sets and trawling through online documentation to piece together 'authentic' floor plans featured in seven different shows, including the IT Crowd, The Office (US), Parks and Recreation, Mad Men and Silicon Valley.
What started as a fun side project soon went viral on the internet, shared on fan base discussion groups and on Twitter, where the company received comments from cast members and people who worked on-set.
Most TV shows are filmed on small scale sets that mock up different spaces, so pulling together full homogenised plans was a jigsaw puzzle, says Quentin Delvigne, digital marketing manager at Drawbotics: 'We searched for existing documentation that would help us be as accurate possible – floor plans, blueprints, set tours, fan base discussion groups – but in many cases there was not much available. Watching the episodes enabled us to cross-check the references we found and come up with a basic floor plan of our own to model in 3D.'
The firm modelled every individual piece of furniture, object, decoration, every tiny detail it saw on the real sets. For example, the IT Crowd floor plan includes Roy's collection of kids' toys on the shelves behind his desk, bins overflowing with scrunched up paper and a pair of Jen's red high heels on the floor in her office.
As news of the project spread on Twitter, Drawbotics received positive feedback from comedy writer Graham Linehan (the man behind the IT Crowd and Father Ted), Silicon Valley actor Martin Starr and crew members from Brooklyn Nine-Nine.
Rich Sommer, who played Harry Crane in Mad Men, contacted the firm via Reddit, saying: 'Very strange to see it that way. Looks pretty much like how it was… It was the first time I'd been on a set that was built to replicate the entire floor of a building, except that walls could be pulled to accommodate certain shots.'
Now Drawbotics is planning to develop the idea, creating 3D plans of TV show apartments and housing and an immersive 3D tour of one of 'the most famous TV show houses' based on a service it provides to real estate professionals.
'To help the fans guess which show, we included a hint in one of the current 3D floor plans,' says Delvigne. Perhaps architects should co-opt this idea, providing fans with hints of future projects in drawings and renders?
---