Amtico and RIBAJ invited the six teams to Amtico's headquarters in Coventry to kick-off of the design thinking with the competition launch. Read more…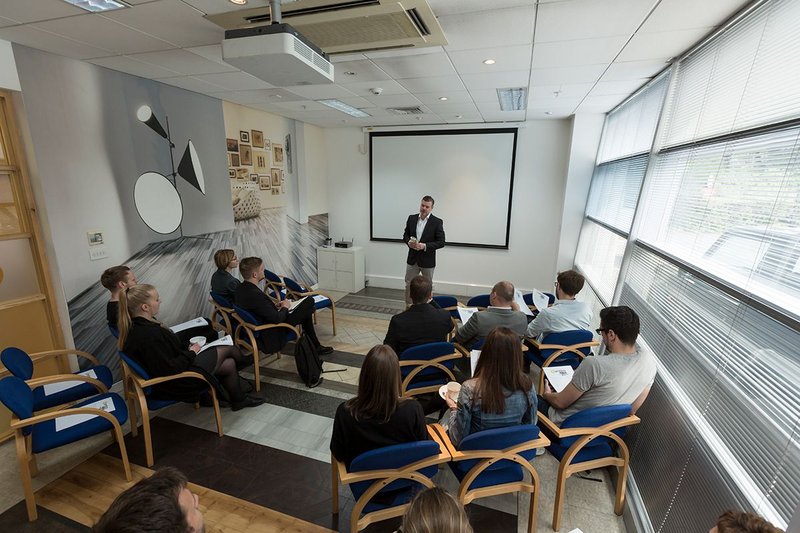 Amtico sales and marketing director Phil Southall briefs participants.

Credit: Duncan Smith
Last year Amtico contacted the RIBA Journal to enquire about launching a competition together. To coincide with the launch of the firm's latest flagship tile designs to its premium Signature Collection on 9 June, it wanted to challenge teams of architects to create new design combinations taken from Signature products, as an addition to the Designers' Choice collection. This is a collection of 84 beautiful flooring designs created by Amtico that can be specified for any type and size of space. Predefined and ready to use, the product combinations across 14 laying patterns make specifying attractive and durable floors quick and easy.
Using Signature products and set laying patterns, the idea was to invite architects to bring out the best combinations and to add architecture's unique design perspective to existing and future flooring products. The winning collection would go to market in 2017 as an exclusive architect-designed Designers' Choice product. A proportion of royalties from sales of the new design would be shared with the winning practice and the RIBA Education Fund, which helps architecture students experiencing financial hardship. The RIBA Journal was to choose the practices, drum up interest and publish the results.
So earlier this year, Amtico and RIBAJ invited six practices in teams of three to compete. Both young and up-and-coming and more established firms were brought along, including Cousins & Cousins, DLA Design, Moxon Architects, TP Bennett, What Architecture and Willmore Iles. Then, back in May we all travelled up to Amtico's headquarters in Coventry to kick-off the design thinking with the competition launch.
The whole day was about fostering collaboration and getting under the skin of the products, as well as understanding how, as the only such Luxury Vinyl Tile products to be fully designed and manufactured in the UK, they are made from beginning to end in the on-site factory.
Phil Southall, UK sales and marketing director at Amtico, got the day started by introducing the company. Founded in 1965, it is one of the largest manufacturers in the city and was the first brand in the country to make Luxury Vinyl Tiles. Teams were then briefed on creating their own set of six flooring designs based on a theme to be submitted in June. Of these, three designs would then be selected by Amtico based on their marketability and made up by Amtico into real-life prototypes for the judging process in July.
But before going out into the world to think up themes and combinations, the teams got stuck into the production process to understand how it works. This meant first a factory tour from Amtico head of technical Gary Wilson, and then a look at the design studio with Lorna Williams, head of product design and creative branding. Here everything works symbiotically to ensure the most advanced designs are met by the latest manufacturing processes. A longer examination and description of the processes involved can be found in the July/August 2016 issue of Products in Practice, pp.12-13.
After a social lunch meeting with the designers, the afternoon was spent getting to know the Signature collection of products that the architects would use in their laying patterns. Amtico's in-house designers Karen Quarterman and Sarah Escott took the groups through the endless possibilities and pattern variations, with an exclusive first look at the company's Signature collection and latest online planning tool for specifiers, as well as its newest tile innovations Umbra and Chroma.
Inspired by a long and intense day, the teams clearly left brimming with ideas of what to do next.