Project Etopia's low carbon, lightweight modular system is sustainable and saves time and costs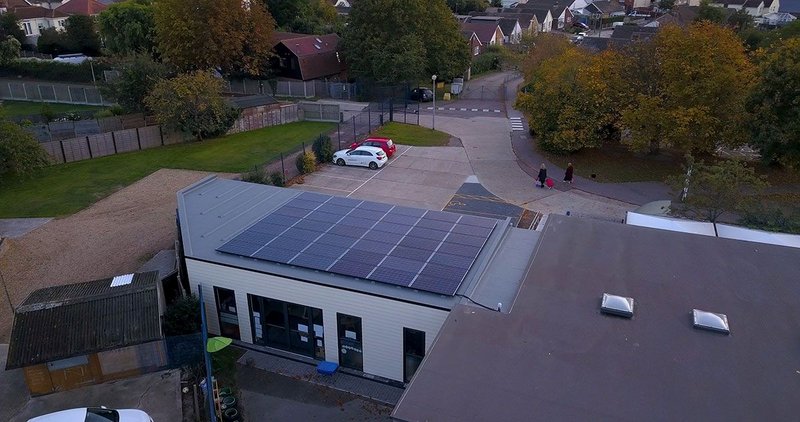 A primary school extension project in Essex ha been completed in just six weeks, for £70,000 less than the equivalent traditional build, using a new lightweight modular system with low carbon credentials.
The extension, to Brightlingsea Primary School in Colchester, includes a classroom, dining room, kitchen, staff room, atrium and other facilities and is able to accommodate 30 pupils and two teachers. It was built in collaboration with Mitie as part of a framework with Essex County Council.
The 10m2 shell was completed in less than eight hours using a lightweight structural insulated panel system weighing just 97kg/m, supplied and installed by start-up modular smart homes provider Project Etopia. In conjunction with a simplified engineering, including a free-pipe cooling and heating system, the entire project from groundwork to PC, took only six weeks.
Project Etopia's modular system integrates advanced technology including daylight mimicry lighting, intelligent building controls and the ability to generate electricity from solar photovoltaic panels and store it in a battery for future use.
Joseph Daniels, founder of Project Etopia told RIBAJ: 'Energy+ is our way of talking about how our buildings preserve, generate and store energy. We designed the build system to be as thermally efficient as possible (thermal performance is 0.09-0.13 W/m2k before the walls are rendered) to ensure that buildings can create more energy than they use. That energy is stored up for use on colder days.'
The extension cost just £150,000, or £1,400 /m2, excluding foundations, compared to around £220,000 for a traditional timber-framed extension of a similar size and without the high tech energy efficiency measures. The extension is compliant with learning space guidelines outlined by the Education and Skills Funding Agency.
It's the company's integrated approach to design that partly accounts for the low cost, says Daniels: 'We are so heavily involved in the whole process. We have part-ownership of the panels we install, we do the windows ourselves, we do the manufacture, build, design and development. We also develop the innovative smart technology ourselves, so the entire process is simpler, faster and cheaper.'
Modular units can be stacked up to six high to enable schools grow as and when required. Since completion of Brightlingsea Primary, Project Etopia has entered discussions with Mitie and Essex County Council to construct a stackable classroom unit.