The robust frames of outdated 60s office blocks make them ideal for reuse, says architect Nex-. Brighton University's new Photography Centre is a case in point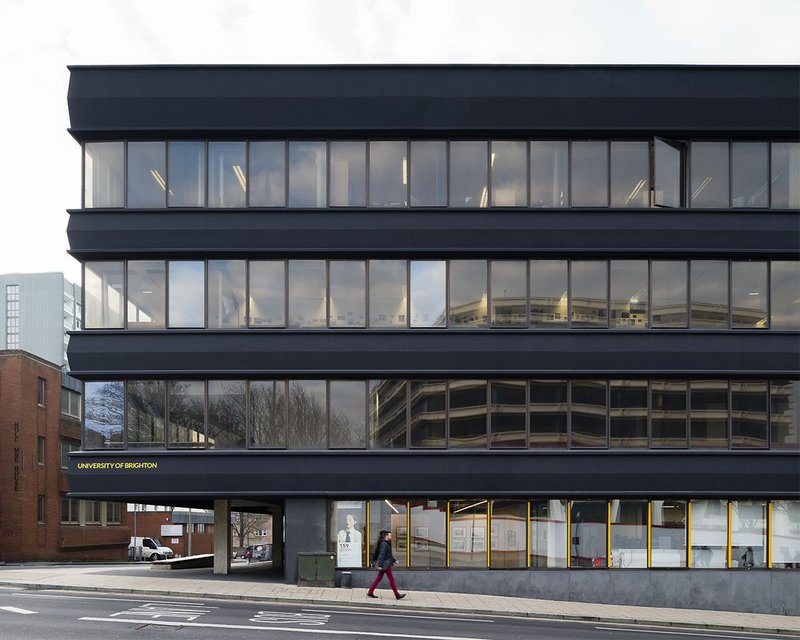 Credit: Nex-
A former basement car park in a dilapidated 1960s office block in Brighton has been transformed into a vibrant, naturally lit workshop for photography students.
The retrofit of the 3,400m2 building, devised by London-based architect Nex- for the University of Brighton, encompasses the basement, ground and first floors. The Photography Centre responds to the Faculty of Art & Design's need to accommodate increasing student numbers as part of a wider campus upgrade.
The existing heavy duty concrete frame and finely detailed concrete and glass facade were retained and repaired. A bold reprogramming of the internal space saw a large 9m by 9m hole carved through the soffit of the 600m2 former basement car park to create a double-height specialist photography production lab.
Parts of the ground floor were knocked through to enable daylight from ground floor windows to illuminate the space. Visitors to a public exhibition and business hub area on the ground floor are able to look down into the void and see students at work. The upper floor is home to enclosed teaching and meeting rooms.
The material palette for the refurbishment combines the raw qualities and durability of the original concrete building with bright colours and finishes that reference the centre's services to photography and film.
The concrete structural frame is exposed and set against an infilled ceiling of dark wood wool panels. On the ground and upper floors, the matte white walls, used for digital and print photo review, are reflected in a dark polished resin floor.
A vivid yellow paint denotes areas given over to production – it covers the floor of the basement and staircase lobby areas where historic tools used in photographic production are on display, as well as the interiors of the retained stair cores.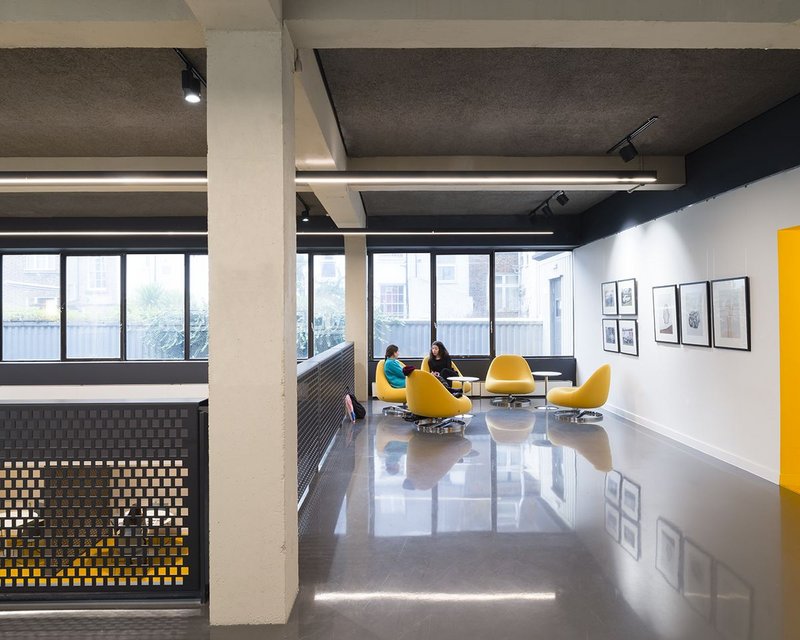 Credit: Nex-
Retrofitting the building with the heavy servicing associated with a specialist photo and film centre was not easy. 'All the existing services had to be completely replaced,' says Alan Dempsey, founding director of Nex-. 'We were able to house them in a large chunk at the rear of the basement and a newly installed prefabricated plant room on the roof. A key challenge was the requirement to carry out all construction while the upper floors of the block remained occupied and in use by another university faculty."
Office blocks of the 1960s and 70s are an abundant resource for this type of sustainable refurbishment, he adds. 'There are so many buildings coming to the end of their usable life, in terms of the servicing and cladding, but with substantial frames that can take quite a bit of alteration. Several projects over the past five to eight years have shown more adventurous reuses of such structures.'