Designers of Leicester University's new Centre for Medicine believe it can, but they haven't been afraid to tweak some of its tenets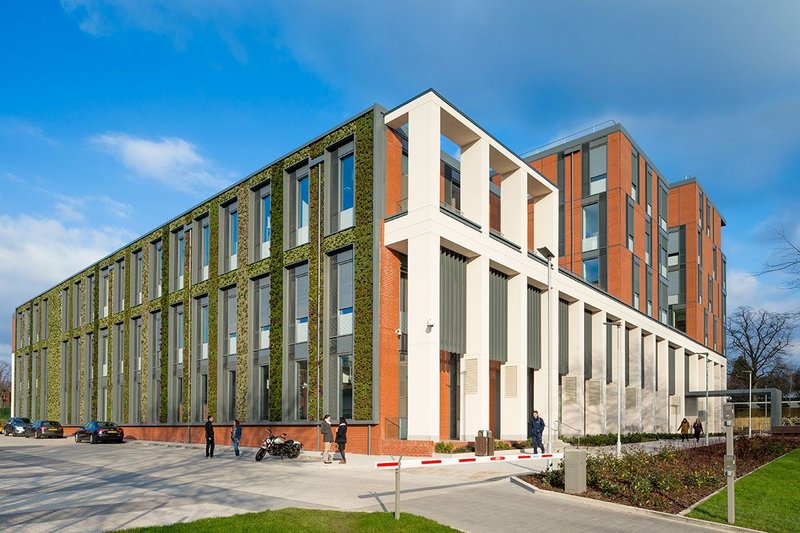 Passivhaus on the scale of the new Centre for Medicine at the University of Leicester hasn't been achieved before in the UK.
With a gross internal floor area of just under 13,000m2, the building is around four times larger than previous record holder, the Enterprise Centre at the University of East Anglia, completed in 2015.
A 'fabric first' approach to construction, with high levels of insulation, and low levels of air permeability and thermal bridging, is expected to deliver energy consumption less than a fifth that of the existing school of medicine, located across the road: 80kWh/m2, compared with 550kWh/m2. Stringent Passivhaus requirements, including an ultra-low U-value of 0.13W/m2/k for the roof, walls and ground floor slab, and less than 15kWh/m2 of energy for space heating, were tricky to deliver on a building of such size and complexity.
Jon Chadwick, senior associate at Associated Architects, says: 'The idea of doing Passivhaus at this scale was a very new thing when we came to the project, in 2010. Trying to find contractors, subcontractors, and products that would deliver the chosen aesthetic, was difficult.'
The project relied heavily on design coordination in BIM and the offsite manufacture of curtain walling on the upper storeys to deliver high levels of quality and precision. The ground and first floor levels were built using traditional masonry brick and block cavity walls, filled with 300mm of cavity insulation, which increased reliance on the quality of individual workmanship, using wet plaster and tape to achieve air tightness.
Around 30% of the air entering the building passes through 1.6km of Rehau 'earth tubes', or ground air heat exchangers, embedded below the building, that temper incoming air to a consistent comfortable temperature.
The orthodox Passivhaus approach of including more windows oriented to the south, and fewer to the north, east and west, was rejected in favour of a more even distribution of openings across the facade.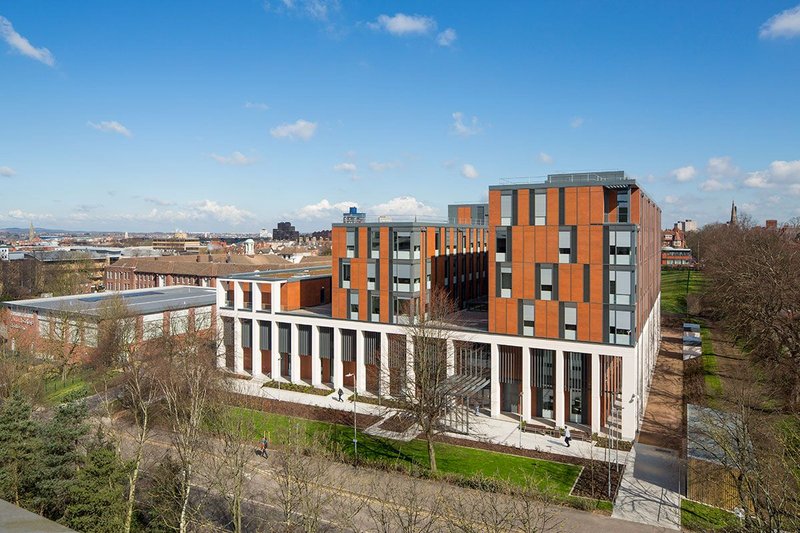 According to Chadwick, it is easier for larger projects to compensate for this by improving measures elsewhere, for example, installing better performing insulation. 'On a smaller project every element can have a more significant impact on the overall end result, proportionately speaking,' he says.
Another commonly held belief, that Passivhaus buildings should not integrate openable windows, was overturned. The Centre for Medicine features 100% fixed glazing, but every office has an openable window vent, located behind an external louvre panel, that is designed to allow in a modest amount of fresh air.
The centre is designed to EPC 'A' standard and is targeting a Display Energy Certificate 'A' rating, to demonstrate that it performs to the same high level of energy efficiency in operation, as in design. A three-year Soft Landings period will see the main contractor, design team and university stakeholders monitor energy usage in operation then implement measures to drive it down.
'We are trying to make a commitment to say it was designed to achieve this standard and if it doesn't we need to get to the bottom of the reasons why,' Chadwick says.
---