As regulation subsides developers are seeing the benefits of making homes sustainable, but do consumers have other priorities?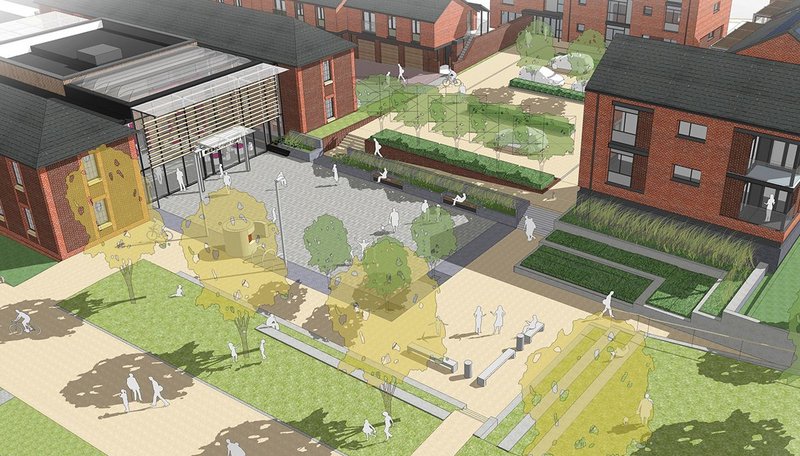 Architecture PLB's Barracks Square proposal for the Whitehill and Bordon Regeneration project in Hampshire: 100 homes built to Code 5 and Zero Carbon Homes standards, adopting a 'fabric first' approach.
Red tape, it would appear, abhors a vacuum. The government's winding down of the Code for Sustainable Homes may have marked the end of this nanny-state regulation but it has also created an opportunity. A new era of free market standards, benchmarks and labels now looks to be on the horizon, all promoting sustainability but this time round notably omitting the Code's now unfashionable S-word.
BRE's Home Quality Mark is imminent, and the National Energy Foundation and Housing Forum have concepts in the pipeline. Add to this initiatives in the non-domestic sector and buildings could soon be wearing a host of new more consumer-friendly labels. With healthy construction output and government pledging to deliver on ambitious housebuilding targets, there should be plenty of buildings to pin these badges on, but will developers and the public buy them without the coercion of legislation?
In truth, the Code for Sustainable Homes has not quite gone yet. Local authorities can continue to require Code level 4 energy performance – in excess of Building Regulations requirements – until amendments to the Planning and Energy Act make that performance regulation in 2016. The pipeline of Code homes in development will also take several years to work through, while some sustainably-minded housing providers continue to apply the standard of their own volition during the transition.
The Home Quality Mark (HQM) has been developed by the Code and BREEAM's originator, BRE, and focuses on housebuilding from the consumer perspective, covering essentials from broadband speed to energy bills. Different developer groups are responding to the concept, says Dr Gavin Dunn, BRE director of BREEAM. 'In the social housing sector the Code's wind-down means there is a need for the tool. SME housebuilders are under a fair amount of pressure and some are looking for a means to differentiate,' he explains, adding: 'The bigger firms are mainly saying they have an open mind, and that anything that assists with quality and performance is good, although they are looking for something to resonate with their consumers, so that it factors into their decision making.'
Sustainability boost
Sustainability and energy efficiency come fairly low on buyers' and renters' priorities, although a survey of the general public by BRE found that 54% of respondents would prefer to buy or rent a home that had a green stamp of approval. 'People working in industry accept that a new home is more efficient than a second hand one, but homebuyers often don't understand that,' says Rory Bergin, partner of sustainable futures at HTA. The architect has worked with insurance company BLP and the Housing Forum to develop the Home Performance Label, which aims to give homebuyers and renters basic information about a property, from running costs to square footage. 'All we plan to do is provide clear information. We're hoping this will nudge the market in the right direction,' says Bergin. 'Our view is that we're in a period of government with little interest in regulation, so you have to work at customer appeal and show the market the benefits of a sustainable future.'
Research carried out for the pilot – featured in New London Architecture's New Ideas for Housing exhibition last autumn – has already proved informative in quantifying wide variations in the space, storage and daylighting levels in homes. These variations are not yet reflected in market pricing, but they could be in the future, benefiting consumers and industry, says Bergin. 'The private rental sector sees huge benefits in giving tenants information, while developers see it helping them to differentiate their product from the second hand market.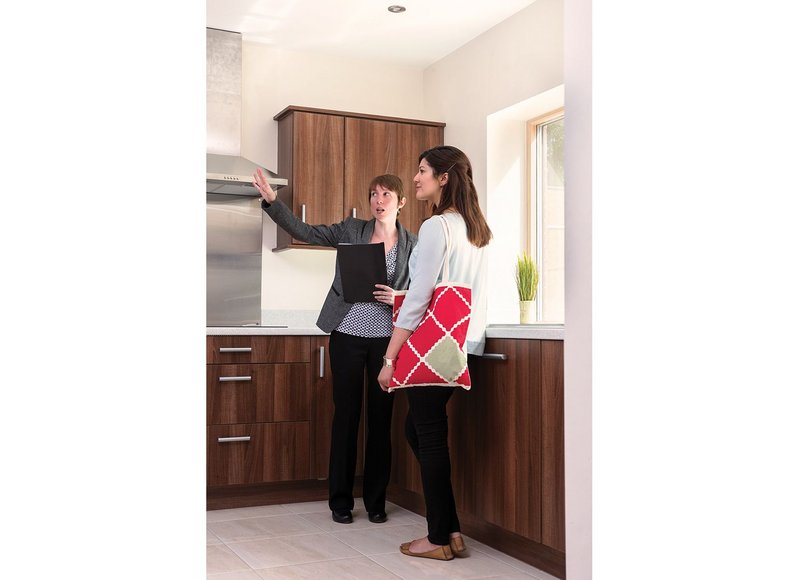 BRE is hoping that free market standards and benchmarks for sustainability will appeal to homebuyers.

Credit: BRE
Performance gap awareness
Developers have another reason to take a closer interest in sustainability measurement systems: the gap between design and performance. The National Energy Foundation's (NEF) Assured Performance Process focuses on this by 'making sure oversight is embedded', says its senior energy specialist, Adam Tilford. The process came out of work by NEF for East Hampshire District Council to set a sustainability benchmark for the 3,350 homes planned for a 100 ha former Ministry of Defence site at Whitehill & Bordon. It is being developed by NEF and the Zero Carbon Hub and trialled on phase one of the green town expansion, the 100-home Quebec Park, which is being developed by Radian Group to a design by ArchitecturePLB.
'It helps developers to demonstrate the quality of their home and removes the risk of ­under-performing. Risk protection is a key driver,' says Tilford. That may be pertinent in a business environment where car brands – once held up as paragons of best practice for ­construction – are being vilified over diesel emissions measurement practices.
It has also caught the eye of local planning authorities, he says. 'They're interested in its potential as an early stage planning tool, identifying performance gap concerns at their stage of the process. For example, it would highlight the overheating potential for a scheme of single aspect apartments with south facing windows.'
Tilford sees the process as an opportunity for industry to demonstrate that it can, literally, put its own house in order: 'In the absence of tight government regulation, can we come up with a way of closing the performance gap without being told what to do?'
Educating the consumer
Both private and affordable developers are helping shape these concepts. 'We're very keen to be part of initiatives that support the quality of our homes, and promote quality in the industry,' says Piers Banfield, group product director with Cala Homes. Cala has trialled the Home Quality Mark on its Spring Meadow scheme, now under construction in Witney, Oxfordshire.
Banfield says: 'There is a need to educate the consumer, although the UK housing shortage limits the impact of this kind of information. But it is important to support the consumer's buying decision, and for us it is about the bigger picture. We want to be the housebuilder of choice and an employer of choice, which also makes us an investment of choice. It improves the perception of your business as a whole.'
Some question whether emerging labels do have the magic formula to change consumer and business perception. 'A lot of things are important to the consumer, like the number of defects post handover and how to make a home work,' says Lynne Sullivan, co-founding partner of architect Sustainable By Design and Good Homes Alliance board member. 'You have to ask whether the new labels go far enough.'
But this could be only the beginning of the story, says BRE's Dunn: 'The voluntary standards space is going to be about a range of tools used by different people for different aims.'
---
MEANWHILE, IN THE NON-DOMESTIC SECTOR
Experience from the non-domestic building sector indicates that sustainability labels can have an impact. Over its 25 years in the market BREEAM has helped to drive progress, says BRE's Dr Gavin Dunn. Top developers are backing research aimed at guaranteeing the in-use energy performance of new office buildings. Consultant Verco is working on research with heavyweight backing from the Better Buildings Partnership, funding from top property players, and support from DECC.
The research is looking at Australia's successful NABERS (National Australian Built Environment Rating System), which has at its heart an Energy Commitment Agreement. 'The overarching feature of NABERS is the mentality of designing for performance, the culture that things have to be done in the intended way through design, construction, commissioning and operation,' says Robert Cohen, technical director with Verco. 'If we can get new buildings working well, it could show pathways to how we might improve existing buildings.'
---
A GUIDE TO THE NEW NAMES
Assured Performance Process
Originated by National Energy Foundation (NEF)
What it does Addresses sustainability and the performance gap at planning, initial and detail design, and construction stages. Has nine aims within each stage
What's the badge Yet to be decided (along with the name), but there is likely to be a mark of recognition
Development stage: NEF is working on a pilot with East Hampshire Council, and with Zero Carbon Hub on development
Home Performance Label
Originated by Housing Forum with HTA and BLP Insurance
What it does Gives information, specifically: floor area, storage area, volume, daylight, broadband speed, and annual operational and maintenance cost
What's the badge No overall rating, although a red/amber/green colour coding helps consumers recognise performance
Development stage Piloted in a home comparison website, and a consortium is being assembled to take it forward. Supporters include architects Levitt Bernstein, PRP and Pollard Thomas Edwards as well as developers L&Q, Wates and Pocket Living
Home Quality Mark (HQM)
Originated by BRE
What it does Measures factors including running costs, environmental footprint, resilience to flooding and overheating, impact on occupant health, digital connectivity and performance
What's the badge A rating, of one to five stars
Development stage HQM has been piloted, a technical consultation completed and the technical manual is about to go online. Organisations working with BRE include Lend Lease, Kier, Kingspan, Sustainable Homes, Gentoo, Construction Products Association, HTA, Zed Factory, and Hoare Lea
---