Amid growing interest in 'plyscrapers', British Columbia has amended its regs for 53m student block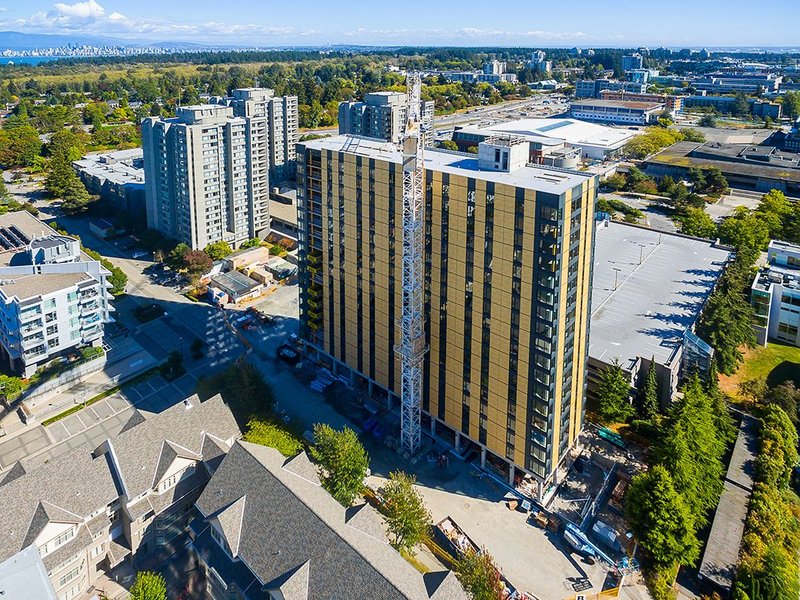 An 18-storey student accommodation block in Vancouver, Canada, has become the world's tallest timber building, after topping out earlier this month. Designed by Vancouver-based Acton Ostry Architects, the tower rises 53m and is intended to showcase the advantages of building tall with timber to students at the University of British Columbia.
The hybrid structure has 17 storeys of glue laminated timber (glulam) and cross laminated timber (CLT) construction above a single storey concrete podium, with two concrete stair cores serving all floors. Named Brock Commons, the tower will house 404 students in 272 studios and 33 four-bedroom units when it opens its doors in September 2017.
The project marks another milestone (possibly miletree?) in the development of tall timber buildings which have gained much attention since Waugh Thistletons' nine-storey Murray Grove in Hackney, north-east London, completed in 2009. Several tall CLT towers around the world have followed, many also in Hackney, and numerous proposals for timber plyscrapers have appeared online. However, this building is the result of a growing interest in timber buildings in North America.
At the topping out ceremony Jim Carr, Canada's minister of natural resources. Said: 'This remarkable building, the first of its kind in the world, is another shining example of Canadian ingenuity and innovation, an apt demonstration of how Canada's forest industry is finding new opportunities through technology and innovation, opening up a world of possibilities for our forest and construction industries.'

To make the building possible the provincial government of British Columbia had to pass new regulations which allowed Brock Commons to exceed timber-structure height limits as long as it complied with rigorous fire standards. To meet these demands, all of the CLT and glulam components in the project have been enhanced by complete encapsulation with three to four layers of fire-rated Type X gypsum board. This has resulted in a building that is even more resistant to fire than an equivalent concrete or steel tower.
Although the building is not a pure timber structure it does utilise a vast amount of timber. The floor structure is comprised of five-ply CLT panels supported on glulam columns on a 2.85 x 4m grid. The CLT panels act as a two-way slab diaphragm, which eliminates the need for load-carrying beams. To avoid a vertical load transfer through the CLT panels, a steel connector allows for a direct load transfer between the columns and also provides a bearing surface for the CLT panel. As well as the structure being largely timber, the cladding for the facade is made with 70 per cent wood fibre.
---