Too much rain? Not enough? Climate gentrification threatens to hit real estate values
The unique geographic, demographic and infrastructural characteristics of some locations in Europe could make them more vulnerable to the phenomenon of 'Climate Gentrification', according to the lead author of a new paper describing the theory.
Climate Gentrification is based in the idea that climate change impacts make certain property either more or less valuable as a result of geographic exposure, or the engineered resilience of buildings or local infrastructure.
The concept is set out in a paper by Jesse Keenan, Thomas Hill and Anurag Gumber from Harvard University, using the specific example of Miami-Dade County in Florida where the price of single-family properties has appreciated incrementally over recent decades based on elevation – a reflection of flood risk resulting from sea level rise.
Although Europe is not studied in detail in the paper, Keenan claims certain unique conditions are consistent with exposure and vulnerability associated with Climate Gentrification.
He told RIBAJ: 'In the Netherlands and in Belgium there is a particularly ripe situation where you have high concentrations of density, coupled with the declining availability of new land suitable for housing development. In the Alps, increased rainfall and landslide exposure may make certain villages less desirable or practical to live in, as a result less exposed neighbouring villages may see increased property investment and valuations.'
Again, higher temperatures and reduced rainfall in the Spanish interior could, in future, compromise the availability of potable water, says Keenan, giving water-rich regions and jurisdictions a competitive advantage in terms of regional economic development. 'The implications in this case would be a shifting population and corresponding increases and decreases in the valuation of real estate,' he said.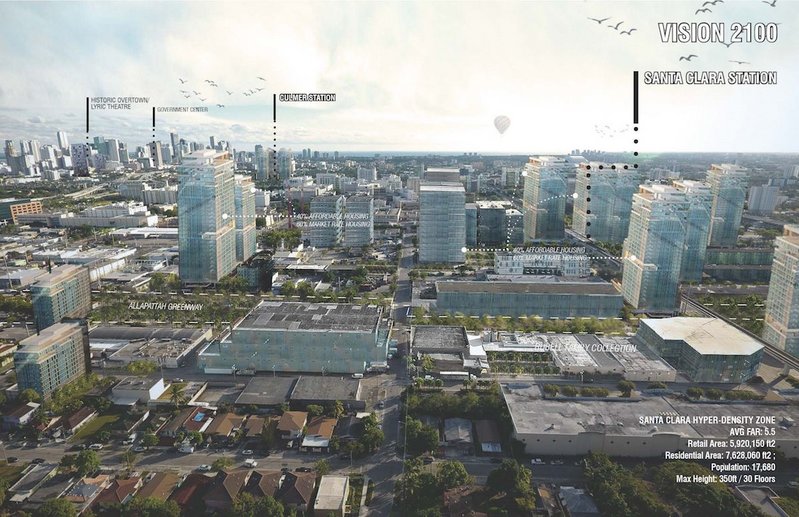 Allapattah Greenway, Santa Clara, Miami, looking south.

Credit: Kenner Carmody (Harvard University Graduate School of Design)
According to the study, Climate Gentrification occurs most commonly when investors start to shift capital to more elevated properties, the so-called 'superior investment pathway'. In the case of greater Miami, researchers tracked the differential in property values, between 1971 and 2017, at different levels of elevation and risk from sea-level rise, while controlling for other factors.
They found that elevation had a positive effect on price appreciation in over three-quarters of properties in 24 of the 25 separate jurisdictions examined.
The two other pathways defined are: the 'cost-burden pathway' which occurs when climate change raises the cost of living and lower-income households are unable to afford insurance, property taxes, and repairs.
The 'resilience investment pathway' occurs when the environment is re-engineered to make it more resilient and as a result it attracts more economically advantaged households and lower-income households are driven out. Copenhagen is cited as one example of this.
According to Keenan, climate impacts are just one of many considerations weighed up by people making real estate investment decisions, but that could change with more severe impacts and increasing regulation.
---