As the loosening lockdown sees non domestic buildings prepare to open up, managing inside services is critical to avoid a coronavirus resurgence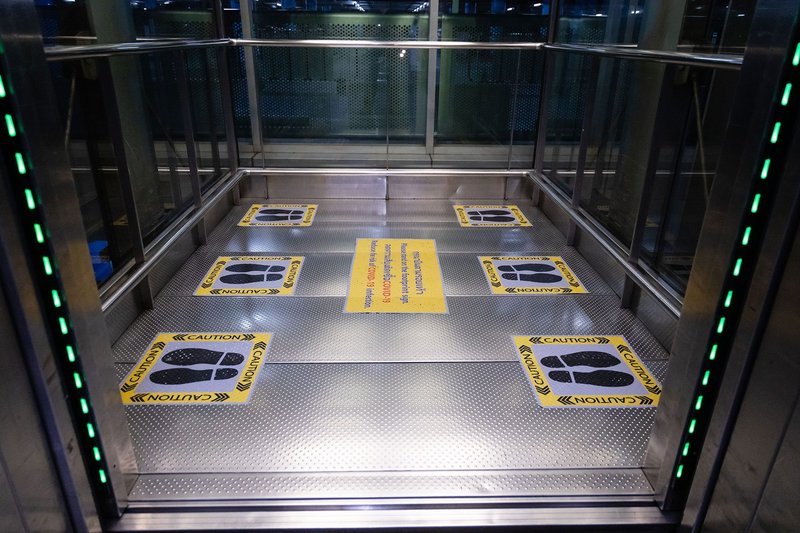 Credit: iStock
Building services are an important consideration as businesses emerge from lockdown, which if not appropriately de-risked could encourage the spread of Covid-19.
New free-to-download guidance from The Chartered Institution of Building Services Engineers (CIBSE) highlights key safety considerations for ventilation, lift use and occupancy, and general advice on safety when reoccupying non-domestic buildings.
The documents were drawn up to help building owners and managers develop strategies for a return to work with a focus on minimising, but not eliminating risk, in line with government advice.
Social distancing of 2m is impossible in all but the largest lifts, with a 5m2 car platform. However, time spent traveling in a lift is less than the 15-minute threshold at which transmission of the virus between people is considered most likely.
CIBSE recommends that lifts with a rated load of 800kg and above allow one person per m2, rounded down. For example, an 800kg lift has a maximum car area of 2m2 and can accommodate two passengers. Lifts with a rated load of less than 800kg should only allow one person per car.
This advice does not change in light of the new '1m-plus' rules, said CIBSE, although this might allow for denser queues in lift lobbies.
Social distancing reduces occupancy in spaces which might indicate a reduction in the need for ventilation airflow. However, according to the guidance, the risks of viral transmission should increase the number of air changes to as many as is reasonably possible.
Dr Hywel Davies, technical director at CIBSE, told RIBAJ: 'In spaces with poor ventilation the concentration of small aerosol droplets can increase and therefore raise the risk of viral transmission. There is growing evidence that they could represent a transmission route for SARS-CoV-2 and as with any indoor pollutant they are most effectively combatted via dilution. Ventilation systems should deliver as much outdoor air as reasonably possible and prevent recirculation between rooms.'
The potential benefit to public health of increasing ventilation and not circulating air currently outweighs the associated reduction in energy efficiency, he added.
Buildings with mechanical ventilation systems should extend operation times, extract-only ventilation can increase transmission risk if the main make-up airflow is from another room or zone. Active or passive chilled beams can be used as normal.
The guidance asks building owners to consider prohibiting employees from accessing rooms or zones with no direct supply of outside air, such as basements or storage areas, especially if they are used for periods longer than 30 minutes.
Fan coil units could create air movement that spreads airborne viral particles throughout areas with no or very little outside air ventilation, in which case the advice is to turn them off.
https://www.cibse.org/coronavirus-covid-19/emerging-from-lockdown