Researchers at Chalmers University of Technology use metal-coated carbon fibre mesh to create tenfold increase in rechargable concrete battery power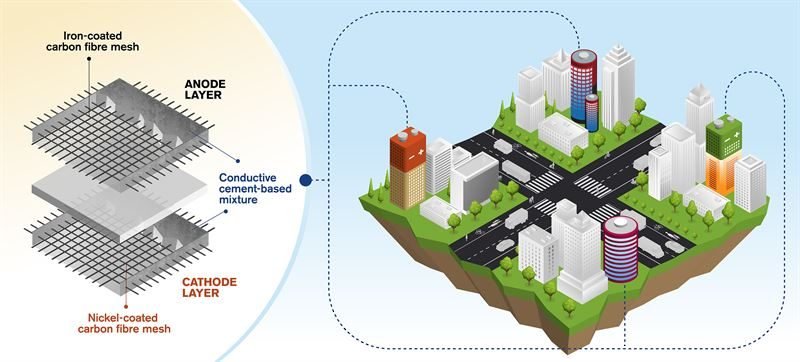 Concrete is embedded with a metal-coated carbon fibre mesh used as an electrode to create an electric current.

Credit: Chalmers University of Technology
Buildings could draw renewable power directly from their walls, if an innovative concrete battery technology developed in Sweden takes hold.
Researchers at Chalmers University of Technology have created a prototype rechargeable cement-based battery with a capacity of 7Wh/m2.
That's enough to light a regular E14 LED bulb for around one and a half hours, and 'at a modest estimate' is over ten times the capacity of earlier attempts at concrete batteries.
If scaled up to cover the 1,600m2 facade of an eight floor apartment building, the system could generate around 11.2 kWh of electricity, say researchers, enough to power many low-power applications such as lightning, TVs and computer screens.
Generation potential is expected to increase even more in future, given the current fledgling stage of development. Professor Luping Tang, professor at the Department of Architecture and Civil Engineering at Chalmers University of Technology, said: 'These calculations are based on very rough estimations. The concrete battery technology could be greatly improved – this is only the earliest stage from research to commercialisation.'
The prototype comprises a cement-based mixture containing small amounts of short carbon fibres added to increase conductivity and flexural toughness. Embedded in the mix is a metal-coated carbon fibre mesh, using iron for the anode and nickel for the cathode, to create a flow of electrons and electric current.
'Results from earlier studies investigating concrete battery technology showed very low performance, so we realised we had to think out of the box to come up with another way to produce the electrode,' explained Doctor Emma Zhang, a fellow researcher on the project. 'This particular idea we developed, which is also rechargeable, has never been explored before. Now we have proof of concept at lab scale.'
Energy density – that is, capacity – remains low compared to commercial batteries, but this limitation could be overcome due to the huge volume of batteries that could be constructed in buildings.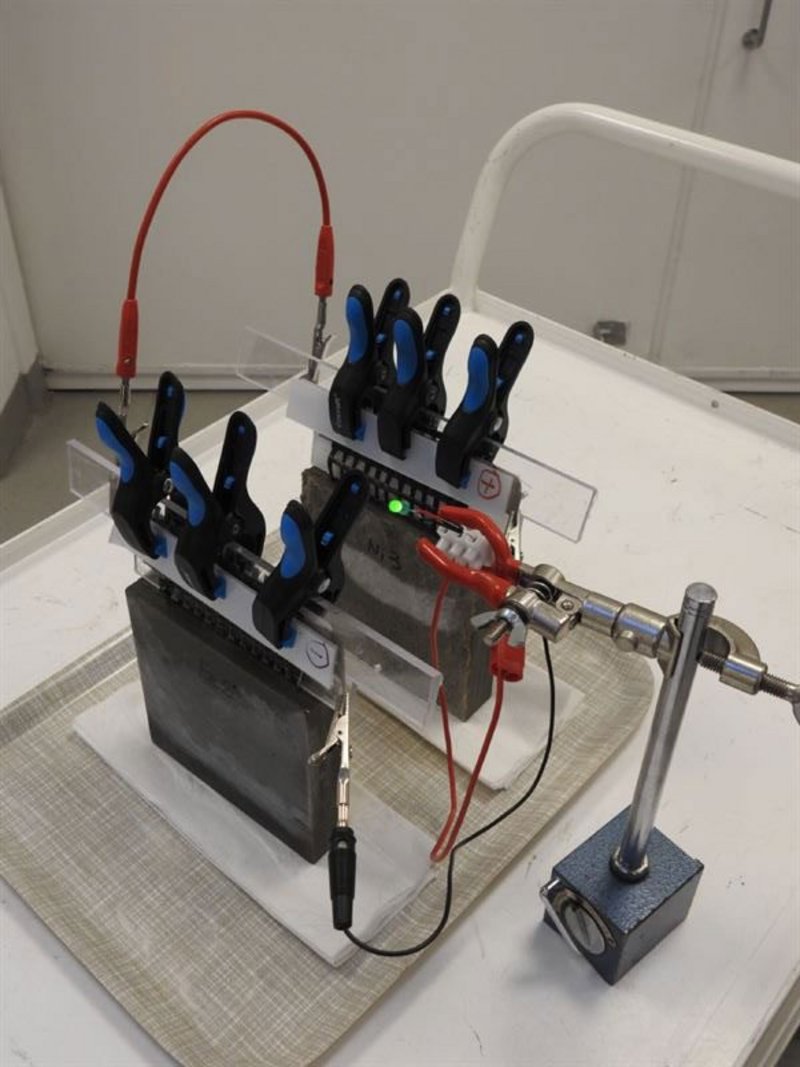 The prototype battery has a capacity of 7Wh/sqm, enough to light a regular E14 LED bulb for around 1.5 hours.

Credit: Yen Strandkvist/Chalmers University of Technology
The ability to recharge batteries and use them for storage opens up new commercial applications, claim researchers – such as the ability to draw power from solar panels during the day, then provide the electricity at night. It could supply a new energy source for sensor monitoring systems in highways or bridges used to detect cracking or corrosion.
Other applications could range from powering LEDs to providing 4G connections in remote areas.
Successful commercialisation will mean overcoming certain technical barriers such as extending the service life of the battery, and developing new recycling techniques for when they reach the end of service life.
With concrete production responsible for around 8% of global carbon emissions, and continuing to rise, the battery technology could help counteract its negative environmental impact.
'A cement-based battery decreases the carbon footprint of concrete production through the supply of energy,' Professor Tang concluded.