Lazenby creates a tour de force of concrete for a residential refurbishment project in east London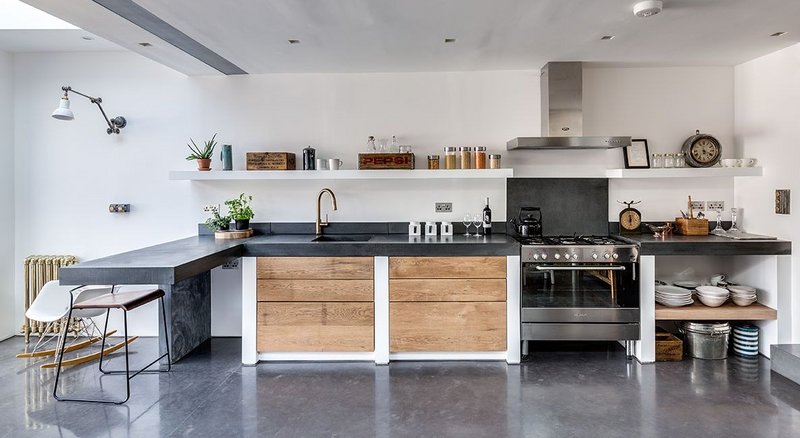 Paper House Project Architects has completed a residential refurbishment project in Holton Street, east London, using Lazenby for the internal and external polished concrete floors and concrete worktops. The concrete work, which has Lazenby's superior quality hallmark and has been photographed by Simon Maxwell Photography, includes the kitchen sink and a concrete step.
Concrete's flexibility, thermal mass and eternal appeal is why an ever increasing number of homes are being designed using concrete. This retrofit in the capital features Lazenby's basalt satin concrete range. The polished concrete floors cover 52m², and internally cover underfloor heating at the recommended depth of 100mm. The precast worktop with cast-in sink is also 100mm deep. The 1480mm x 650mm worktop was cantilevered from the wall with a bracket fitted behind a false wall and steel plate to adjoining worktop. The basalt splashbacks are 20mm deep. The floor installation factored in the all-important expansion joints to ensure clean architectural lines.
Lazenby installs its products all over the UK for both retrofit and new build projects. The concrete is perfect for use on all types of project, including residential, commercial, public sector or retail and can be implemented for internal or external areas. It is able to help clients with bespoke designs for concrete floors, concrete furniture and surfaces, concrete tiles or art installations. Lazenby welcome projects of every magnitude.
For more information and technical support visit: www.lazenby.co.uk
Contact:
01935 700306
---