Move walls, kitchens and bedrooms, choose the finish… Configurator phone app encourages mass audiences to personalise their 'Town House' family homes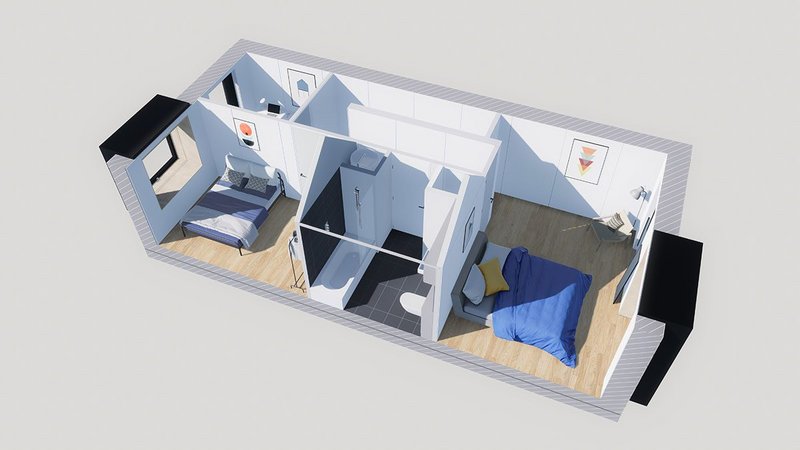 Users can move walls to create different spaces and change the position of kitchens, living areas and bedrooms and select different internal and external finishes.

Credit: Uniform
Lockdown could make architects of us all if developer House by Urban Splash has its way. Its new 'Configurator' app enables prospective homeowners to test out and visualise alternative layouts and material specifications in immersive 3D, even on mobiles.
The online tool, designed by architectural visualisation studio Uniform, is the latest move by the house builder to encourage mass audiences to purchase personalised properties without the need to become fully-fledged self-builders.
Potential buyers of 'Town House' family homes can use the app to choose between open-plan or sub-divided spaces, move walls to create different spaces and change the position of kitchens, living areas and bedrooms, as well as select different internal and external finishes. However, key positions of windows and doors, and facade cladding panels cannot be altered.
The different options were selected by the schemes' architects that include RIBA award winners Shedkm and Proctor & Matthews.
The technology is the second iteration of a simpler tool launched in 2017 that was only able to generate 2D floor plans, explains Orla McGrath, marketing director at Urban Splash: 'We wanted the ability to give everybody a 3D visualization of what their home would be like to really help inform their choices and make sure they know what they are getting. The only way we could have delivered something like this previously was by physically creating a CGI of every home, which was cost prohibitive.'
Pixel streaming technology carries out the 3D graphics processing in the cloud, any changes the customer makes in the online browser are processed quickly at a remote server then updated on screen in real-time. The system will work on all home devices, including tablets and smartphones.
Designs can be used for initial customer engagement or taken into offsite manufacture at 'House by Urban Splash's 'House Factory' in Derbyshire.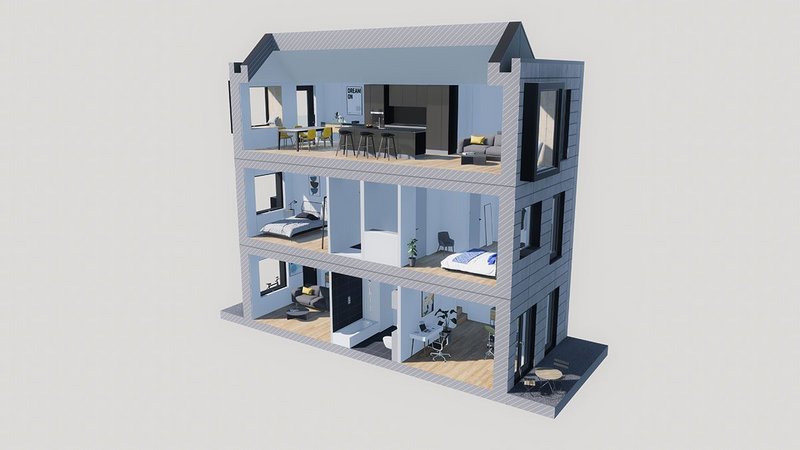 Pixel streaming technology updates any changes in real-time on screen.

Credit: Uniform
McGrath said: 'The ideal scenario would be to simply feed the designs straight into the factory, but at the moment choices have to be converted into BIM. However, we built the platform with the future in mind and for the two pieces of technology to connect one day.'
The Configurator will be expanded within a year to cover the entire product portfolio including Mansion House (flat pack one and two-bed apartments built from cross-laminated timber) and a forthcoming terrace house and modern apartment block products. An option to add in and purchase furniture with the property is another option being considered.
The Covid-19 outbreak has triggered other changes to how House by Urban Splash engages with customers. Earlier this year it launched a virtual viewings platform to provide panoramic 360-degree tours of homes online.
The response appears to have had a positive effect on sales. 'Both our schemes in New Islington in Manchester and Port Loop in Birmingham have surpassed pre-Covid levels of sales over the last couple of months,' said McGrath. 'It is possibly the result of pent up market demand caused by Brexit, and the lockdown highlighted to a lot of people precisely what they didn't like about their home, such as a lack of outdoor space, or flexible space or a lack of community,' she concludes.