Midroc chooses VIVIX exterior facade panels to clad a new 15-storey residential building in Malmö, Sweden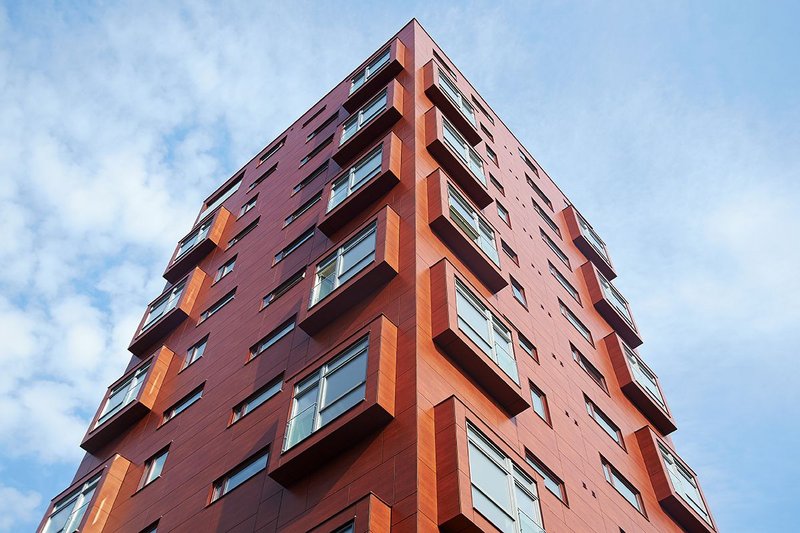 Project management firm Midroc has completed a tower of 54 apartments, named Bohus, in the centre of Malmö for the municipal housing company MKB using VIVIX exterior facade panels. Built in the yard of an existing property, the building is 15 storeys high and works towards the municipality's ambitions to densify the city to meet its burgeoning population.
With altogether nearly 3,000m2 of lightweight and impact-resistant facade material fitted, the customisation potential and material properties were decisive factors in the choice of cladding for Midroc. Having used the material before, the company commissioned panels at the exact dimensions in this particular instance, but the panels can also be easily cut to the desired dimensions in the workplace.
'Formica Group delivered precision-fit panels, which made a huge difference for us in the workplace. The panels were supplied on a pallet exactly to our wishes. That meant assembly was easy; we knew exactly on which pallet every single panel was,' explained Mikael Carlsson, production manager at Midroc.
VIVIX panels come in an array of colours and patterns attuned to contemporary architecture and design – from sophisticated neutrals and striking accents to nature-inspired abstract patterns and rich wood grains. The colour eventually chosen for the Bohus project was Redwood.
'The result is very good. Bohus really stands out, both in colour and in shape. We have received many positive comments about the building,' continued Carlsson.
For more information and technical support visit: www.formica.com
Contact:
0191 259 3912
---