A kinetic drying technology for use in cement production has been developed by UK-based Coomtech, as part of a major R&D push to make construction more sustainable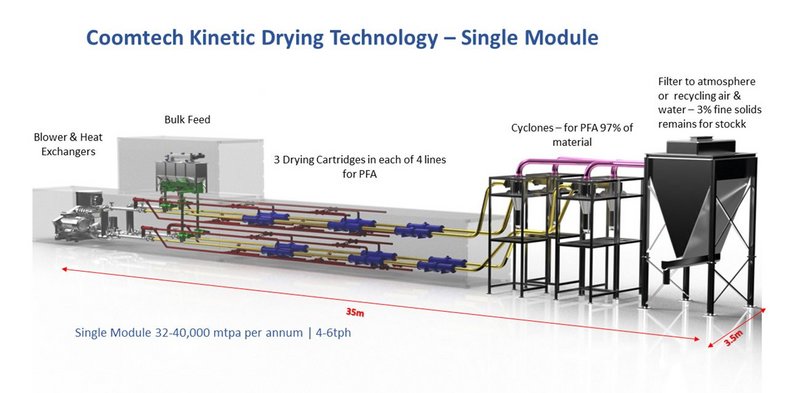 Coomtech kinetic drying plant modules can be set up to run in parallel to increase plant production.

Credit: Coomtech
A sustainable drying technology designed to slash emissions in cement manufacture by up to 75% is one of six innovations being supported through a major R&D programme set up by the Global Cement and Concrete Association (GCCA).
The kinetic drying technology was developed by UK-based Coomtech to replace the inefficient 100-year-old thermal drying processes used in existing cement plants that demand high temperatures, and therefore high carbon emissions, to remove moisture from bulk raw materials.
In the process, a specially-designed turbulent air stream shears moisture from the surface of particles, allowing water to be carried away into the atmosphere and leaving behind dry particles for processing.
According to the start-up, the technology requires up to 75% less energy than thermal dryers, with equivalent CO2 and cost savings. Furthermore, the modular system can be plugged into existing processing plants – and with no moving parts is robust and low maintenance.
Chris Every, chief commercial officer at Coomtech, says: 'The modules are designed to be locked together so if, for example, you're looking at drying ash or limestone materials to go into cement, we can build a plant that can do 30,000 tonnes a year or 300,000 tonnes a year – it's simply a case of adding the modules together.'
The GCCA's first ever Innovandi Open Challenge has been set up to accelerate the development of technologies that reduce or eliminate carbon and to help the industry achieve its commitment to reach net zero emissions by 2050.
The shortlist, chosen from a pool of over 100 entrants, features companies from the UK, US, Canada, Italy, and the Netherlands. Innovations include carbon capture utilisation and storage, the production of low-carbon cement and cementitious materials, and low-cost drying technology.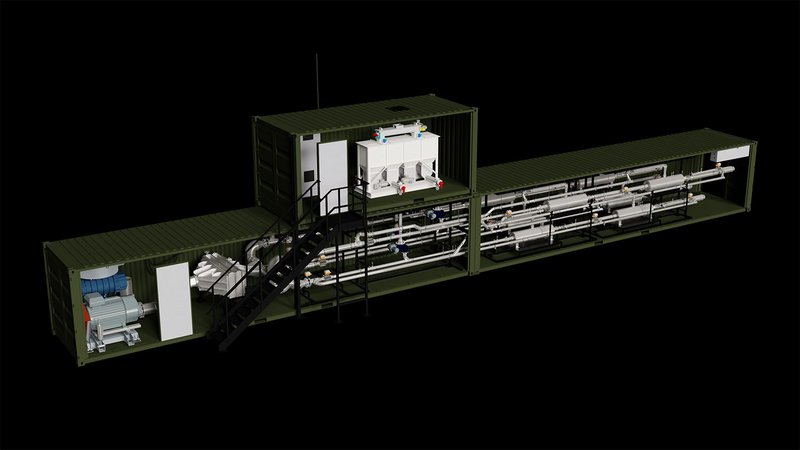 Visualisation of the modules within 'container' housings.

Credit: Coomtech
All start-ups are partnering with major concrete companies, which will give them access to the global resources and support needed to grow and refine their products. Coomtech is working with Buzzi Unicem, CRH, JSW Cement and UltraTech Cement.
Every says two new pilot plants are being rolled out, one in Australia and one in Nottinghamshire, for the treatment of ash to go into cements. The latter is a precursor to a much larger plant that will be able to handle about 300,000 tonnes per year.
Coomtech's work under the Innovandi /GCCA programme will investigate the treatment of ash and other substitutes that go into cement products, like ground blast furnace slag, residues from industrial processes and materials left after bauxite, have been converted for the aluminium.
'We are looking at a whole range of products to see what can be dried with our technology,' Every reports. 'The purpose of pilot plants is to demonstrate the technology to specific clients and enable them to develop certification and standards etc, so they know they can achieve what's required by the authorities and their clients.'
Concrete accounts for around 7% of global CO2 emissions, which has catalysed a number of projects and innovations designed to lower the material's carbon footprint, including this one in Germany.