Housing, schools and hospitals in particular need reliable acoustic insulation. David Holmes looks at the costs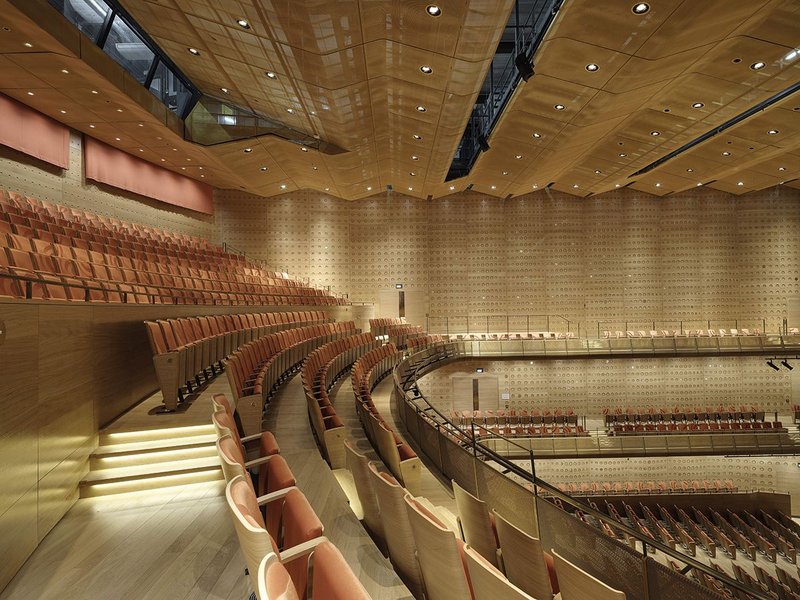 GKD's specialist Alu 6010 acoustic fabric in use at Antwerp's Koningin Elisabethzaal concert hall.

Credit: GKD- GEBR. KUFFERATH
Good acoustic performance is a requirement for nearly all types of buildings, but is particularly important for residential buildings, schools and hospitals.
Sound can travel between rooms by two routes; either directly through the separating wall and around the wall through any adjacent elements.
Acoustic insulation for both routes is managed by different features: mass, the total mass per unit area; and isolation separating any different layers within the element.
---
The rates below are a guide to acoustic material costs as at 2019 Q3. No allowance is made for sundry or related preliminaries. VAT is excluded.
---
Range £/m2
---
Acoustic Insulation to partitions mineral fibre quilt roll pinned vertically to timber or plasterboard
25mm thick £2.7-3.2
To roof
30mm thick semi-rigid acoustic insulation slab
£4-6
---
Linings to ceilings
Acoustic panel linings; Troldekt Ultrafine 1200mm x 600mm x 25mm
on and including 50mm x 70mm timber framework at 600mm
centres both ways and supported from the roof
Ceilings clipped to prevent wind uplift when external doors opened £100-140
Perimeter edge detail
£7.5-12
---
Suspended ceilings
Metal linear strip micro perforated acoustic ceiling with
Rockwool acoustic infill £67-81
Acoustic suspended ceilings on anti-vibration mountings
£69-84
---
Acoustic boarding to floors
Chipboard; tongued and grooved joints £22-30
Chipboard on New Era levelling system
£30-40
---
Floor finishes
Acoustic vinyl sheet; Forbo Flooring Sarlon Traffic 19db;
level with welded seams; fixing with adhesive £25-320
---
Gypwall acoustic partition
95mm partition; 70mm studs and channels; one layer of 12.5mm
Gyproc Soundbloc each side; joints filled with joint filler and joint tape to receive direct decoration
Average height 2.00m £40-45
Average height 3.00m £40-45
Perforated steel acoustic wall panels; Eckel type HD EFP or other equal; polyurethane enamel finish; fibrous glass acoustic insulation
Average height 3.00 m; fixed to timber or masonry
£200-250
---
Specialist plaster
Sprayed acoustic plaster; self-finished
£83-100
---
Folding partitions
Acoustic folding partition; head track suspension and bracing; aluminium framed with high density particle board panel with additional acoustic insulation; melamine laminate finish; acoustic seals.
Nominal weight approximately 55 kg per m2.
Sound reduction 48 db (Rw) £620- 750
Sound reduction 55 db (Rw)
£750-910
---
External doors
Steel security door and frame; including ironmongery, weather seals
To suit structural opening 1100 x 2105mm; fire-rating 30 minutes;
acoustic rating 38dB; including stainless steel ironmongery £2,000-2,500
To suit structural opening 2000 x 2105mm; fire-rating 30 minutes;
acoustic rating 38dB; including stainless steel ironmongery £3,100-3,600