Architect specifies natural slate solution with a modern aesthetic for his near zero-carbon home in Cheshire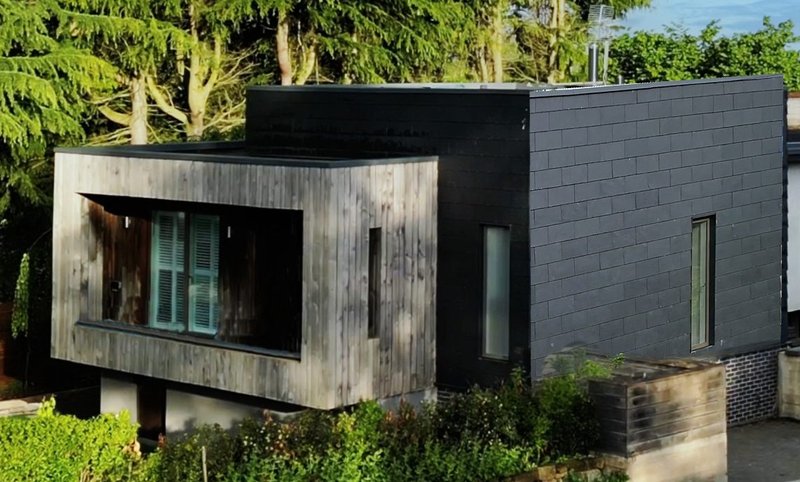 Cupaclad 201 Vanguard natural slate rainscreen cladding at the Tarporley, Cheshire project.
Architect Jon Moorhouse of Liverpool practice Constructive Thinking purchased a 1980s derelict bungalow in Tarporley, Cheshire with a view to keeping the original eco-friendly design, but updating it to create an near zero-carbon home.
He added a second storey to the existing building and then super-insulated it. The exterior was redesigned using a recycled steel substructure, Staffordshire bricks and local green oak for parts of the cladding.
Throughout the project, Moorhouse wanted to source the highest quality materials that would blend in with the surrounding rural landscape while maintaining a contemporary design.
'I was looking for vertical hanging slate that would fit with the colour scheme of the house, while also contrasting with the oak elements. The design for the balcony also uses vertical cladding, so we wanted a horizontal slate to complement these lines.'
Slate of choice: Cupaclad 201 Vanguard
He came across Cupaclad slate rainscreen cladding and got in touch with the manufacturer Cupa Pizarras. The team visited his architectural practice to present a CPD and, after discussing the project, Moorhouse decided on Cupaclad 201 Vanguard.
Simon Hope, Cupaclad product manager, explains why slate was ideal from an environmental perspective: 'Cupa Pizarras owns its quarries, so we can extract the material ourselves, process it locally and return any excess material to the mountains. The entire process has a very small impact on the local environment. While our quarries are in Spain and transportation is required, as a carbon neutral company our output is minimised and offset.
'Both Cupaclad 101 and 201 systems have achieved BRE Global Verified Status and appear in the GreenBook live database. Cupaclad 201 Vanguard is fully BBA approved, is 100% non-combustible with an A1 fire-rating and offers a lifespan of over 100 years.'
Ease of installation was also important. 'Overall, Cupaclad is a great product that's easy to handle,' says Gavin Bailey from Sparta Cladding. 'The support we received from Cupa Pizarras was excellent and we've built a good relationship with the team who offered to come to site and demonstrate the best way to install the system. They also provided resources that clearly illustrated the installation process and offered detailed design solutions that could be developed into practical site applications.'
Architect and property owner Moorhouse says he would recommend Cupaclad 'partly because of the support we received from the Cupa Pizarras team, but also because of the system itself. It was versatile and the installation was quick, providing a beautiful and natural aesthetic along with good eco credentials.'
For more on this case study, see the video below.