Cupaclad rainscreen cladding systems are designed to meet all contemporary construction requirements. The results are beautiful - and highly customisable to individual projects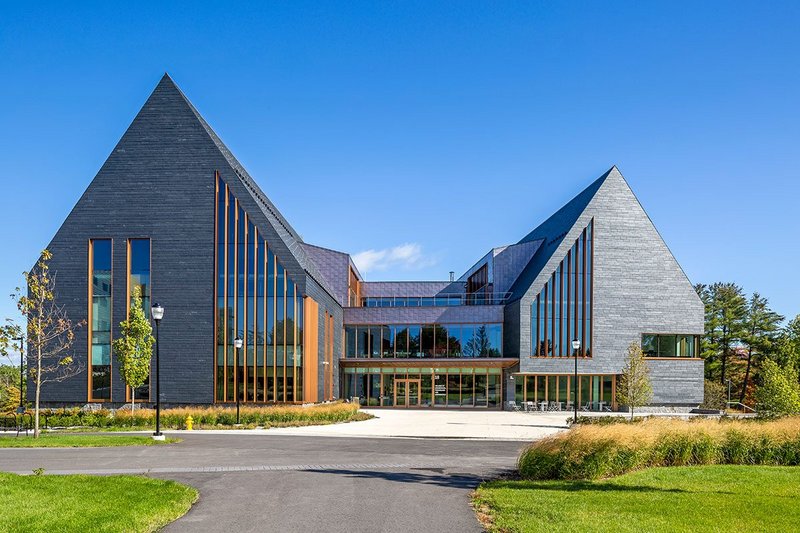 Cupaclad 101 Random slate cladding at Southern New Hampshire University, Manchester, USA.
New architectural trends are leading to more sustainable and energy-efficient buildings. Cupa Pizarras's range of rainscreen cladding systems has been designed to meet these requirements.
Cupaclad takes advantage of the unbeatable technical properties of slate, a completely natural product, to create ventilated facades that offer architects a contemporary solution for any kind of project. It is distributed in the UK exclusively by Taylor Maxwell, which has over 60 years of experience providing facade solutions.
The variety of Cupaclad slate designs means it can be adapted to any building. The 101 series is a ventilated rainscreen cladding facade that uses invisible fixings. The 201 alternative has visible steel clips, creating a clean and modern combination.
Cupaclad is a sustainable natural product requiring no maintenance. The rainscreen technology helps reduce energy consumption by keeping buildings cool in summer and temperate in winter. Cupaclad is recognised as non-combustible and is classified as A1 - the highest level of performance against fire.
Cupaclad 101 Random slate cladding was specified at the new College of Engineering, Technology and Aeronautics at Southern New Hampshire University, Manchester, USA. Natural slate was chosen specifically to withstand the New England weather, where summers are warm and winters freezing.
The design of the college is inspired by local vernacular architecture with a roof that references the signature covered bridges of the area. The different sizes of the roof slates bring added dynamism to the design, making the most of the flexibility and natural durability of slate.
Richard Pedranti Architect recently decided to use Cupaclad 101 Logic for a modern net-zero weekend retreat home designed to Passivhaus standards for clients in Spring Lake Heights, New Jersey, USA.
The 40x20cm slates were installed horizontally using a single fastening system with self-drilling screws, which ensures optimal installation for decades, while remaining invisible to showcase the texture and sheen of the slate.
Sign up for a RIBA approved CPD on natural slate rainscreen cladding systems for everything you need to know to become a Cupaclad expert.
For more information and technical support, visit cupapizarras.com/cupaclad
Contact:
020 3318 4455
---