Cupa Pizarras slate replicates the original Highlands roofing at an 18th-century hostelry redevelopment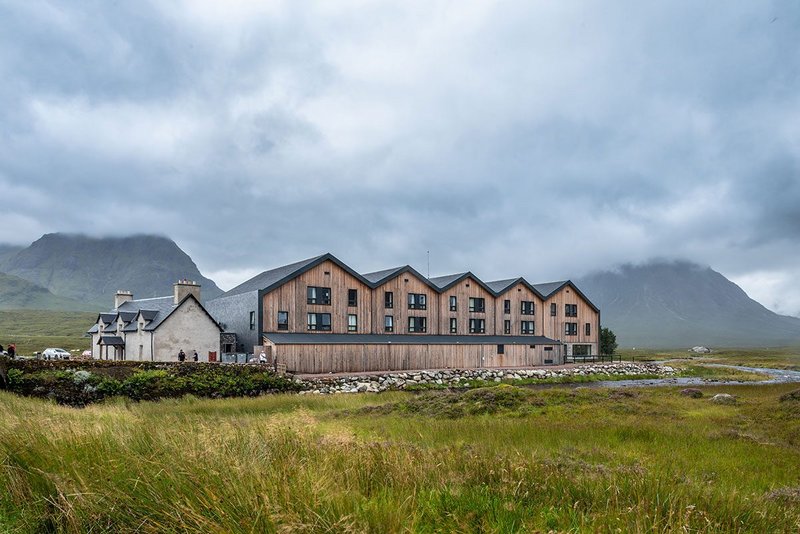 Kingshouse Hotel in Glencoe: Cupa Pizarras Heavy 3 slate was chosen for its close resemblance to the Ballachulish slate produced locally between 1693 and 1955.
Cupa Pizarras Heavy 3 slate has been selected to deliver the traditional look of Scottish slate for the redevelopment and extension of the historic Kingshouse Hotel in the Glencoe area of the Scottish Highlands.
Kingshouse Hotel dates back to the 1750s and is located at the east end of Glencoe in a National Scenic Area. It stands on the banks of the River Etive with views of the 3,345 foot Buachaille Etive Mor mountain - one of the most photographed views in the area. Kingshouse Hotel has a long and rich social and historical heritage. It is a key landmark on the West Highland Way and serves as both a destination and waypoint for visitors to Glencoe, including walkers and climbers.
To improve the facilities and take advantage of the increasing tourism to the area, plans were made to redevelop the hotel. The £12 million redevelopment involved demolishing a 1960s extension, building a new 57-room wing and restoring the original 18th-century Kingshouse building and walkers' bar 'The Way Inn'. The new hotel was designed by Covell Matthews Architects and built by Douglas & Stewart Construction.
The history, location and surroundings had to be taken into account during the design and build of the new hotel. Natural slate was specified for the roof to provide a continuation of the style of the original building and to match the inn building that was to be retained. However, finding a slate for the pitched roof and cladding that could replicate the no longer produced Scottish slate was key to the redevelopment.
Cupa Pizarras Heavy 3 slate was chosen for its close resemblance to Ballachulish slate, which was produced locally between 1693 and 1955 and used on the roof of the original Kingshouse. The dark grey, 7-8mm thick Heavy 3 slates closely replicate the colour and thickness of the originals, as well as the characteristic pyrite crystals often visible on the surface.
The selection of traditional materials was fundamental to the project. The distinctive design of the new wing draws from the the local environment, with a roof profile that reflects the surrounding mountains. The new slate roof and cladding help create a strong visual connection across the site.
The roof is a series of irregular pitches totalling approximately 1,800m2. Cupa Pizarras Heavy 3 slates in a 500x250mm format were installed across the entire roof by the contractor's team. The slate continued into the cladding, with 350m2 in a 400x250mm format used for the east and west elevations - aligned with the views towards the mountains.
The build was carried out between April and December 2018 and the new Kingshouse Hotel opened to the public on 8 February 2019.
For more on this case study, visit cupapizarras.com/uk/kingshouse-hotel