Architects of Highoaks House in north London have used natural slate as a defining feature to reference the local vernacular while remaining true to their design's contemporary aesthetic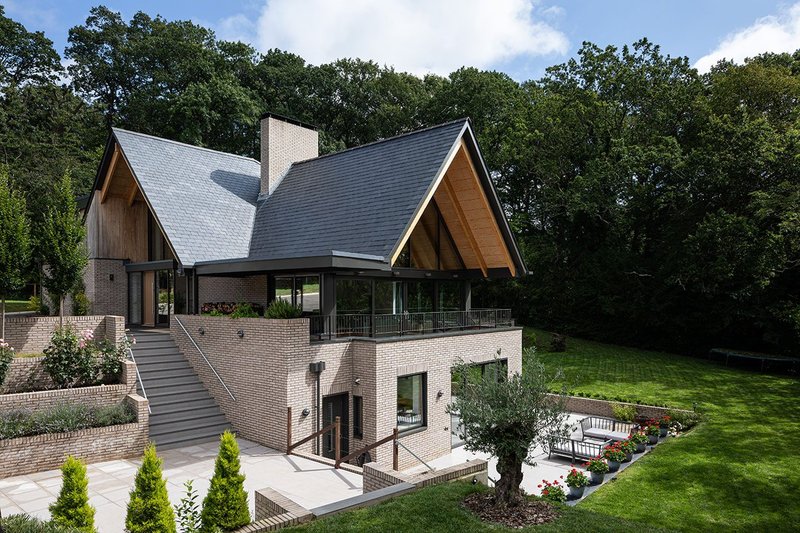 Cupa Pizarras Cupa 12 natural slate roof at Highoaks House in London. As a new building in a conservation area, it had to use traditional building materials within a design that was in keeping with surrounding architecture.
Cupa Pizarras' Cupa 12 natural slate has been specified for the roof of a new family home, built in the garden of an historic grade II listed Arts & Crafts property in north London.
The design team, from Levitate architecture and design studio, needed a way to reference the traditional architecture of the area without compromising the contemporary finish of the property.
Cupa 12 slate provided the perfect balance: being a natural and historically appropriate material that could also provide a clean aesthetic with a smooth, uniform finish.
This - combined with the steep pitch of the roof, overhanging eaves and series of intersecting gables - helped to make the roof of the property a defining feature.
This is consistent with traditional Arts & Crafts design and gave a suitable nod to the grade II property the new family home would be neighbouring.
As well as satisfying the visual requirements of the project, Cupa 12 slate is also a BRE Global Certified product that provides a more sustainable solution than other contemporary roofing materials.
Cupa Pizarras' direct control over every stage of the slate production process - from quarry to roof - means that it can guarantee the quality of its product and trace it back to the source.
This was beneficial in promoting a sustainable approach to the construction of a new property within a conservation area, as well as helping to guarantee the timely delivery of the natural slate.
Levitate has extensive experience working in conservation areas and on properties of historical significance.
'Site context was key to this project,' says architect Toby Knipping. 'We used a traditional palette of brick, wood and slate to reference the historic buildings in the surrounding area, but with a modern twist. We were very happy with the results and would definitely consider using Cupa Pizarras slate on other projects.'
Find more on this case study at cupapizarras.com/projects/highoaks-house