The rainscreen cladding at a single-project new-build in Dollis Hill, London has a contemporary pinstripe effect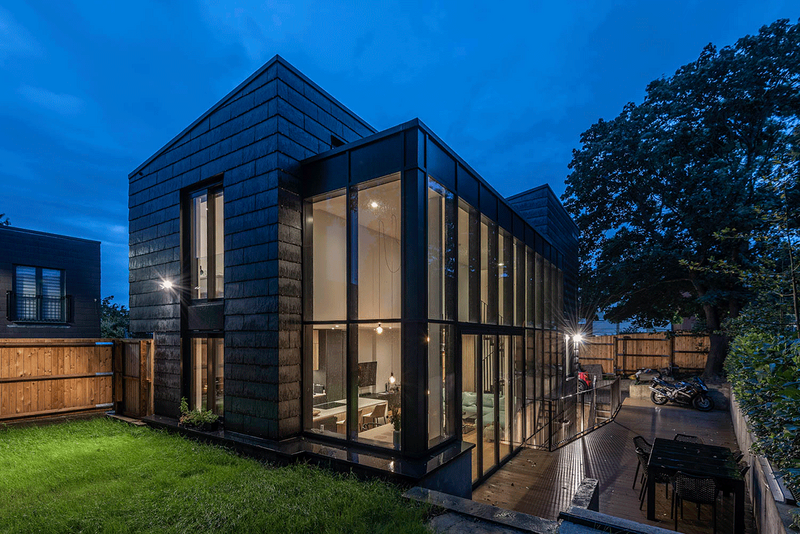 Cupaclad 201 Vanguard natural slate cladding at a property in Dollis Hill, London. The 60×30cm slates are installed horizontally using visible stainless steel clips.
For its project in Dollis Hill, north-west London, developer Talina Builders wanted to echo the slate facades nearby, but source a product with a higher-end finish.
Early on, natural slate was identified as a material that could help to create an attractive contemporary facade around the rear, sides and the upper elevation of the front of the property.
It was also crucial that the facade act as a rainscreen cladding system. The project team approached Cupa Pizarras about its Cupaclad natural slate rainscreen cladding.
The use of Cupaclad 201 Vanguard was kept in mind throughout the design process, with the dimensions of the slate determining the placement of windows, vents and corners.
This meant that, when it came to construction, it was a simple installation process with minimal wastage and resulting in a clean finish.
The Cupaclad 201 Vanguard system is constructed from horizontal aluminium profiles, mechanically fastened to an aluminium sub frame support.
Once fixed in place, the rows of natural slate are clipped on and, in the case of the Dollis Hill property, using visible fixings to create an attractive pinstripe effect.
The dark grey slate cladding provides a striking colour contrast with the refurbished light brown timber fencing and complements the property's black aluminium window framing and glazing on the project.