De Montfort University's Leicester School of Architecture programme combines best of practice experience with research-led education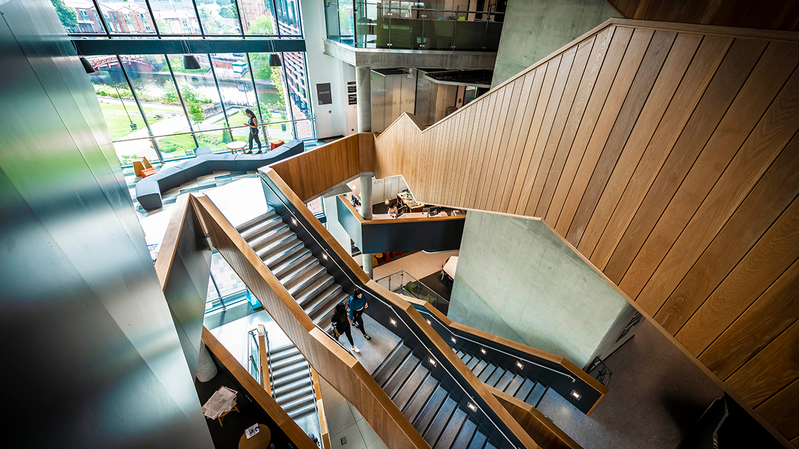 Vijay Patel Building at De Montfort University's Leicester School of Architecture: Challenging apprentices to develop a personal stake in the architectural world.
As work sites re-open and architects are challenged to reinvent designs for workplaces, offices and homes, there are fresh opportunities to progress an architectural career through the RIBA and Architects Registration Board (ARB) accredited apprenticeship programme at De Montfort University (DMU)'s Leicester School of Architecture (LSA).
The Level 7 Architect Degree Apprenticeship programme combines the best of practice experience and research-led education. The programme benefits from the same advanced design and critical thinking offered on the full-time postgraduate course so apprentices gain the same academic advantages as they would with a more traditional route.
DMU has worked with industry professionals to develop the Level 7 apprenticeship programme, including multi-professional construction practice Pick Everard - see the video below.
LSA staff include published authors, career architectural educators and practicing Architects. DMU has been setting the agenda in architectural education since 1897, when it was one of the first architecture schools to open its doors.
The LSA has been providing training to architectural professionals for generations and remains at the forefront of developments in teaching and learning as the first institution to offer the Architect Degree Apprenticeship with RIBA and ARB Part 2 and Part 3 accreditation, offering a new route for staff to develop their knowledge and build their careers.
Professionals interested in this apprenticeship programme do not have to pay towards their course since companies that pay into the government's Apprenticeship Levy are able to fund their employees through this route. Businesses who do not pay into the Levy can still access 95 per cent of the cost through the government's co-investment funding.
There are many benefits of an apprenticeship, including a full-time wage, learning alongside peers from industry and engaging in the wide-ranging architectural and critical spatial thinking that occurs within the LSA.
The programme at DMU is suitable for employed professionals who are ARB Part 1 validated and applicants need to be employed by a practice that will support their participation in the entire programme. This includes an employment mentor who is an ARB Part 3 registered architect and regular meetings with workplace mentors who will help apprentices gain the professional skills they need.
All successful apprentices achieve:
Master's in Architecture (MArch) ARB/RIBA Part II
Architectural Practice PG(Dip) ARB/RIBA Part III
Architect Degree Apprenticeship Level 7
DMU is now recruiting apprentices to begin their studies in October 2021.
For more information on the programme, visit dmu.ac.uk/architectapprenticeship
Contact:
---