Delve's artificial intelligence 'mimics human aesthetic insight' but is not intended to replace design development process, says Sidewalk Labs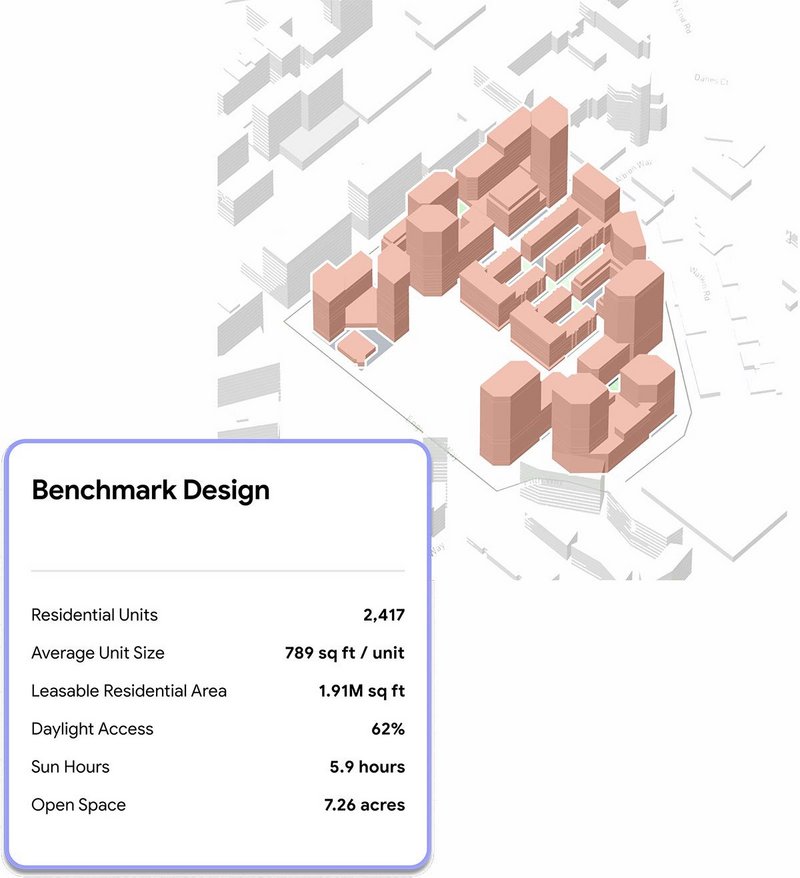 The Delve tool identified 24 high-performing design options that exceeded the benchmark designs for a Build-to-Rent project in London by developer Quintain. Credit: Sidewalk Labs
Google sister company Sidewalk Labs has developed an AI-based generative design tool to take the stress out of complex urban design work.
Delve exploits cloud computation and machine learning to sort through competing project considerations, such as density, daylight, amenity access and infrastructure, while also taking into account project priorities, constraints, and the site context.
A list of the best performing options, including 3D visualisations and a percentage score, is then produced for further assessment and fine tuning.
The tool was recently used in the UK by developer Quintain to optimise a development of build-to-rent homes at the 5ha North East Land site in Wembley Park. One high-performing variant added nearly 200 units, improved daylight access, and expanded open space by 11%, said Sidewalk Labs.
Heatherwick Studio has used the tool on various projects which a spokesman said the practice had 'so far found it to be very useful'.
The software can be used for project pre-feasibility through to a fully-permitted masterplan. It incorporates a detailed model of core city components, such as buildings, open spaces, amenities, streets and energy infrastructure.
Planning data input by the project development team includes factors like gross floor area for commercial or residential use and site constraints such as height limits. The team lists priority outcomes, such as cost or daylight access. The highest-performing options are then automatically identified and ranked, according to how well they perform based on the priorities defined.
What sets Delve apart from other AI-based urban master planning tools on the market, such as Norway's Spacemaker, is its unique set of 'generators'. Douwe Osinga, director of engineering at Sidewalk Labs, told RIBAJ: 'Our building generator produces a very broad set of building types; we use our actual architecture knowledge to fine tune it so that the buildings churned out are buildable, attractive and fit the required local circumstances.'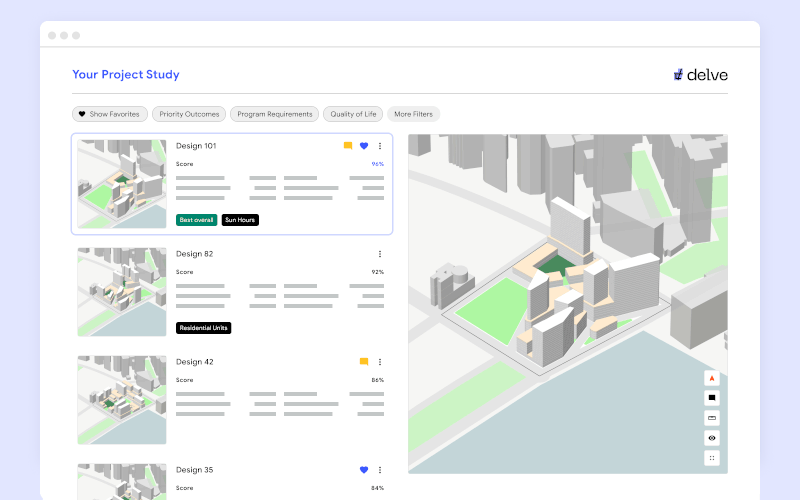 The Delve tool explores millions of design possibilities for a project before spitting out a set of optimal solutions. Credit: Sidewalk Labs
Another USP is variety, he adds: rather than simply cranking out thousands of districts or a list of best results that all look homogenous, 'Delve's proposals all score well and differ from each other in strategy, powered by an AI that mimics the human aesthetic insight.'
Other features built into the software include the ability to evaluate daylight access for either whole buildings or each housing unit, to help inform facade treatments and energy load. Other metrics include open space access, walkability, and views.
A financial model is provided for individual segments of every design option, including cost per building, street section and open space. A built-in utility demand tool gives an ongoing estimate of key energy infrastructure, such as electricity use, waste and water.
Given the social and economic importance of effective city planning, isn't there a danger that the AI will make designers lazy by allowing them to avoid considering difficult trade offs themselves? No, says Osinga: 'Delve exists to give developers and designers better access to efficient designs and outcomes, it does not replace the design and development process. This is a tool of true collaboration between urbanists and technologists,' he concludes.