The Stirling Prize might be all about the big picture, but for the contenders, it's the details that make the whole
Buildings competing for this year's RIBA Stirling Prize include a cancer care centre in Lanarkshire, an architecture school in Greenwich, an art ­gallery in Manchester, a secondary school in Wandsworth and housing in Tower Hamlets. The shortlist is notable for eschewing the flamboyance of last year, when schemes including the London Aquatics Centre and the Shard were nominated, in favour of buildings with economic, exceptionally well-crafted design, tailored to the needs of their communities. The winner will be revealed by incoming RIBA president Jane Duncan, who also heads up the judging panel, on October 15.
---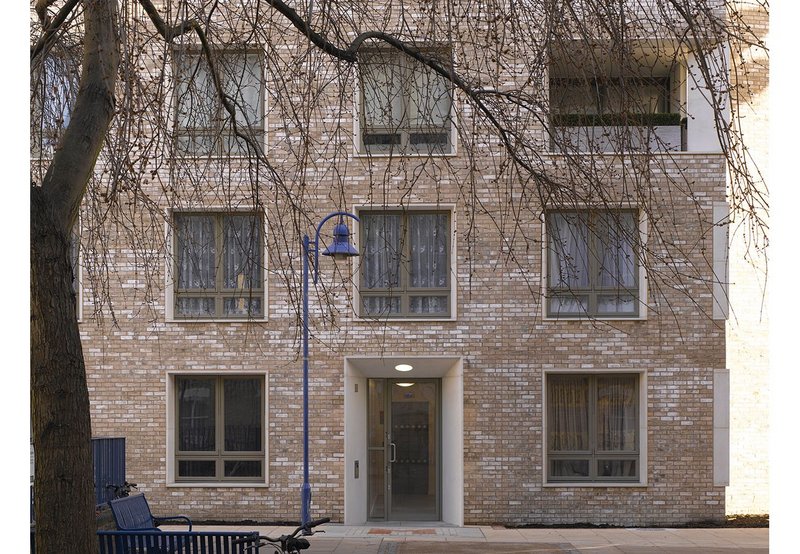 McLaughlin's obsessive, pared-back design approach is as manifest here as it is on any of his more high end work.
Windows
NorDan N-Tech 1.2 sash
Darbishire Place, Tower Hamlets, London
Architect: Niall McLaughlin Architects
A contemporary reinterpretation of the traditional five-storey mansion block, designed to replace a building taken out in World War II by a V2 bomb, Darbishire Place is built from brick with deep precast reveals framing large windows and balconies.
NorDan composite windows were specified in line with the preference of client Peabody Housing, which used them on previous schemes. Internal timber frames are clad in aluminium, painted warm grey, on the outside to increase durability and minimise maintenance. NorDan also supplied full-height glazed balcony doors and modified windows on the scheme's central staircase, with actuators to enable smoke egress in case of fire.
Tilo Guenther, associate at Niall McLaughlin Architects, commented: 'In a heavily regulated sector like social housing, particularly around the Lifetime Homes standard, NorDan provided a flexible design with handles at the right heights for occupants, easy to clean glazing, and good thermal performance with an overall U-value of around 1.4 W/m2K.'
---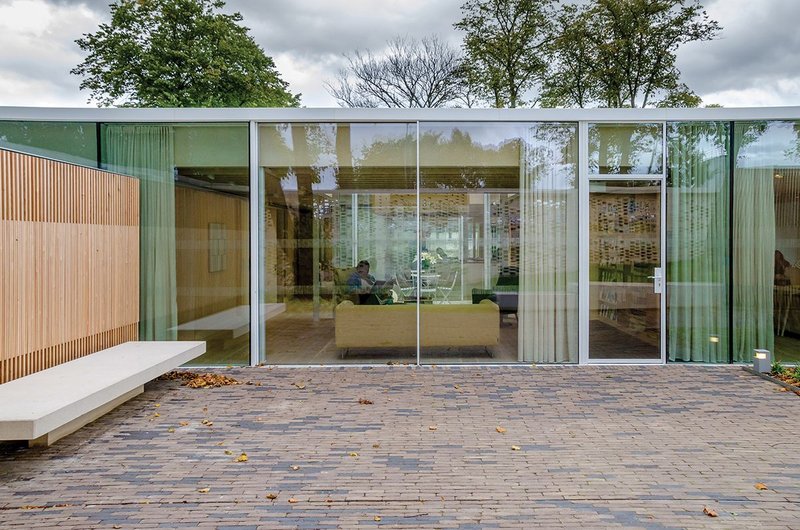 Sky-Frame's minimal framing has increased not only visibility but, with its level threshold, accessibility too.

Credit: Tricia Malley and Ross Gillespie
Doors
Sky-Frame
Maggie's Cancer Caring Centre, Lanarkshire
Architect: Reiach and Hall
Eight Sky-Frame double-glazed sliding doors open out onto terraces, courtyards and gardens at Lanarkshire Maggie's, in line with the brief to create an air of calm, relaxation and contemplation. The system has minimal frame visibility and a completely level threshold detail; the base frame sits within the depth of the floor so internal and external floor finishes stand flush.
This helped designers meet Building Control's maximum upstand depth for exits and makes the building very accessible, even for disabled users. In fact, it is possible to walk through the entire building without encountering any threshold plates or other obstacles.
Reiach and Hall associate Laura Kinnaird said: 'The system is easy to move manually, compared to some sliding door products, which fitted with our ambition to give the scheme a domestic, user-friendly feel. The product was available in a range of finishes that suited the Maggie's project, including a mirror polished overclad, but in the end we went for a white powder coating. We like that fact that opening the doors different amounts across the scheme allows users to temper breeze flow quality through internal and external spaces.'
---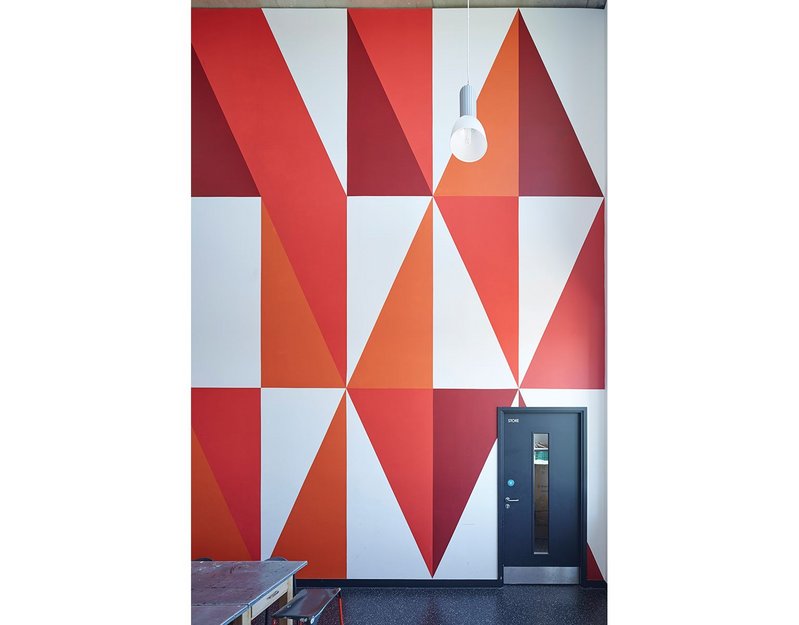 Understated and robust ironmongery choice at Burntwood helped the school's layered geometry stand out.

Credit: Rob Parrish
Door handles
Aspex UK
Burntwood School, Wandsworth, London
Architect: AHMM
Defined by its deep-set precast concrete facades, Burntwood School is a large 2,000-pupil all-girl school and one of the final buildings procured through the BSF programme. It is the last of seven BSF schemes by AHMM, which won the project with main contractor Lend Lease.
Affordability, robustness and simple design were the three main factors that influenced the choice of the door handles for the scheme, explained Lukas Ochendal, project architect at AHMM: 'The budget limited the choice of handles available and looked back at previous schools we had designed. We wanted the design of handles to be simple and involved with the architecture, rather than distract from it. Their robustness was equally important, as we needed them to represent the longevity of the school.'
With these factors in mind, two types of handle were specified across the scheme, a 19mm-diameter satin stainless steel lever handle and a 600mm by 19mm straight pull handle, both supplied by Aspex UK.
---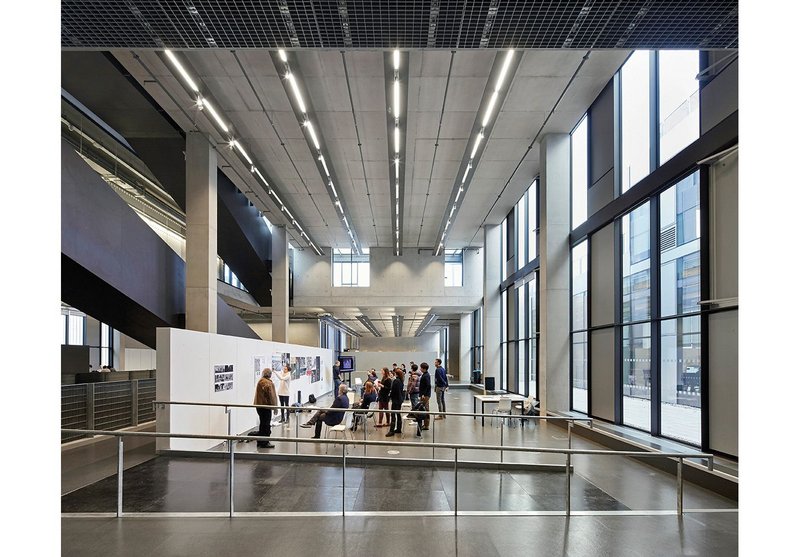 Steel-framed curtain walling brings further finesse to this modern building woven into Greenwich's historic centre.

Credit: Hufton and Crow
Windows
Schueco/Montanstahl
University of Greenwich Stockwell Street
Building, London
Architect: Heneghan Peng Architects
A steel-framed curtain walling system lining the building's internal courtyards was adapted for several one-off double glazed windows installed in the stone street facade.
Slender steel profiles, custom made by Austrian manufacturer Montanstahl and painted with the extremely hard wearing German paint used on railway trains, were integrated into the Schueco curtain walling system.
Steel profiles were specified, over more commonly used aluminium, to emulate the slim mullions and transoms seen on classic modern buildings, to maintain very clear sight lines, as well as create a dynamic contrast between the solidity of the stone facade and the expansive transparency of the windows.
All windows include opening elements; some are controlled automatically via the BMS, while those in the library are opened manually to give users control over their environment. Here the glazing doubles up as an acoustic absorption system.
Glen O'Brien, architect at Heneghan Peng, commented: 'This is a school of architecture and we wanted the materials to speak for themselves. The steel acts structurally and is visible, whereas aluminium systems often conceal a steel structure under cladding. There is a language of concrete and steel in the building's interior and the steel in the glazing system uses the same metallic paint as on main stairs and elsewhere.
---