A 3D printing project has taken the cost out of Baroque detailing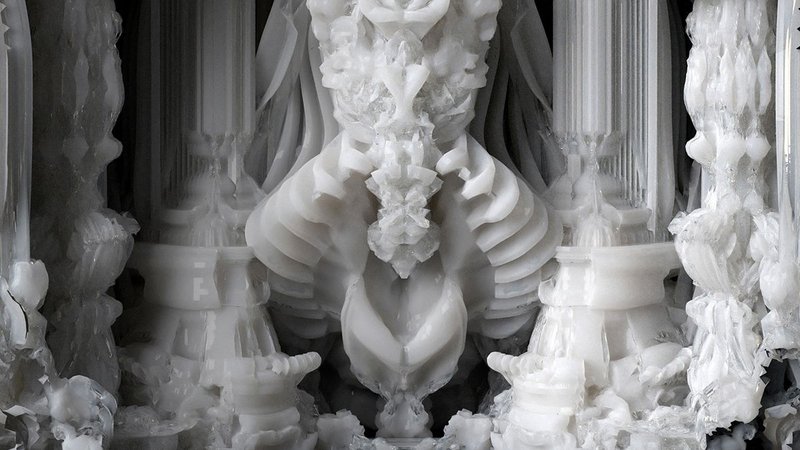 Could the inherent flexibility of 3D printing spark a return to more ornate and flamboyant forms of architecture?
That's the question posed by architects Michael Hansmeyer and Benjamin Dillenburger with their Digital Grotesque project, which is thought to be the world's first ever 3D printed room designed to echo the complex organic detailing of the Baroque period.
The project began as a commission from FRAC Centre in Orléans, France, for the practice to design and construct a grotto. It developed a software algorithm able to generate a complex form for the grotto that appears simultaneously synthetic and organic. Over the course of one month the design was 3D printed in large chunks, using a combination of sand and a binding agent, then assembled in just one day.
The resulting structure is both disturbing and reminiscent of HR Giger, famous designer of the sets in the movie Alien, while also being evocative of aspects of Renaissance and Baroque architecture. In addition, the structure is very robust with a similar compressive strength to solid sandstone.
Hansmeyer told RIBA Journal: 'The algorithms we use involve a dialectic between the man-made and natural. The forms they produce are potentially grotesque and hard to describe within existing categories: they appear strange and familiar at the same time, there is a sense of chaos and a sense of order, yet it is difficult to deduce what its system of order is – ie how it was designed or created.'
The project highlights the potential of 3D printing to free architectural design from the constraints of existing manufacturing processes and their associated costs. The architects argue that the move into additive manufacturing could signal a move away form mass fabrication and standardisation in architecture towards a pre-modern condition of bespoke and highly individualised designs.
'When 3D printing in sand it costs exactly the same to print the most elaborate form imaginable as it does to print a plain box' said Hansmeyer. 'And it costs the same to print 100 completely individual forms as it does to print the same form 100 times. For the first time, there is no cost for complexity, no cost for ornament, and any kind of form can be produced.'