Company uses robust third-party testing to give architects confidence the fire doors they specify for residential settings will perform as they should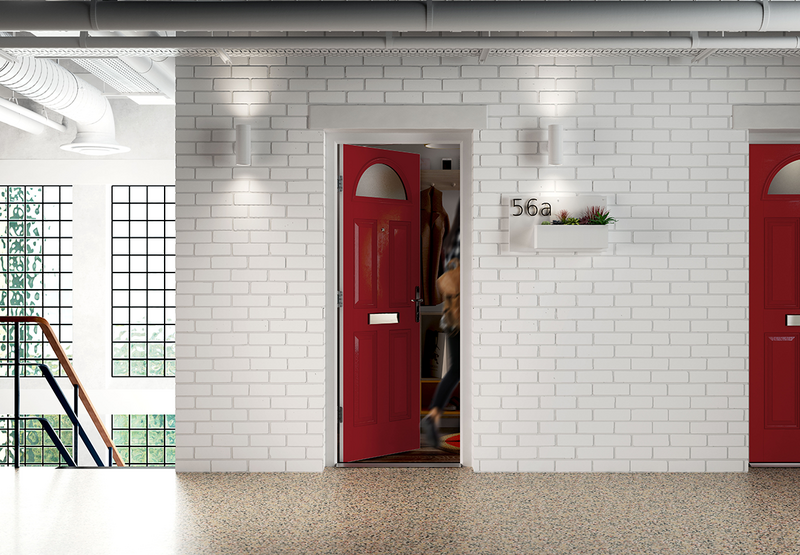 The Door-Stop Fire and Security Dual-Certificated Doorset: Designed to be the product of choice for those who want to update existing buildings or specify new developments.
Door-Stop International has launched its new Fire and Security Dual-Certificated Doorset, a timber core product with glass-reinforced plastic facings that is third-party certificated using a robust base of primary test evidence as the foundation for certification. Door-Stop can help architects in five main ways.
1. Full traceability of all doorset components
Door-Stop operates a strict, digital, factory production control system designed to provide complete control and traceability. Those same factory control processes are regularly audited by independent United Kingdom Accreditation Service auditors.
Specifiers, purchasers and residents can easily access the key features of the specification and associated certification. The certificate details the doorsets' raw materials and components, the testing process and certification. Each doorset has a unique serial number that aids traceability of the product.
2. Independent third-party testing
Door-Stop only undertakes fire tests on products that are manufactured under the witness and verification of an independent third party. It means an accurate specification and certification for every door that is installed - not a 'golden sample' that has been engineered just to pass the test.
The Door-Stop Fire and Security Dual-Certificated Doorset is Certifire-accredited by Warringtonfire. Certisecure, a scheme recognised by the police security initiative Secured by Design, has been used to demonstrate its security credentials.
3. Multiple tests that make up primary test evidence
Furnace testing results are subject to variation so Door-Stop runs multiple tests to make sure that the sample door passes in accordance with the specification and certification.
The Door-Stop Fire and Security Dual-Certificated Doorset has been furnace tested from both directions (even though it is not a requirement for timber fire doors) in order to provide additional assurances to building owners and occupants.
This primary test evidence forms the basis of the certification and demonstrates that the pass was not a 'one-off'.
4. Digital golden thread
Door-Stop manufactures each doorset from start to finish. No components are bought in pre-assembled and all components are constructed within the production control system. This means that the manufacturing process is tracked and monitored against a bespoke 'Critical to Safety framework' designed to review the components used and the manufacturing process. This creates a golden thread of information that aids traceability for all stakeholders in the chain: specifiers, installers, building owners and residents.
The most onerous designs in the doorset range have been tested and the entire doorset range is dual certificated for fire and security. Dual certification provides the assurance that the doorsets can perform to both standards.
5. Technical support and advice
Door-Stop International provides detailed instructions and training materials to ensure that doorsets can be installed in line with the certification. Competent installation means that the doorset should perform as designed and assists installers and building owners in meeting their legal responsibilities to ensure the safety of residents.
For more information and technical support, visit door-stop.co.uk
Contact:
01623 446336
---