The acrylic solid surface material has been chosen for the food preparation and serving areas of the new cafe pavilion at the Grade I listed Fratry building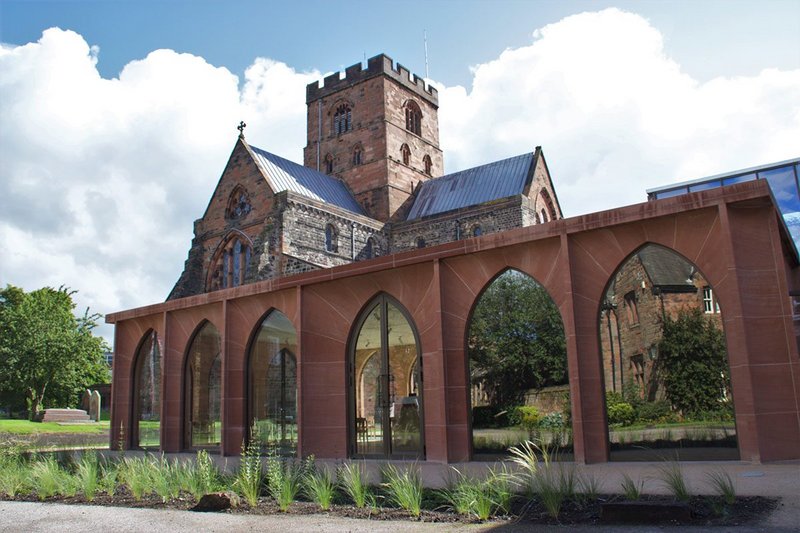 Feilden Fowles' red sandstone cafe pavilion at Carlisle Cathedral's medieval Fratry building.
Acrylic solid surface material Durasein has been specified as part of a landmark project at Carlisle Cathedral.
The project, which has taken 15 years to complete, involved the addition of a cafe pavilion and teaching and learning spaces at the cathedral's Grade I listed medieval Fratry building.
A grey flecked solid surface, Durasein Silver Falls, was chosen to create the servery and food preparation area in the cafe. The countertop, which forms a focal point, complements tinted lime plaster walls, wooden furniture and terrazzo flooring, creating a light and welcoming space.
Durasein, which is exclusively distributed in the UK by International Decorative Surfaces (IDS), was selected by the main contractor in collaboration with the architect for its durability, easy maintenance, repairability and fire resistance.
It is also compliant with NSF-51, the food hygiene certification for food preparation areas. The material was also able to meet the clients' requirements on cost and was immediately available from IDS.
Durasein is a versatile material that can be seamlessly jointed, cut, shaped, thermoformed and moulded for use in horizontal and vertical applications. It is suitable for kitchen worksurfaces, furniture, counter tops, cash and wrap desks, displays, vanity units and more.
Durasein comes in 40 designs and colours, from plain and particle-based whites to accent colours and concretes, as well as on-trend onyx and veined effects.
It is supplied as standard in a sheet size of 3660x760x12mm with additional choices of size and thickness available in the most popular finishes. It comes with a 10-year warranty and is exclusively available from IDS in 24 to 48 hours from its 18 branches nationwide.
Durasein premium acrylic solid surface presents architects, designers and fabricators with a world class, design-led brand that offers immense creative scope in commercial and private residential interiors.
IDS has a trained team of product specialists who can provide information, guidance and technical advice on how to achieve the desired design aesthetics, performance and cost engineering for projects.
For more information and technical support, visit durasein.co.uk
Contact:
0845 603 7811
---