Acrylic solid surface material offers architects superior design scope for commercial and residential projects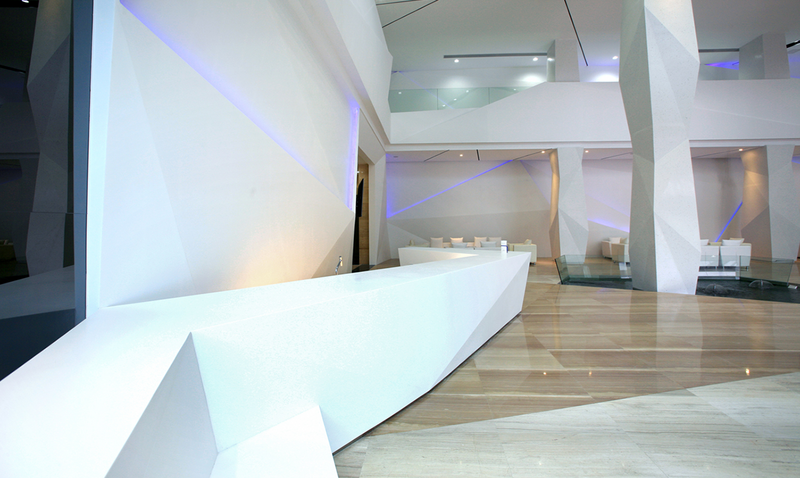 Acrylic solid surface material Durasein maximises the creative potential of architects and fabricators designing commercial and private residential interiors.
Durasein is suitable for a range of retail, hotel, leisure and residential projects and can be used to create counter tops, cash and wrap desks, displays, vanity units, kitchen worksurfaces, furniture and more. Unlike any other material, solid surface can be seamlessly jointed, cut, shaped, thermoformed and moulded for use in both horizontal and vertical applications.
Combining a high value design aesthetic with a smooth and seamless surface, Durasein is durable, stain resistant, impermeable, hygienic and easy to clean.
Through specialist surface materials distributor International Decorative Surfaces (IDS), Durasein offers a range of 40 designs and colours spanning plain and particle-based whites, accent colours and concretes, as well as on-trend onyx and veined effects. It is supplied as standard in a sheet size of 3660x760x12mm with additional choices of size and thickness available in the most specified decors.
Durasein's Duraflex programme incorporates a colour matching service across its widest array of formats - on sheet sizes up to 1520mm wide and thicknesses ranging from 3 to 25mm, all available on a minimum order quantity basis.
Durasein comes with a 10-year warranty and is exclusively available from IDS in 24 to 48 hours from its 18 branches nationwide. The company has a trained team of product specialists who can provide information, guidance and technical advice on suitable materials for projects.
For more information and technical support, visit durasein.co.uk
Contact:
0845 603 7811
---