The largest wooden building in the world will give The Netherlands its first 'mountain'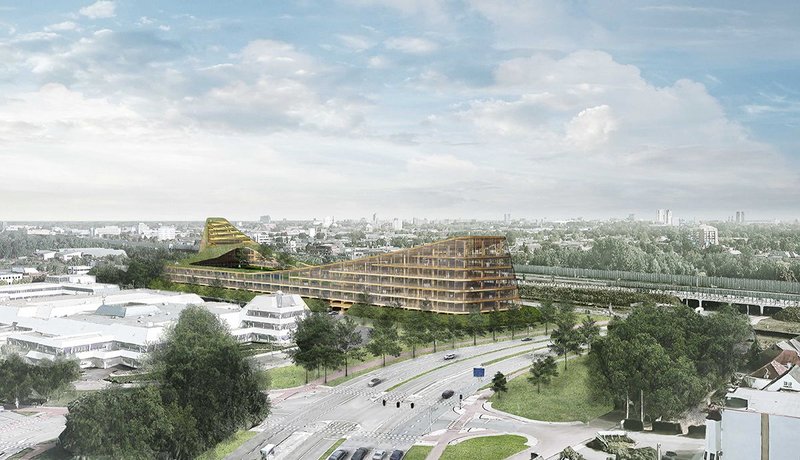 The Dutch are planning to build a giant timber groundscraper, the largest wooden building in the world, that will be as long at the Petronas Towers are tall.
The Dutch Mountains project will stretch 440m long and is conceived as a hi-tech Google-style complex, located in the town of Veldhoven outside Eindhoven.
Developing the detailed design is a team including creative development agency BLOC, architect Studio Marco Vermeulen, property development consultant Urban XChange, and consulting engineer Arup.
The structural frame will be built entirely from cross-laminated timber (CLT) as part of ambitious long term environmental targets.
Marco Vermeulen, director of Studio Marco Vermeulen, told RIBAJ: 'The aim is to create a full CLT structural frame, which is being designed in collaboration with Arup based on the original sketches.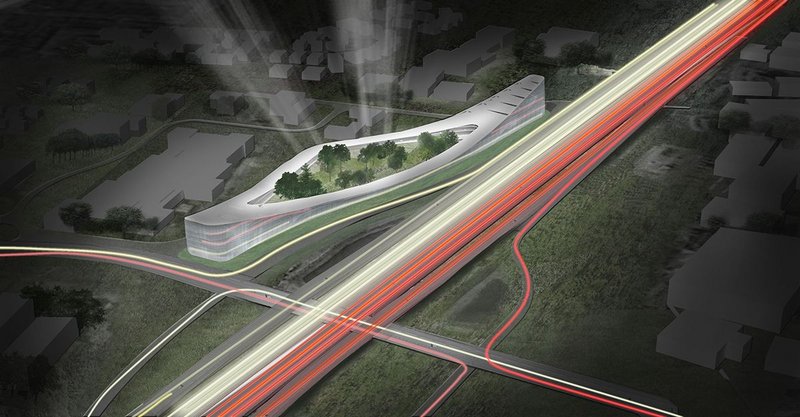 'This shouldn't be too difficult because, at 11 storeys high, it is not a high rise. The use of timber is expected to have an enormous impact on the carbon footprint, mainly due to the amount of CO2 sequestered in the wood.'
The 80,000m2 complex will combine office and residential uses and the horizontal layout is intended to maximise interaction between knowledge-intensive industries. Tenants will include electronics giant Philips and the Brainport Experience Center, a showcase for pioneering technologies.
With closed systems for energy, water and materials, the building is aiming for high levels of self-sufficiency. Solar panels on the roof and facades will provide power, although Vermeulen says high energy demand from extensive installed IT and data infrastructure may require additional power from the grid.
To make the building highly adaptable, it will be possible to simply remove various services and systems and replace them with more efficient alternatives as technologies improve over time. This will be made possible by a services economic model under which systems are leased from suppliers instead of being bought.
Vermeulen comments: 'They will be leased to the Dutch Mountains' service company by the manufacturers, rather than simply sold to a developer as is conventional. This is very interesting because it will mean the manufacturer has an incentive to update systems every 10-15 years, to make them more energy efficient. The approach is primarily driven by sustainability to ensure the best performing standards at all times.'
Companies including Dell and Beveco have partnered in the project to test out how the rental setup will work. The Dutch Mountains is expected to begin construction in February 2019, and complete in in 2020/2021.
---