There's a lot more to earthen materials than mud huts. 'Engineered nanomaterial that can improve the indoor environment, health and wellbeing' is nearer the mark, say UK/Indian research team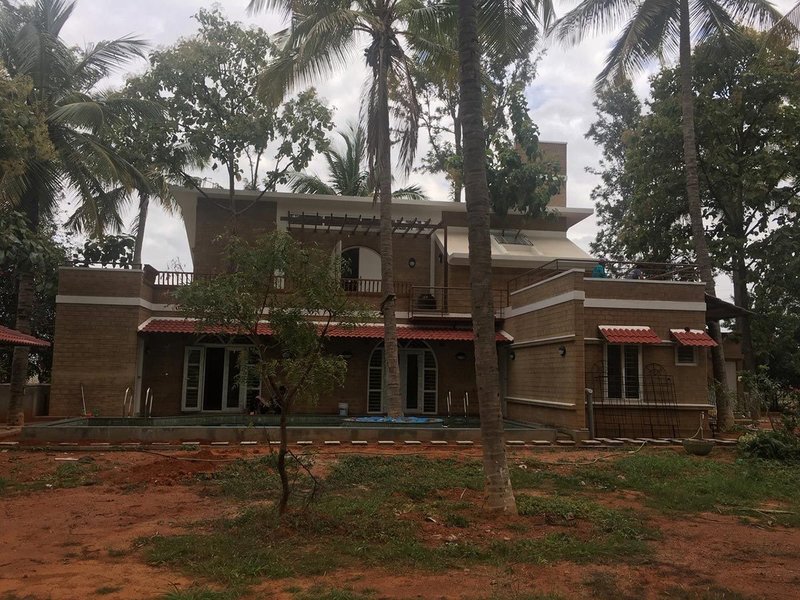 A contemporary sustainable home in Bangaluru, using modern methods of manufacturing and engineered earthen material to create compressed earth bricks.

Credit: University of Bath
A return to earthen construction materials could provide a shot in arm for sustainability, if stigma around their use can be overcome, an international research project hopes to demonstrate.
Engineers at the University of Bath and the Indian Institute of Science (IISc) have begun a two-year project to investigate the wellbeing and carbon-saving benefits of building materials made of earth.
The Wellbeing Achieved from Earthen Residences (WAFER) project will explore how earthen materials can be marketed in the Western world, where perceptions are generally negative, with a focus on the indoor wellbeing benefits such as the ability to provide natural cooling and humidity control. These attitudes contrast greatly with those in India where earthen materials are considered high-end design choices.
Dan Maskell, a lecturer in the Department of Architecture & Civil Engineering and the project's principal investigator, told RIBAJ: 'Sustainability has been on construction's agenda for 30 or 40 years, but it still hasn't really led to change. We want to see if we can use sustainable earthen construction and the associated health and wellbeing benefits as drivers to change the way we use buildings and think about their manufacture and procurement.'
Researchers at Bath's BRE Centre for Innovative Construction Materials and IISc's Centre for Sustainable Technologies will collaborate to develop earthen building materials and measure the associated carbon savings and health impacts on the indoor environment.
These are expected to include bricks and blocks, or monolithic wall construction like rammed earth, plus plasters and renders. Each will be subjected to a carbon lifecycle assessment and an assessment of the effects on indoor environment quality.
Although not very effective as an insulation material, earthen materials can provide thermal mass to help stabilise indoor temperatures. They have been shown to act as natural 'passive' air conditioning, by absorbing harmful elements from the air and regulating indoor moisture.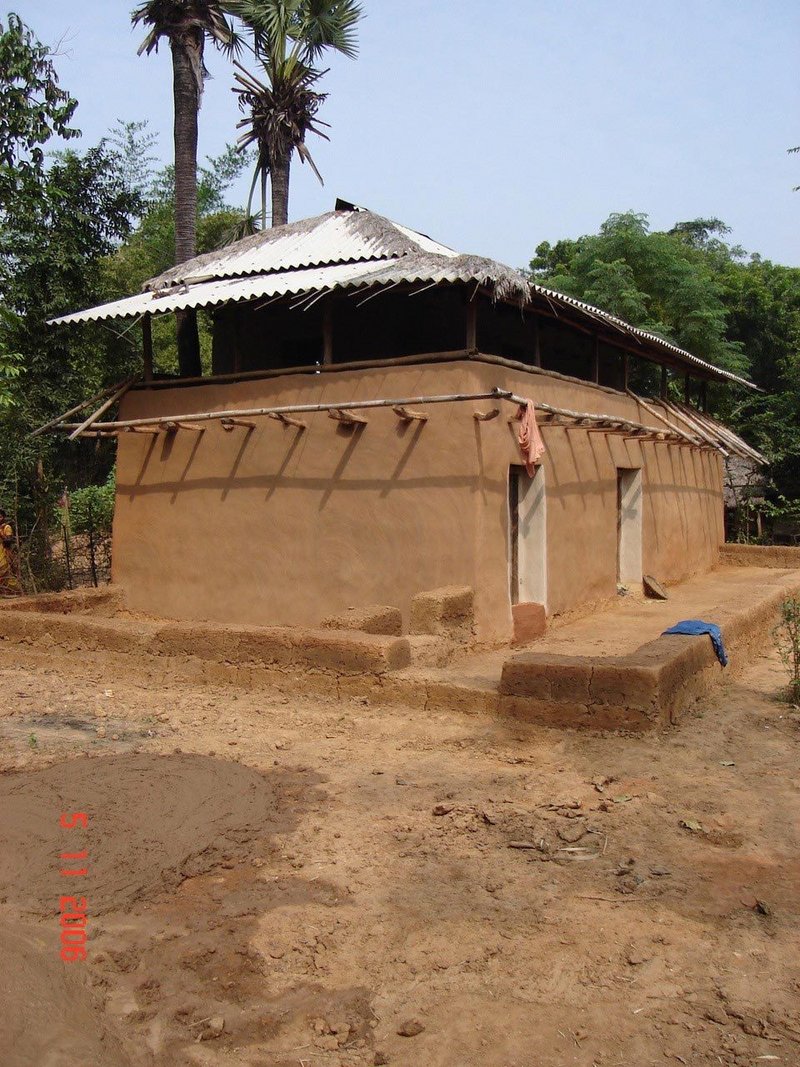 A traditional earthen dwelling in West Bengal, India, that follows a centuries old 'Samthal' style of construction using only local skills and resources.

Credit: University of Bath
Earthen plasters show particular commercial promise, says Maskell: 'Rather than apply a gypsum plaster board or gypsum skim, then paint, an earthen plaster is directly exposed to the environment and requires no finish. It can passively regulate indoor environment quality. There are fewer barriers to adoption compared to a load bearing material like a brick.'
The teams will investigate the cultural and social sensitivities associated with earthen materials, which are rarely adopted in the West because they are not considered 'modern or developed' in the same way as materials like concrete, glass and steel.
Yet these modern materials are often highly carbon-intensive to produce and homes built, or refurbished, with them frequently experience indoor air quality problems that earthen materials could alleviate.
'Typically, if you say earthen construction to people they think you mean mud huts, which has negative connotations,' says Maskell. 'But if I were to put on my science hat and describe it as an engineered nanomaterial that can improve the indoor environment, health and wellbeing, would that be an effective driver for its use?' More effectively marketed natural materials could become a well-respected trend in house building and design, he concludes.