Imminent changes to energy regulations emphasise building automation, but the way sensors are powered has a big effect on sustainability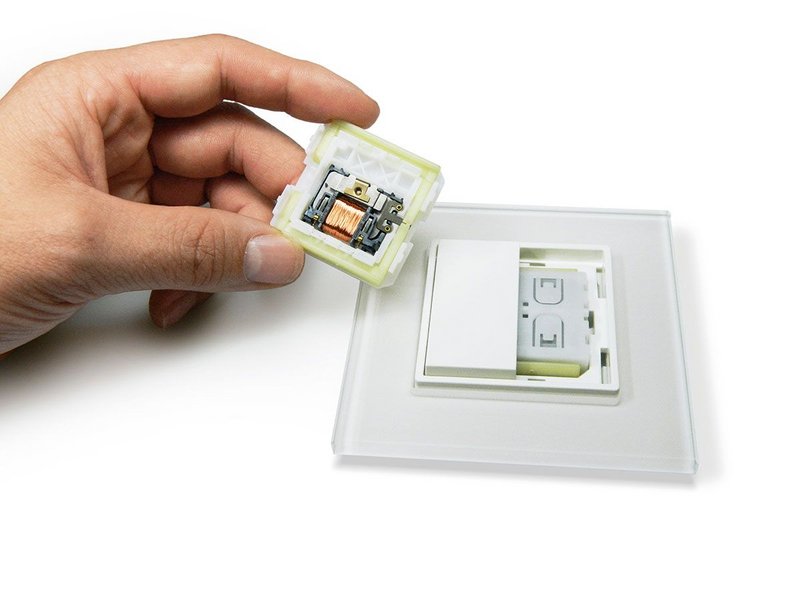 Battery-free switch with its core element, the PTM switch module. The module combines the kinetic energy harvester with a wireless module.

Credit: EnOcean GmbH
Environmental benefits of building automation sensors and controls could be reduced if the devices are wired in or battery operated, a leading technology standards organisation is warning.
Roll-out of such controls will soon be triggered by changes to building energy regulations. The latest update to the EU Energy Performance of Buildings Directive (EPBD) was adopted in May 2018 and will become UK legislation, through Energy Performance Certificates and Inspections, in March 2020.
The directive puts a strong emphasis on smart building automation and control systems to improve energy efficiency and cut greenhouse gas emissions, beyond the current focus on upgrades to the building fabric.
But the environmental benefits may be reduced if owners install wired-in systems or wireless devices that require a cable connection or batteries for power.
Graham Martin, chairman of EnOcean Alliance, which manages an international standard for energy harvesting wireless sensors for smart buildings, told RIBAJ: 'Energy saving is the whole point of these regulations, but most wireless systems in use today either require a cable to power them or batteries that have to be replaced. A building with 20,000 wireless sensors might require hundreds of thousands of batteries over its lifetime, you would need two full-time employees to do nothing else but change batteries. Some building would require around 100 kilometres of cable, which is a lot of copper and plastic and related CO2 emissions to produce it.'
EPBD 2018 strongly recommends the installation of self-regulating devices for individual room temperature control, where many buildings today utilise central heating control. It states that large buildings with a power output of over 290kW must be equipped with appropriate building automation systems by 2025.
The update emphasises that the energy efficiency of heating, air-conditioning and ventilation systems can only be assessed using regular monitoring because operating conditions vary dynamically. And at a strategic level, it calls for the use of a 'smart readiness indicator' to measure buildings' capacity to use ICT and electronic systems to adapt their operation to the needs of occupants.
Energy-harvesting wireless sensors typically run on a small solar cell, similar to that on a pocket calculator, and incorporate energy storage to ensure they can function without light for several days at a time.
Sensors on radiator valves can harvest the energy from the temperature difference between the hot water inside the radiator and the air outside. Other devices can convert mechanical movement, such as the flick of a light switch, into electrical energy used to send a wireless signal.
EnOcean Alliance represents around 400 companies, mainly from the building community, and competes with wireless standards that run on batteries and/or cables, like Bluetooth, ZigBee and Wi-Fi, and wired standards like BACnet.
'Energy-harvesting wireless has a huge advantage due to the speed of installation, for new builds it is very flexible, you can wait until occupants are inside then ask them where they want the temperature or occupancy sensors etc,' says Martin. 'Buildings use 40% of energy worldwide and with 75% of existing buildings in Europe considered energy inefficient we need to do more if we want to reduce the greenhouse gases that governments and protocols are telling us we have to.'
Last week, the government's committee on climate change said the UK should reduce its greenhouse gas emissions to zero by 2050 to stop its contribution to global warming. The 'net zero' target would mean wholesale changes to the way homes and businesses are powered and heated.
---